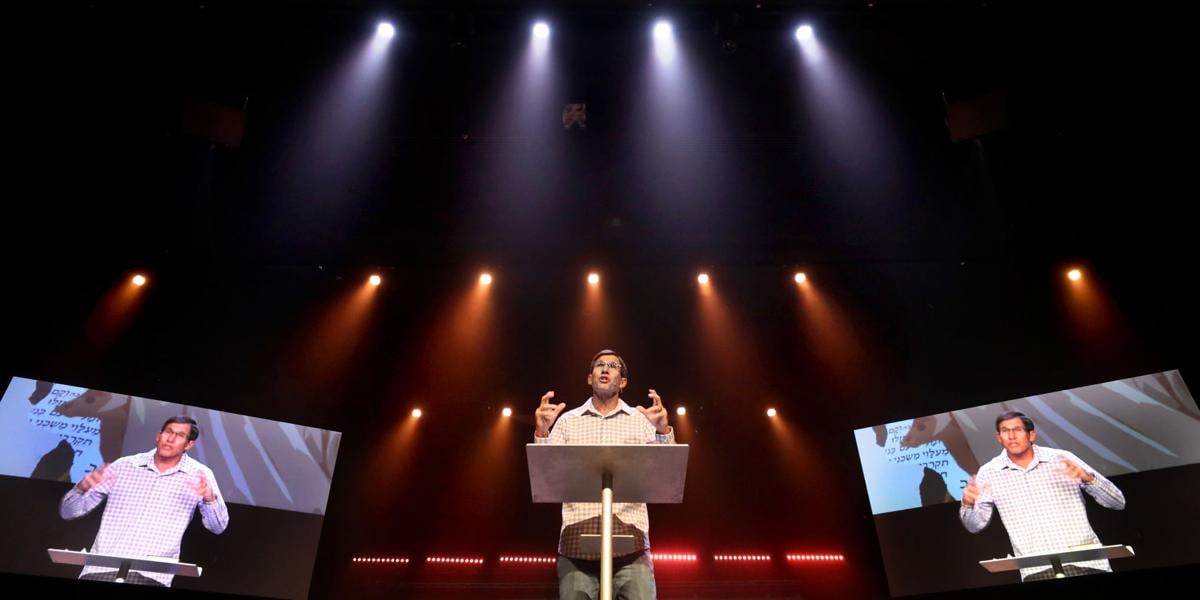 This Easter, "we are emerging from what feels like a yearlong Lent," says Bishop Edward J. Weisenburger of the Roman Catholic Diocese of Tucson.
The Star asked local Christian leaders to share their thoughts on the timing of spring renewal and Easter redemption themes coinciding this year with the easing — somewhat — of the pandemic.
COVID-19 vaccination numbers are growing, hospitalizations and deaths have been decreasing, but Pima County's weekly case numbers recently showed a slight uptick. Health officials urge continued mask-wearing and social-distancing.
Some local churches are still closed to in-person gatherings, while others are holding outdoor Easter services and limiting attendance at indoor services to promote social-distancing.
So, while some parishioners will continue to tune in to "virtual" services from home, for others, Easter might mark a return to in-person services for the first time in a year.
"The isolation so many have known in the last year is a powerful reminder that faithful Christians have always come to know the Risen Christ through actual, lived community," Weisenburger said. "To be able to encounter Christ once again in our churches and in one another's company is a lived experience of resurrection."
We also asked if there is a particular Scripture that comes to mind at this juncture.
He said he thinks of John 20:20-21: "When he had said this, he showed them his hands and his side. The disciples rejoiced when they saw the Lord. (Jesus) said to them again, 'Peace be with you. As the Father has sent me, so I send you.'"
The bishop explained, "In St. John's Gospel, the resurrected Christ comes not only to bring life but also to bring mission. So many in our community have been deeply wounded through sickness, loss of loved ones or financial impact. A critical Easter message for us this year is that we are indeed sent forth by Christ to be servants of his healing presence and hope for the world."
In these interviews via email, we also asked pastors what they and members of their congregations missed most about their church lives during the pandemic, and what they most look forward to afterwards.
The Rev. Sandy Johnson, Santa Cruz Valley United Methodist Church, 71 E. Sahuarita Road, Sahuarita:
"This past year has been a season in the wilderness. The challenges we faced as a people was one of the most difficult we've faced in our lifetime. The symbolism of being home, in the 'dark,' isolated and alone makes this season of Lent and ultimately Resurrection all the more joyful. As Christians we generally engage Lent as a time of our own wilderness experiences. A time to self-reflect and consider how we are or are not reaching our best God-given selves. We are asked to consider what we might do more of, what might we stop and to prepare ourselves for the resurrection of our Lord, as people who are worthy of God's grace. The darkness has lasted much longer than our usual Lenten season of 40 days.
"For me I am sensing a renewed joy in my own self, and in the lives of my parishioners. The darkness is coming to an end and we can truly feel the blessedness of resurrection — from COVID, and of our Lord, Jesus Christ. Life begins anew. I pray we can experience life more fully and treasure the sacredness of it, continuing to protect ourselves and others from harm."
"John 1:5: 5 'The light shines in the darkness, and the darkness did not overcome it.'"
"What I have missed most is being able to be with my church family as they have struggled this year. Not being able to be with them in the hospital or sit with them in person was most difficult. We connected other ways, but that was most difficult for me. My congregation missed worshipping in person, being able to spend time together. We were able to worship on Zoom and many of our mission projects continued. I am grateful that our church took a cautious approach and to date we have only had a few who were sick and none were hospitalized or passed as a result of COVID."
"I don't believe we can go backward but only forward into the newness before us. The pandemic opened up new ways we can connect, and we have been able to expand our worship and ministries beyond Sahuarita. It is my prayer that we can continue to offer these virtual services and ministries as well as a return to in-person worship and ministry. I look forward to worshipping together in person and spending time in the presence of God's people. I look forward to hugging each person as they come in to worship!"
"This has been a difficult time for all of us. I can remember in the beginning thinking, 'they don't teach us in seminary how to pastor a church during a pandemic!' I am grateful for the support of my global church (the United Methodist Church) and the resources they provided as we all did our best to navigate a new path. Although I will always think we could have done better, I am grateful for coming to the end of this season and pray we remember that we are to love one another and do no harm."
Pastor D. Grady Scott, Grace Temple Baptist Church, 1019 E. 31st St.:
"We will still be worshipping virtually on Easter Sunday, but I believe the easing of the pandemic will make this celebration different from previous celebrations. This will be the second year being out of the building for worship, and I'm sure many will really miss the traditional celebration. The Resurrection was a new beginning and returning to in-person worship will also be a new beginning."
"As with most of the members I've spoken with, I missed the presence of people, the fellowship, the closeness and the hugs. There is something that comes from the presence of people. We have been able to virtually continue many things that we would do in person but it is not the same."
"I believe that seeing people that I have not seen in more than a year will be my greatest experience. I have seen some people because we have lost members and I saw them at the funeral. I look forward to seeing people in a worship service where we are praising the Lord for his goodness. Preaching with a media team present is not to be compared to ministering to the needs of a congregation."
"I pray that every church will have a Resurrection service that will be remembered for years to come because we have never been through a year like we just survived."
Pastor Glen Elliott, Pantano Christian Church, 1755 S. Houghton Road:
"Easter 2021 will carry a special significance for many. While we've had in-person gatherings since October 2020, to date we've only seen about 30% of our pre-COVID in-person attendance. But each week, more folks are feeling comfortable coming back. We anticipate that many are waiting and will make Easter their first time back. We are planning for a grand celebration. First and foremost is celebrating the resurrection of Jesus. But the celebration will also be about a sense that we are able to be with each other again. We are planning on providing breakfast outside between services so folks can reconnect."
"My main text for Easter is from Ephesians 2:1-5. Verse 5 ends with 'He made us alive in Christ' (Message Version). That sums up well what Easter 2021 is all about — we can choose to really live and we have a fresh beginning because Jesus is alive."
"I think for all of us, including me, we missed the regular interaction of physical connection. Most of our congregation moved to online engagement over the past year. This keeps folks connected to a point, but most of us miss the personal interaction. Pre-COVID we designed our Sunday morning to have lots of time and opportunity for folks to connect and engage with each other, including providing meals between services. That disappeared over the last year. Easter will be a time when we restart those opportunities."
"Church will never be exactly the same as it was pre-COVID. Because we moved mostly to online opportunities, many will never return to in-person meetings. That's OK.
"But there are two key things that our church is looking forward to in this next post-COVID season. First, the personal face-to-face connection and interactions available in Sunday services, small groups and classes. Second is our ability to return to a more aggressive ability to serve our city. We love to serve other churches, nonprofits, government agencies like the Department of Child Safety, hospitals, nursing homes and assisted-living homes, and schools. During COVID, we've been limited in our ability to do face-to-face service. We have been able to help hospitals, schools and nursing homes during COVID, but we've not been able to connect with the residents, staff and personnel directly.
"Any challenge, like a pandemic, tests our faith. It's through difficulty that our trust in God either grows or diminishes. Tough times are not neutral times for faith. While I don't believe that God caused the pandemic, I do believe he has worked through many to strengthen our trust in him. I've come through this very difficult season having been forced to trust the living Jesus more and realize again how little control I have over the world we live in. My faith is stronger, and I'm closer to my living God than ever in my life. So I find myself in a season of deep gratitude."
The Rev. Bart Smith, St. Mark's Presbyterian Church, 3809 E. Third St.:
"When I think about the Easter story in light of this moment, I remember two things. First, the risen Jesus emerges from the tomb transformed altogether, not just a resuscitated version of his previous self. Secondly, he retains the scars of unjust, state-sponsored execution at the hands of the Roman empire (crucifixion).
"One hope I have is that we as a society will 'rise' from this pandemic as a transformed version of ourselves, something different than the old 'normal,' which wasn't working for many people. As my congregation celebrates this holiday, we'll be doing so with the sober realization that the casualties of this pandemic have followed the usual ruts of inequality in our society. We're beginning to come out on the other side of this pandemic, but the scars remain. We should learn from them."
"I'm thinking of John 20:24-29 when Jesus appears to his disciples and the person our tradition calls 'Doubting Thomas' touches the wounds in Jesus' side."
"I've missed being with people in person. There are so many nonverbal aspects to how people communicate that are lost on Zoom, and I've personally missed being physically present to pick up on those cues, especially in group conversations. Many of our older members who live alone have talked about how isolating this pandemic has been and that they miss seeing people in person, but that they're also grateful for the technological means that allow us to stay connected. My hunch is that our children have missed the ability to move around on Sunday mornings; sitting still on Zoom is rough!"
"Personally speaking, I miss the embodied stuff: singing, chewing bread and sipping juice together, looking people in the eye, hearing their voices close by, shaking hands, and giving hugs and high-fives. Ours is an incarnational faith — it takes on flesh — and the past 12 months have been a harsh reminder that we were created for abundant life in community, not knowing one another through 'Brady Bunch' squares on our devices.
"For me, the story of the empty tomb is ultimately about love being stronger than death, a story that invites us to live without fear. It leads me to ponder, would we live like Jesus of Nazareth — courageously principled, extravagantly generous, scandalously inclusive — if we weren't so scared of death and its minions?"
The Rev. Alan Valencia, St. Augustine Cathedral, 192 S. Stone Ave.:
"Easter is an essential celebration for everyone. For Catholics and all Christians, Easter is by far the most important celebration of them all. The resurrection of Jesus from the dead is the be all and the end all of the Christian faith. This year as we celebrate the Resurrection, we are reminded of an important lesson, that this world is not it, but rather that there is something more after this world, after death, something greater, fulfilling all expectations, an eternal bliss, the resurrection of Jesus from the dead.
"This becomes essential to us this year because many of us have lost friends and family members in this pandemic and are perhaps still morning their death. Easter, this year, reminds us that death has no power over us, but rather we live and believe in the power of the Resurrection.
"As we experience the manifestation of spring around us or the easing of the pandemic restrictions, we are filled with hope but mostly and in a deeper way we are filled with hope that death will never be the end but a new beginning in the Resurrection."
"One of the many things that I have mostly missed during this time of pandemic has been accompanying the dying and their families. To be able to administer the sacrament of the anointing of the sick at hospitals, nursing homes, hospices and homes has become a great blessing for us Catholic priests, but also for our faithful. It is an important moment for the person that is dying and for their families, for they are about to meet their creator face to face. We want to help them during these difficult but especial moments with the sacraments and our prayers."