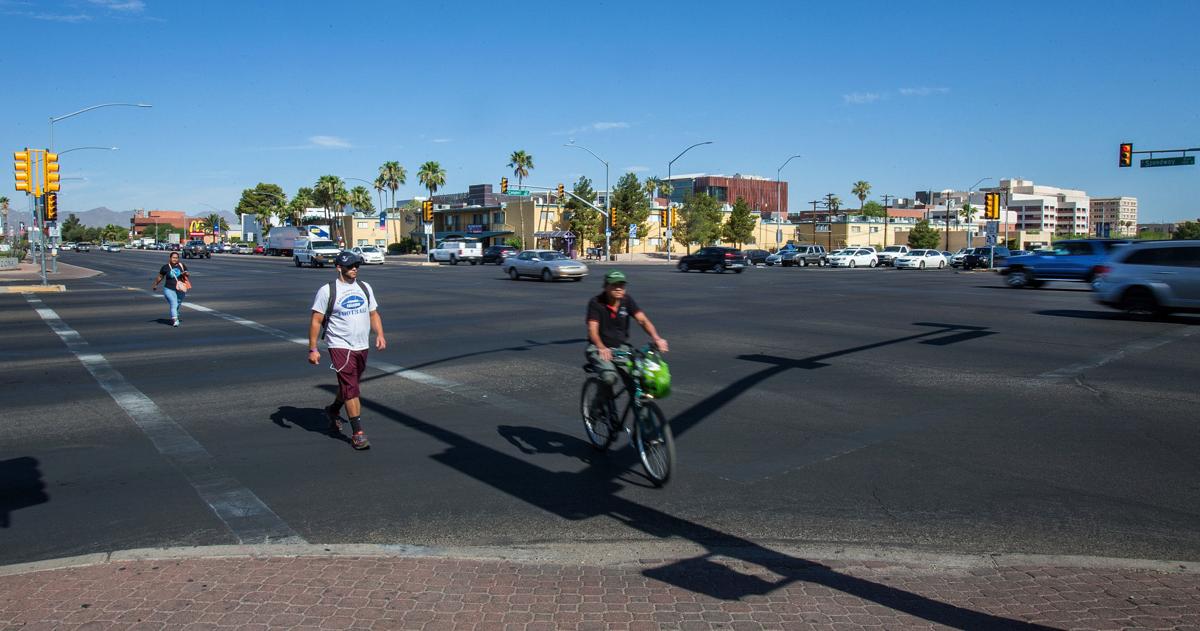 Local developer Richard Shenkarow wants to demolish the Palm Shadows and Babcock apartments currently on the 2.5-acre site and replace them with residential, office, retail and open space.
The project's ground floor would be two stories in height with an open plaza, grocery store and retail. Above that would be four stories of office and retail.
A 250-foot tower, set back from the intersection, would have apartments or condominiums.
While parking spaces will be incorporated into the design, the project aims to discourage vehicle use.
A streetcar stop on the north side, a bus stop on Speedway and bike-sharing stations as well as ride-sharing cars that could be borrowed for a few hours would be featured amenities.
Mayor Jonathan Rothschild said while the tall building is opposed by some residents, he has faith in the developer and architect on this project, who grew up in the Sam Hughes Neighborhood and now lives near the Arizona Inn.
"I am blocks away from where this is going to be built," Shenkarow told the Star. "So I'm not going to build something stupid."
At least 30 residents attended the council meeting specifically for the development discussion, including former Councilwoman Molly McKasson, who opposed the proposal.
A count of speaker cards — which indicate support or opposition for an item — primarily backed the proposal, Rothschild said during the meeting.
The building could be completed by 2022. Shenkarow estimates the project's budget at about $300 million.
The City Council was also slated to consider a proposal to put a $225 million bond item before voters to fix dozens of city parks and other facilities, but no vote had been taken by deadline.
The funds would be earmarked for new splash pads, spruced-up swimming pools, playgrounds, walking and bike paths, field lighting and golf course improvements, according to details released by the city Monday.
The proposal for the parks bond, if approved by voters in November, won't raise the city's property tax rate, as it is being proposed at a time when the city's debt-service payments are scheduled to decline as old bonds are paid off.