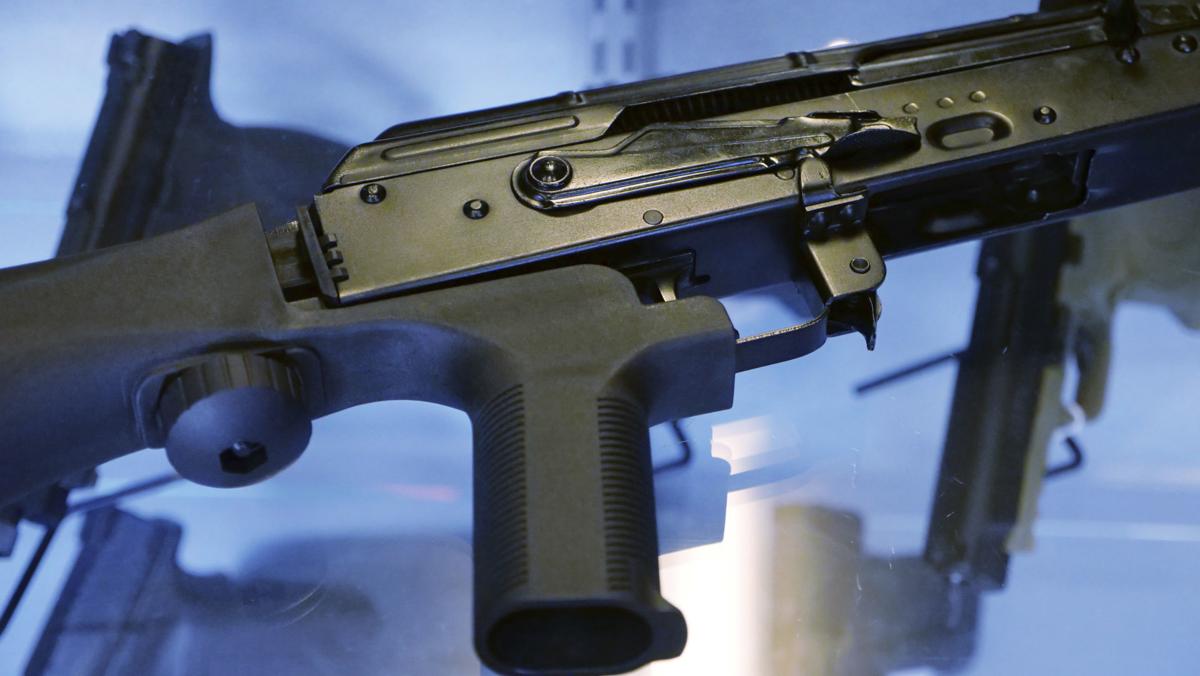 Tucsonans should probably not expect their City Council to pass another restriction on guns or related accessories, such as rifle "bump stocks."
A new legal analysis by City Attorney Mike Rankin makes it clear that Arizona cities and towns lack the statutory authority to enact such laws. Additionally, he noted, the state has several legal mechanisms in place to tie the hands of local authorities and even punish them for trying in the first place.
After hearing Rankin's analysis Tuesday night, Tucson City Council members conceded that absent a landmark legal battle giving local control back to cities and towns, or a sea change in the Legislature, they won't be able to pass new ordinances restricting firearms sales.
Instead, the all-Democrat council went on to back a nonbinding resolution calling on state and federal officials to ban "bump stocks" and other conversion kits designed to essentially turn semi-automatic weapons into machine guns.
Investigators believe the shooter in the Las Vegas rampage earlier this month, Stephen Paddock, used bump stocks when he fired into the crowd at a country music festival, killing 59 people and leaving hundreds seriously wounded.
Councilman Steve Kozachik said two weeks ago that he was tired of waiting for federal or state officials to step in and outlaw the various accessory kits, whose sole function is to allow a rifle to fire more bullets.
But, in the end, the resolution passed by the council seeks to get either Congress or the Legislature to ban the accessory or to restore local control to the city of Tucson to pass its own laws.
Council members backed down because of the likelihood of state retaliation under the Arizona law known as SB 1487, which gives the state the power to withhold state-shared revenues if any city, town or other municipality's local ordinances violate state law.
"That is a very real threat. If we were to act in conflict with the state's pre-emption of our authority, you can be certain that a 1487 complaint would be brought, and I think it is fair to say you could be certain that the attorney general would conclude we are in violation of state law and would order the revocation of state-shared revenues," Rankin said.
Tucson recently lost a case at the Arizona Supreme Court that was spurred by a complaint under SB 1487 about the city's practice of destroying seized guns. The court ruled Tucson must auction off seized firearms to federally licensed gun dealers.
Even without a complaint under SB 1487, Rankin said, the city could run afoul of another state law related to restrictions on guns.
The state could nullify any council-passed ordinance restricting the sale of firearms or related accessories, then charge the city for attorneys' fees and seek to throw individual council members out of office.
"The statute even includes a sanction on its face saying that the public officials who enact such an ordinance are subject to removal from office," Rankin told the council.
Rankin added that the state could further fine the city of Tucson for as much as $50,000 for taking action to ban bump stocks at the local level.
"I usually don't say this out loud," Rankin said. "But we would lose that lawsuit if we tried to ban these items."
Kozachik said existing state laws related to gun control and regulation are "foolishly unsafe," but the city cannot pass any meaningful restrictions.
"This legal analysis shows the state Legislature has effectively put us in a legislative straitjacket when it comes to adopting local ordinances that reflect the interests of our constituents on a local level," Kozachik said.
Both Kozachik and Councilwoman Regina Romero said the resolution passed by the council falls short of their goals.
"This is not the outcome I and council member Romero were hoping for," Kozachik said.
He conceded that he didn't know what a bump stock was before the Las Vegas shooting, but now the accessory is at the heart of a debate over gun control.
"Everybody saw the carnage that (bump stocks) can create," Kozachik said, saying he doesn't believe Congress or the Legislature is willing to act without constant public pressure.
Romero said the city is struggling to protect both its citizens and its police officers because it cannot pass what she sees as reasonable gun-control measures.
"Chiefs of police across the nation ask for reasonable gun legislation," Romero said.
She added the state's focus on pre-emption goes past just gun control, noting one state lawmaker attempted to force the city of Phoenix to change its policies on immigration and the attorney general has told the town of Bisbee to repeal its ban on plastic bags.
"It is very unfortunate and devastating that the state Legislature and the governor want to remove the rights of the citizens in cities to legislate based on our ideals," Romero said.
After the meeting, Kozachik said he hopes more cities and towns will adopt similar resolutions to pressure the Legislature or Congress into banning the sale or possession of bump stocks or other similar modification kits.