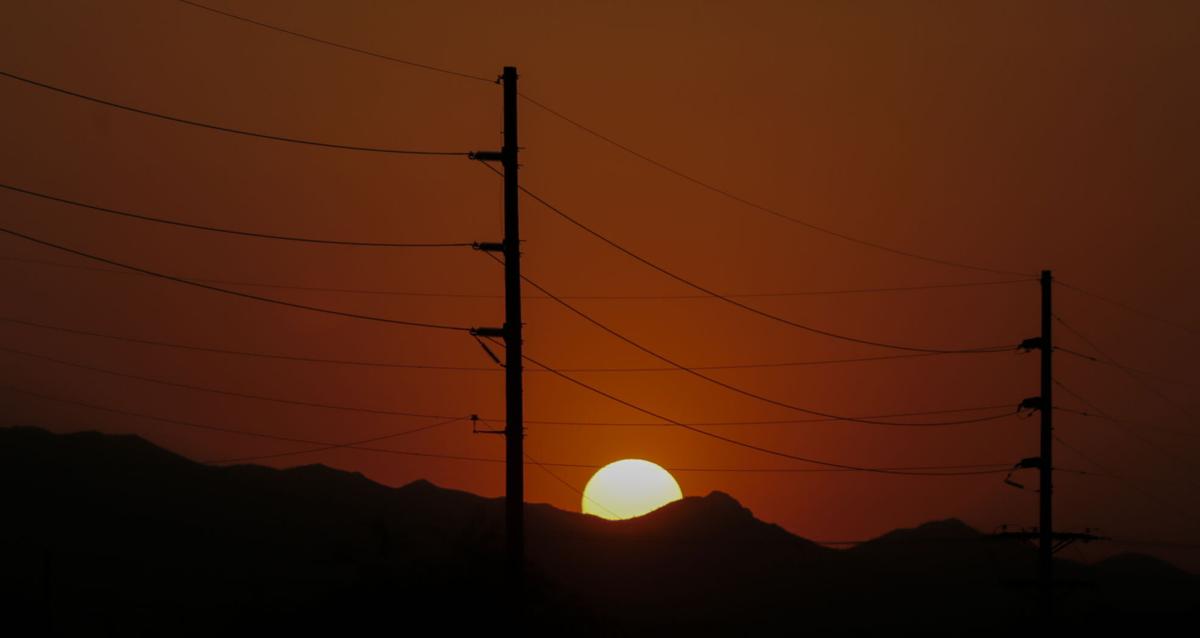 Electricity demand in Tucson soared during the spring and early summer as temperatures toppled records and the pandemic continued to keep people home.
Reversing a one-month decline from the early spring, electricity sales to Tucson Electric Power customers jumped 9% in the period from April through June compared to the same period a year ago, the utility said this week.
While it's unclear how much hot weather and how much the pandemic contributed to the increase, certainly the use of air conditioners was a factor, a utility spokesman said.
Air conditioning and/or swamp cooling are considered necessities for surviving Arizona's summer heat. But increased energy use caused by air conditioning is also one factor that's been linked to hotter temperatures due to long-term climate change.
The electricity use increase was generated by customers of both TEP and its sister utility UniSource Energy Services, which serves Santa Cruz and Mohave County residents, said TEP spokesman Joe Barrios.
The utility declined to release sales figures yet for July and August, Tucson's second-hottest and hottest months on record ever, respectively. Those results won't be public until the utility releases its third-quarter earnings statement sometime in October, Barrios said.
Tucson Water customers, meanwhile, used more water than average in the record-setting hot months of May and July but less than average in June. Unlike the other record-setting months, June 2020 was the 17th-warmest June since records started being kept in 1895.
The higher spring-summer electricity use was due in part to the pandemic causing many people to work from home or be out of work entirely, Barrios said.
But the impact of the summer heat is shown clearly by the fact that total electricity use actually declined from mid-March to mid-April during the pandemic's early days — but before the hot weather started.
It's "a little bit tough to say" how much increased use of air conditioning pushed up total electricity use in this period because the utility can't measure specifically how customers are using more electricity, he said.
"However we would expect a considerable portion of that use is due to cooling their homes," Barrios said.
He noted that after the state issued its first "stay-at-home" orders in March due to COVID-19, residential electric use here rose even though overall use declined.
"They remained at that high level. It's a little tough to distinguish between weather and COVID-19. Certainly, if people are at home during the pandemic, they'll use more electricity," Barrios said.
Two years ago, the Arizona Daily Star reported that Tucson, Phoenix and Yuma were among the 10 locales that experienced the greatest increases in the amount of cooling required in recent decades as temperatures have risen, based on a new analysis of 244 U.S. cities.
The new analysis was done by Climate Central, a nonprofit, non-advocacy group that researches and reports on the changing climate. It examined the frequency and extent to which temperatures exceeded 65 in major cities each year — an optimal temperature for human comfort.
The amount of air conditioning that a resident of Tucson would want to use each year was found to have increased by a little more than a third since 1970.
Households in Arizona, New Mexico and Nevada already spend $400 a year on average on air conditioning — almost double the national average, according to 2018 U.S. Energy Information Administration data. During winter, they've always saved money on heating compared with other regions.
Sandy Bahr, of the Sierra Club's Grand Canyon chapter, said this week the higher electricity use figures show that the state needs to toughen and extend its current energy efficiency standards for utilities. They expire at the end of 2020.
"What this points to is the need to really double down on energy efficiency and heavily invest in energy efficiency so people can keep their electricity usage down consistently as at the same time being more comfortable," Bahr said.
"It's long-term relief, relative to COVID and economics that we are likely to see for awhile," said Bahr, director of the club's Grand Canyon chapter, on energy efficiency standards.
In July, the Corporation Commission deadlocked on whether to extend the energy efficiency standards and on whether to approve a series of renewable-energy mandates. It's not clear when the measures will be considered again.
TEP has already planned to continue offering its customers energy efficiency programs after the state standard expires, noted Barrios, the utility spokesman.
Its recently introduced resource plan calls for using efficiency programs to cut its customers annual energy use by 1.5% through 2024, he said.
Concerned about COVID-19?
Sign up now to get the most recent coronavirus headlines and other important local and national news sent to your email inbox daily.