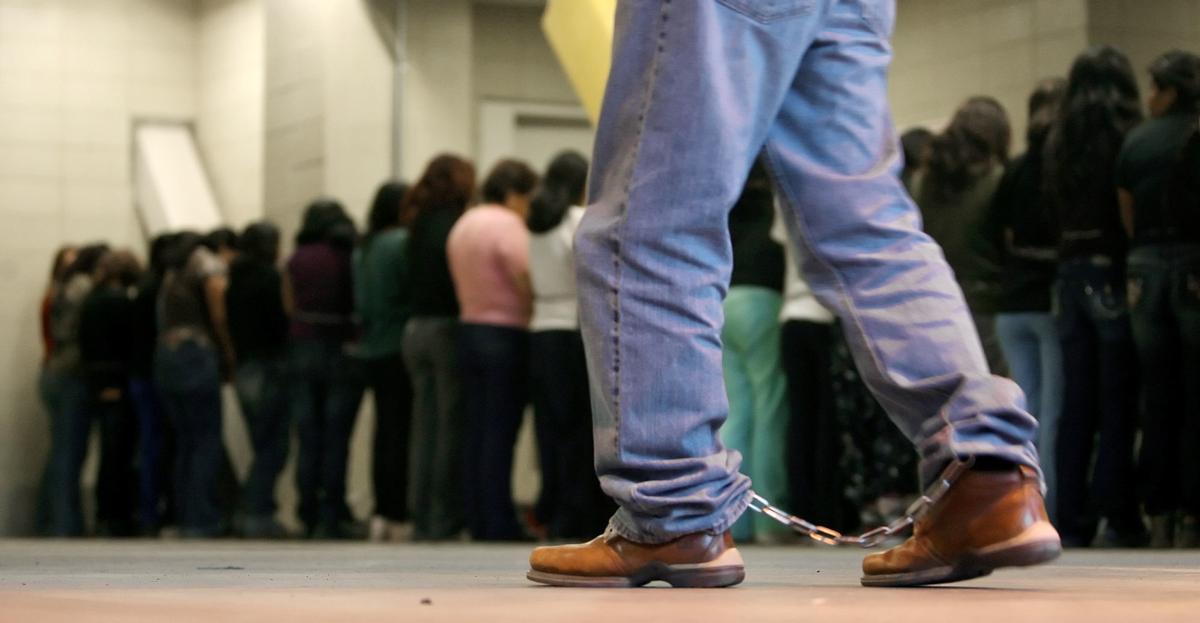 After weeks of illegal border crossers pleading to know where their children are, a federal judge in Tucson told a prosecutor to help find them.
Magistrate Judge Bruce G. MacDonald's request on Monday came as magistrate judges in Tucson take an increasingly stern view of separating families after the Department of Justice announced a zero-tolerance policy for illegal border crossers.
The U.S. Attorney's Office is working with federal law-enforcement agencies and the Department of Health and Human Services' Office of Refugee Resettlement, which places children with family or in foster care, Cosme Lopez, a spokesman for the U.S. Attorney's Office, said Wednesday.
The plan is to "develop a mechanism to help the defendants find out the locations of their children," Lopez said.
The "mechanism" could be a point of contact at detention centers or a phone number parents can call, among other options, Lopez said.
In the past three weeks, at least 45 children, most of whom are from Guatemala, were separated from parents who were prosecuted in Tucson through Operation Streamline, a fast-track program for illegal border crossers, according to a review of U.S. District Court records by the Arizona Daily Star.
While some families illegally cross the border near Lukeville and then flag down Border Patrol agents, which often leads to criminal prosecution, other families ask for asylum at ports of entry, including in Nogales. Those families go through the civil immigration process rather than criminal prosecution.
On Monday, Mary Kincaid, an assistant federal public defender, spoke on behalf of her client, Cerafino Perez Andres, a Guatemalan who crossed the border illegally with his 15-year-old daughter on June 2.
"He doesn't know where his child is right now," Kincaid told MacDonald as she asked him to order the government to tell parents the locations of their children.
The request might be "a little out of the ordinary," she said. "But I think that we all recognize we're in the midst of a humanitarian crisis."
When parents started asking about their children at Streamline hearings several weeks ago, magistrate judges put on the record the fact that parents were separated from their children. Then magistrate judges started recommending individual parents be reunited with their children.
On Monday, MacDonald went a step further and told federal prosecutor Christopher Lewis to ask where the children are placed and provide that information to parents, according to an audio recording of the hearing obtained through the court clerk's office.
The hitch in figuring out the locations of the children, according to federal prosecutors, is the children are sent to the Office of Refugee Resettlement, which is not part of the Department of Justice or the court system.
As he has done at previous hearings, Lewis on Monday said the U.S. Attorney's Office and U.S. Customs and Border Protection have "no knowledge or control as to where they will place those children."
"I'm hoping, though, that you can ask them to at least provide you with that information" once the children are placed, MacDonald said.
"I can inquire, but there's no mechanism on the part of ORR to report that back," Lewis said.
"Well, I'm asking for you to ask them to report that back," MacDonald responded.
"Understood, your honor," Lewis said.
Crying parents
Moments earlier, Fredy Perez Gregorio, a Guatemalan who crossed the border illegally with his 12-year-old child, cried as he spoke to MacDonald.
"We're very saddened that we're not together with our children," Perez said. "We're not used to not being with them."
"I would hope that when we get deported, that the children would also get deported with us because it would be a really bad thing to leave them behind."
Abel Ramirez Nicolas, also from Guatemala, asked that he be reunited with his 7-year-old son.
"All I want is if they are going to deport me, that they deport me with my son," Ramirez said to MacDonald.
He did not want to be deported to Guatemala, where there are "a lot of problems," including violent street gangs that prey on children, he said.
"I don't want my son to go through that situation," Ramirez said. "I want to fight for him, I want to give him a better future. That's why I came to this country."
Numerous defense attorneys told the Star in recent weeks they have no answers when their clients ask them for the whereabouts of their children.
The government "is not really making it easy for people to know where their children are," said defense attorney Guenevere Nelson-Melby. "Somebody else has to come in and cross-check records to find out where the child is being sent to."
The Guatemalan Consulate told her Border Patrol separates parents and children after the consulate meets with families in the morning before Streamline hearings, she said. The children then are sent to other states.
She did not know which states receive the children. The consulate told her there is a two- or three-month wait for the children to get a hearing before an immigration judge.
The consulate has to figure out where the children are going and then find a way to communicate with parents, Nelson-Melby said.
"We don't want to do this at all," Attorney General Jeff Sessions said of the separations at the U.S.-Mexico border during an interview Tuesday with conservative radio host Hugh Hewitt. "If people don't want to be separated from their children, they should not bring them with them."
A spokeswoman for the Office of the United Nations High Commissioner for Human Rights said the practice "amounts to arbitrary and unlawful interference in family life, and is a serious violation of the rights of the child," the New York Times reported Tuesday.
At Border Patrol stations near the border, 300 of the 550 children in custody as of June 3 had spent more than the 72-hour time limit for being held at temporary facilities, NBC News reported Tuesday.
The Border Patrol's Tucson Sector did not provide the number of children held at the sector's stations for more than 72 hours. Instead, the public affairs office said the number of unaccompanied children at the stations fluctuates daily.
"Border Patrol makes every effort to process and transfer unaccompanied children to ORR as promptly as possible," the public affairs office said.
Star reporter Perla Trevizo contributed to this story. Contact reporter Curt Prendergast at 573-4224 or cprendergast@tucson.com or on Twitter @CurtTucsonStar