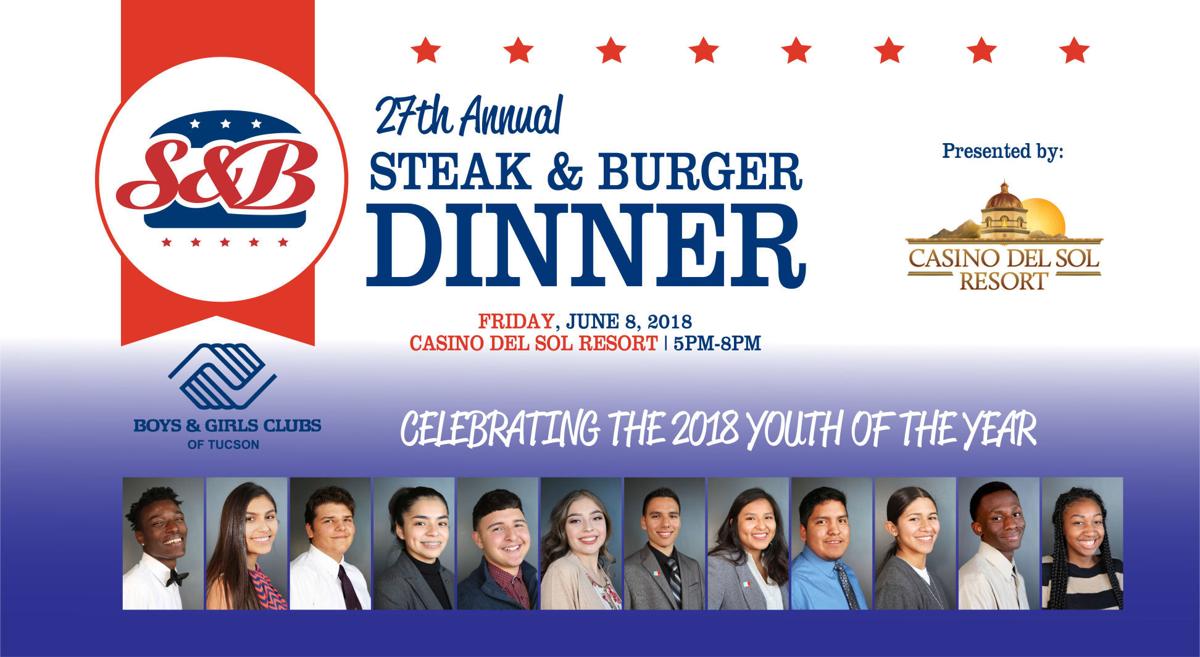 All it takes to improve the lives of local children is a burger.
Volunteers with the Boys and Girls Clubs Tucson make it that simple through the Steak & Burger Dinner on June 8 at Casino Del Sol Resort.
The event — at which more than 100 club members will be served steaks while adults enjoy burgers — has become one of three major fundraisers to help support programming and operating costs at six boys and girls clubhouses that serve youths ages 7 to 17 citywide.
"We have more than 4,500 members and just shy of 9,000 kids came through our clubs last year through basketball leagues, Girl Scouts and other partners who use our facilities and participate with our kids in different programs. We have a large reach in Tucson," said Debbie Wagner, CEO of the Boys and Girls Clubs Tucson.
Wagner said the clubs provide safe, low-cost after-school care from 3 to 8 p.m. weekdays with programming in five core areas: education and career, character and leadership, the arts, health and life skills, and sports and recreation. Club membership costs $20 for the year and includes dinner. Scholarships are available for those with financial need.
"The need continues to grow in Tucson and we are situated in areas where youth need us the most. We provide excellent after-school programming and work with the kids to help them pursue their dreams and become great citizens," Wagner said. "We can help them graduate from high school and continue on to colleges, community colleges, trade schools or the jobs that they want. We try to link them with mentorship programs so they can see all that is out there and choose what is right for them."
The clubs are gearing up for summer now. Wagner said more than 1,500 youths are expected to participate in the six-week summer program from 9 a.m. to 5 p.m. weekdays beginning June 4. The summer camp membership costs $60 and includes lunch daily. The nonprofit subsidizes the remainder of expenses for the program, which total $700 per child.
"Our summer programs are really important. Lots of our kids have parents who both work or single parents who are working two jobs and they need a safe place for their kids to go in the summer so they don't have to stay home alone. Through fun activities, field trips, and activities in art and STEM (science, technology, engineering and math), we keep them focused on learning so they don't have 'summer brain drain,'" said Wagner.
Wagner said programming reflects an infusion of STEM as the result of a grant this year from Raytheon and the Boys and Girls Clubs of America designating the creation of a STEM Center for Innovation at the Holmes Tuttle Clubhouse in Pueblo Gardens Park, 2585 E. 36th St.
The center will provide state-of-the-art technology, including computers, science equipment, 3-D printers and more, along with a full-time staff member dedicated to developing STEM programming for all of the clubhouses.
"This is a great extension of programming for our kids, especially with Raytheon and Davis-Monthan at the heart of the community. There is a focus on making sure kids who want to stay in Tucson — especially female students and military youth — know that they can go into those fields and have exposure to them and we can help support that," Wagner said.
Supporting youths in the realization of their dreams is particularly important to Todd Bisbocci, co-chair of the Steak & Burger Dinner with Spanky Nanna, Joe Moeller and Joe Cristiani.
Bisbocci, who moved to Tucson when he became a franchise owner for Taco Bell two years ago, instantly became involved with the Boys and Girls Clubs here.
"A lot of people don't realize that Boys and Girls Clubs is the national charity for Taco Bell, and personally it means a lot to me as well. I was a club kid in Hollywood when I was young and it was an amazing experience. Back then it was a great help after school until my parents got off work: It allowed me to be involved with other kids and participate in a lot of sport activities. Today it does all of that, plus it has evolved into this massive learning experience as well, with art and STEM and homework help," Bisbocci said.
Bisbocci, who is also a member of the Board of Directors for the nonprofit, said it has been an awesome experience personally and professionally.