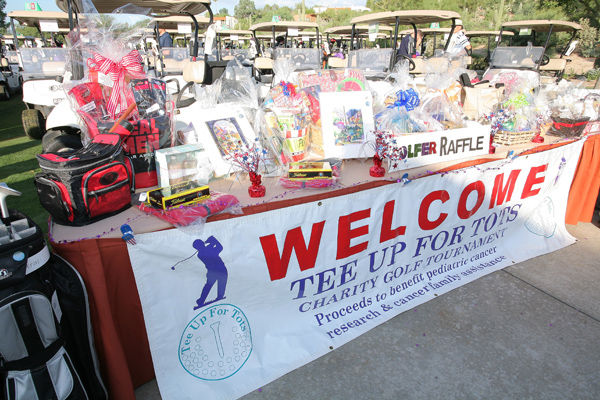 Cancer doesn't care about gas prices and it won't wait for payday.
Kathy and Jerry Zillman and other volunteers combat that stark reality with the Tee Up For Tots Family Support Program to benefit local pediatric cancer patients and their families.
"We had one family who said, 'We can't come tomorrow for treatment because my husband doesn't get paid until Friday,' so we offered them a gas card and other assistance," Kathy said. "When you have a child with cancer, there are so many additional costs that come up that you don't think about, and any assistance can help take off some of the stress."
She and Jerry co-founded Tee Up For Tots in 1999 in memory of their daughter, Courtney, 4, who died as a result of neuroblastoma.
Since then, the all-volunteer nonprofit organization has donated more than $1.2 million to pediatric cancer research at Steele Children's Research Center in Tucson and helped more than 1,000 families through the Family Support Program.
The nonprofit gives families gift certificates for food and gas, and monetary support for insurance, rent, house payments and utilities as well as clothing, jackets and other items for patients and family members.
The program also offers family assistance kits with a pass to the University of Arizona Medical Center cafeteria, a journal, a coffee mug, a T-shirt and other items for newly diagnosed patients.
The Family Support Program helps fill immediate or emergency needs for families or patients as identified by caseworkers.
Chrissie and Vince Heflin found the support helpful on multiple levels when their son, Riley, 17, required a bone marrow transplant to battle acute myeloid leukemia last year.
The Heflins, who live in Red Rock, have five children ranging in age from 6 to 17. Their home is a 40-minute drive, one-way, from Diamond Children's at UAMC, where Riley was hospitalized for five months.
A gas card helped make the drive possible.
"We did a lot of back-and-forth driving, as you can imagine, and the gas card helped us tremendously," Chrissie said. "We were very grateful; the gas prices were awful and that made a real difference for us."
The emotional support provided by Tee Up For Tots and the Zillmans was equally important.
"When you are secluded in a hospital room, your world gets very small," Chrissie said. "They help you realize there are lots of other people out there who this happens to and who want to help."  
Chrissie is convinced optimism was a key factor in Riley's successful bone marrow transplant, and the Heflins are anticipating his senior year at Marana High School and looking forward to supporting Tee Up For Tots at the annual golf tournament on Friday.
Volunteers at the event hope to raise at least $75,000 to funnel into research, according to Kathy. The Zillmans are particularly excited about the organization's contributions to research into the CRCL (Chaperone Rich Cell Lysate) cancer vaccine, developed by Dr. Emmanuel Katsanis at Steele Children's Research Center at UAMC.
"This vaccine is huge ... the FDA required additional testing and data, and the majority of funds raised will go toward getting this vaccine approved for clinical trials," said Kathy, who emphasized that even though a child dies every four hours of pediatric cancer, research is underfunded compared to other types of cancer.
"Funding is not attractive to lots of pharmaceutical companies because in the grand scheme of things, it is not a big moneymaker," she said. "But children are the future and we need to ... keep going until we find a cure or at least better treatments."
Tee Up For Tots is forming a coalition with other pediatric cancer organizations nationwide — many of them are small nonprofits founded by families whose children have battled cancer.
"If we have one big voice as opposed to small voices in different cities, we hope to get more money from the National Institutes of Health or other sources to help fund some of this much-needed research," Kathy said.