A woman who looked to be in her late 60s twisted and bobbed, waving her hands in the air every time Elton John blasted out the refrain of "I'm Still Standing."
A few rows ahead of her, within spitting distance of the Brit-pop legend on the Tucson Arena stage Tuesday night, a guy who looked to be on the north side of his 30s was working his own little twist and jump move. At one point he became so animated he nearly slammed into the guy next to him as he zigged and the other man zagged.
Throughout the sold-out arena, fans in their 30s to 70s were singing and dancing along to some of John's iconic hits, from the opening piano extravaganza of "Funeral for a Friend/Love Lies Bleeding" to the rocking encore "Crocodile Rock."
John's "Wonderful Crazy Night Tour" turned out to be just that: A wonderful crazy night that made it impossible to sit down for anything remotely close to a long stretch.
All 9,700 seats were sold, but hardly any had butts in them for the majority of the 2½-hour concert. Even when John slowed down for ballads including "Daniel," "Rocket Man," "Tiny Dancer" and "Levon," many people still stood. If you sat down you risked missing something, like the moving tribute during "Don't Let the Sun Go Down on Me" for the late Brit pop star George Michael.
If you were sitting, you missed the woman waving the handmade sign that said "Happy 70 — You're never too old." John told the audience he couldn't believe he was days away from becoming a septuagenarian.
"2017 is a very special year for me. It's the 40th anniversary of the Elton John AIDS Foundation," he said. "It's also on Saturday my 70th birthday, which seems ridiculous to me."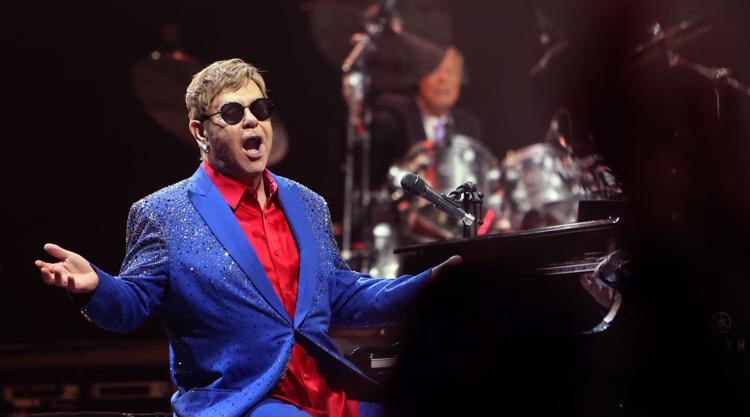 John, dressed in a sparkling blue leisure suit with "Fantastic" spelled out in red bedazzled letters on the backside, didn't look 70. He moved a bit slower than we remember from his last show here in 2010 and spent most of the night at the bench of his baby grand piano. And although he didn't even attempt those delicious tenor notes that punctuate many of his songs including "Benny and the Jets," "Someone Saved My Life Tonight" and "Tiny Dancer," he sang wonderfully in the lower register and those songs sounded just slightly different, but different enough to make them fresh and alive.
This year, Tucson is one of 11 American cities on John's "Wonderful Crazy Night Tour," which hit dozens of U.S. cities in 2016.
"It's been an absolute, amazing privilege to play for you tonight," John said before performing as his encore his ode to the late Princess Diana. "You are unbelievable."
Contact reporter Cathalena E. Burch at cburch@tucson.com or 573-4642. On Twitter @Starburch