High school students in the Law, Public Safety and Security program at the Pima Joint Technical Education District are serving the community in a creative way that imparts an important message to younger students.
They're called the "Young Protectors," and they dress in superhero costumes to make presentations to elementary schools about the lessons they've learned from their personal safety program at JTED. Their first presentation was at Walter Douglas Elementary School in late January.
"It was really nice, I was embarrassed dressing up, we didn't know how they were going to react," said Carondelet Castro, a junior. "But they were very energetic and playful, they went along with things very smoothly."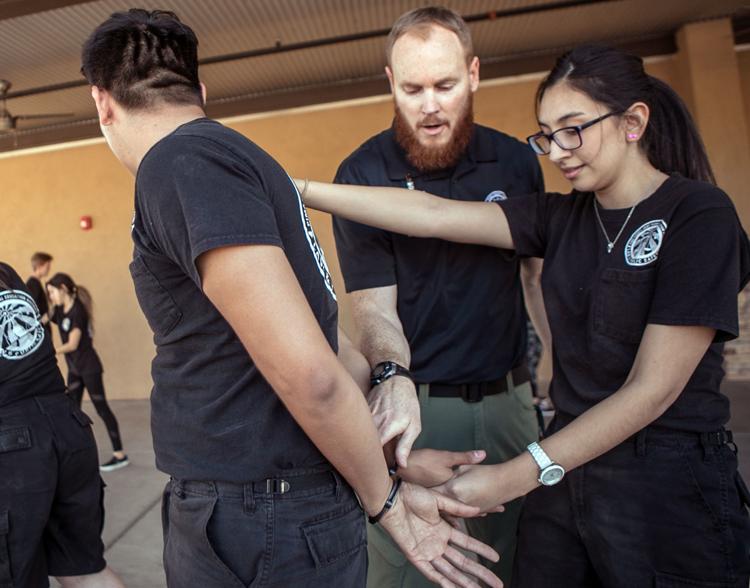 The main topics presented to the students by the Young Protectors was an explanation of wanted and unwanted physical contact and what to do when someone engages in unwanted contact.
They explained about trusted adults who should be contacted if an incident occurs. A crucial point is stressed — that it is never their fault if unwanted contact occurs against them.
"There's a lot of issues going on in the world right now and kids should be prepared, sadly for bad situations, so we wanted to tell them about their personal safety," Castro said.
Walter Douglas was the first school to invite the Young Protectors after receiving an email about the JTED students from Joseph Wall, a Tucson police detective and instructor in the program.
"It's incredible to see these kids go in and have that same passion that I do in wanting to help others, because that's what it's all about," Wall said.
Staff from the Southern Arizona Children's Advocacy Center helped train the Young Protectors and form an age-appropriate curriculum on how to teach personal safety to the children, Wall said.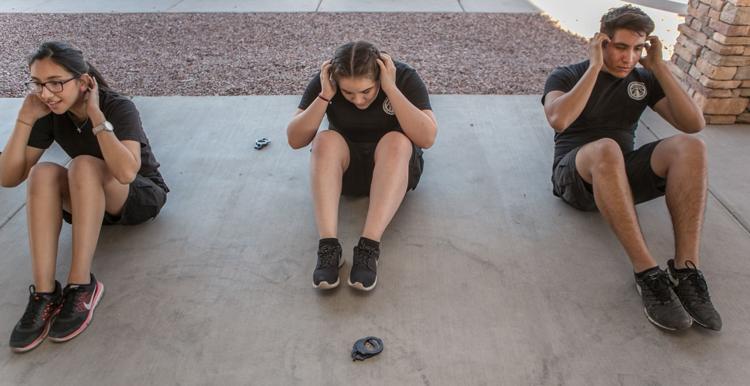 Robb Fountain, an instructor with the JTED program and a former police officer, said it's great to see effective training possibly helping others, especially younger children.
"If you can save one person, you've done your job, you can have one person turn down an uncomfortable situation where they may have become a crime victim," he said.
The law and public safety program is in the evenings after high schools finish. Students meet twice a week for around 2½ hours each in class and eight hours every other Saturday. The public safety program was started nine years ago by Kathy Rau, a former Tucson police detective. The Pima JTED partners with police officers to help teach students the most up-to-date information.
"It's a great combination of how JTED works with its business and industry partners," Fountain said. "Detective Wall coming in from Tucson police, making connections with my students and then having them go out and represent not just JTED but Tucson police."
A typical day for the students in the program, according to Yoshimi Borns, a senior, is a beginning debrief about the plans for the day, physical training and then a variety of lessons on law enforcement and public safety topics from their instructors.
To make sure the lessons stick, the students also take quizzes.
On Saturdays, students go through different police scenarios and take trips to use the Tucson Police Academy's obstacle course for physical training.
The students, like Borns and Castro, make up 40 total in the public safety program across two main JTED campuses in Tucson.
Students can also receive CPR certification and an opportunity for security guard certification through the program.
"You get a lot out of it; we do a lot of police work and even though I don't want to go into that field, it helps you be more prepared," said Castro, who wants to be a lawyer.
The mission is to get students involved in their own career exploration, to hopefully find out what they're passionate about before they leave, Wall said.
Second, the students are taught about preparedness and integrity through their training.
"I had no idea that this job would be so rewarding," said Wall.
"It's amazing and I love getting to impact these young people's lives early on and they get to see that there's good people, good cops, there's good in the world still,"