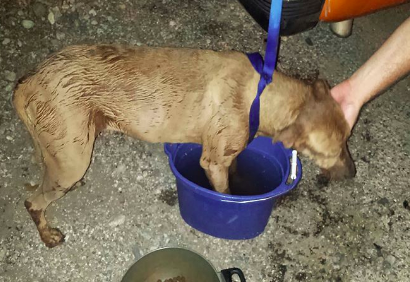 A Tucson man was arrested on charges of animal cruelty, after his dog — left in 115-degree heat without food and water — died, police reports show.
Phil Carreon, 37, was cited for two misdemeanor counts of animal cruelty in connection with the incident.
On June 27, police received a call from a witness saying that the house behind him had been vacant for weeks but two dogs had remained in the backyard, according to the incident report from Tucson Police Department.
The witness told police that several days before, he'd noticed a strong odor "like something dead" coming from the empty house and found one of the dogs dead, the report said.
The second dog was malnourished, dehydrated and had a tick infestation on her face. The witness cleaned up and cared for the dog before taking it to a local vet clinic.
The witness called his landlord before calling 911, and by the time police arrived, the deceased dog was gone but there were bloodstains on the concrete and a strong smell of bleach, the report said.
Police spoke to the resident of the home, who said that he'd lived there for two years but the house belonged to his father.
He told police that he'd moved out of the house five or six weeks before but had been coming back, the report said.
Carreon told police that he'd gone to Phoenix for the weekend, leaving the dogs outside, and had come back to find his dog, Charger, dead in the laundry room, according to the report.
When police spoke to the witness, he told them that no one had been at the house for at least five days and there was no food or water left out for the dogs, the report said.
Police said that when Carreon was informed his second dog was at the vet, he declined to pick it up, saying he didn't want it.
The dog has since been adopted.
Carreon has a pretrial conference scheduled for Aug. 22.