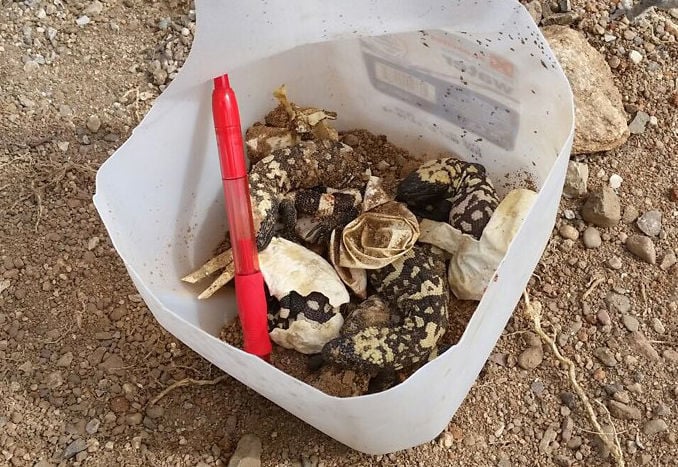 After more than 15 years of difficult observation and data collection on the early lives of Gila monsters, one Arizona State University research team recently published its study with the help of a Tucson man's serendipitous discovery.
The study shed light on the behavior of the mysterious reptile, which is useful for understanding factors that lead to the evolution of certain behavioral strategies and how these animals cope in extreme environments.
Some of their findings likely wouldn't have been possible without the Tucson man's contribution.
A lucky find
In late October , Michael Pfander of C&M Framing Construction was doing excavation work in the Catalina Foothills with his crew when they stumbled across a clutch of Gila monster eggs about 3 feet underground.
The venomous lizards are protected by law in Arizona.
Some of the eggs were partially hatched, Pfander said. Acting quickly, he called around, looking for someone at the UA to come and collect the hatchlings from the construction site.
To his frustration, "no one believed me at the University of Arizona," he said about the rare nest discovery. "They probably thought, 'This guy doesn't know what he's talking about.'"
Oftentimes, people misidentify other species of lizards for Gila monsters, said Karla Moeller, educational outreach executive coordinator for ASU's provost office and co-author on the study. She was a graduate student when she helped with data collection.
Pfander eventually got in touch with Roger Repp, a tool and die maker for the National Optical Astronomy Observatory in Tucson and an amateur herpetologist with decades of experience.
Repp checked out Pfander's claim.
"That guy came out like a kid at Christmas," Pfander said, not understanding Repp's excitement at the time.
Repp worked closely with the ASU researchers on the study and knew about their endeavor to understand the behavior of newly hatched Gila monsters.
He took the hatchlings to Moeller and Dale DeNardo, associate professor in the School of Life Sciences at ASU. DeNardo, Repp and Mark Seward, a well-known Gila monster breeder in Colorado, are all co-authors of the study.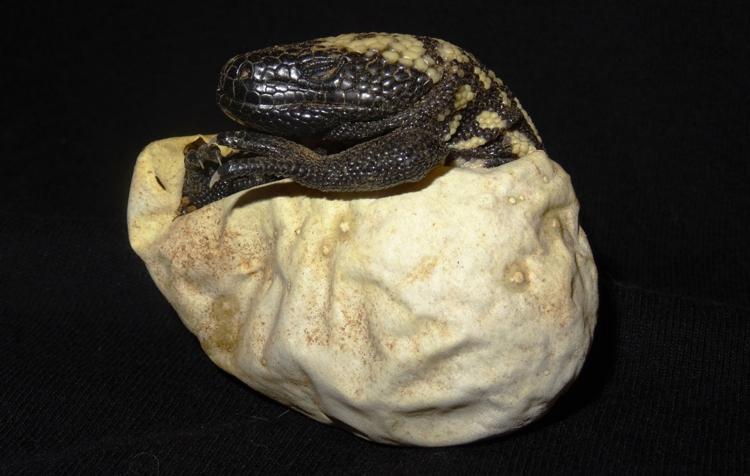 Last puzzle piece
The team has been tracking and studying Gila monsters in the wild and in the lab since 2001.
"It's really crazy. We don't know much about the lives of juveniles for a lot of animals," Moeller said. "They're hard to study, they're small, more of them can be picked off and die."
Plus Gila monsters lay eggs underground.
Until this point, the team mostly relied on anecdotal evidence about the timing of young Gila monster behavior, Moeller said. They knew eggs are laid in mid- to late summer, yet baby Gila monsters aren't observed lounging in the desert sun until late spring at the earliest, meaning nearly a year can go by from when eggs are laid to when the young lizards are seen.
So what goes on in the months between a monster mother laying eggs and the emergence of her babies? Do they stay cooped up in eggs for months longer than expected before hatching, or do they hatch and hang tight for months underground before coming out?
After incubating eggs in the lab under certain conditions, they found that eggs hatch four to five months after being laid, corresponding to an October through November hatch date.
Researchers strongly suspected at that point hatched Gila monsters remain for a period of time in their underground nests.
"This was thought to be something that only some aquatic turtles did," Moeller said.
"Here we have something that's not a turtle, not aquatic, doesn't live in cold environments, and it lives in a desert where winters are not that cold," DeNardo said in a statement. "Everything is different about this animal."
The team suspects Gila monsters do this to wait for the right environmental conditions and food availability while also saving energy. Additionally, Gila monster youngsters can defend themselves with their venom once hatched.
When Pfander found the Gila monsters emerging in late October, "we had further evidence that this was what was happening," Moeller said.
"Mike finding the nest was so lucky, and it really gave us the power to confidently move forward with the data," she said.
For Pfander's contribution, he was acknowledged in the paper, which was published in Philosophical Transactions of the Royal Society B, a peer-reviewed scientific journal, in May.
"I didn't know it was such a big deal. I was just happy they didn't get killed," Pfander said about the young Gila monsters. "I was successful in what I set out to do."
Contact Mikayla Mace at mmace@tucson.com or (520) 573-4158. Follow on Facebook and Twitter.