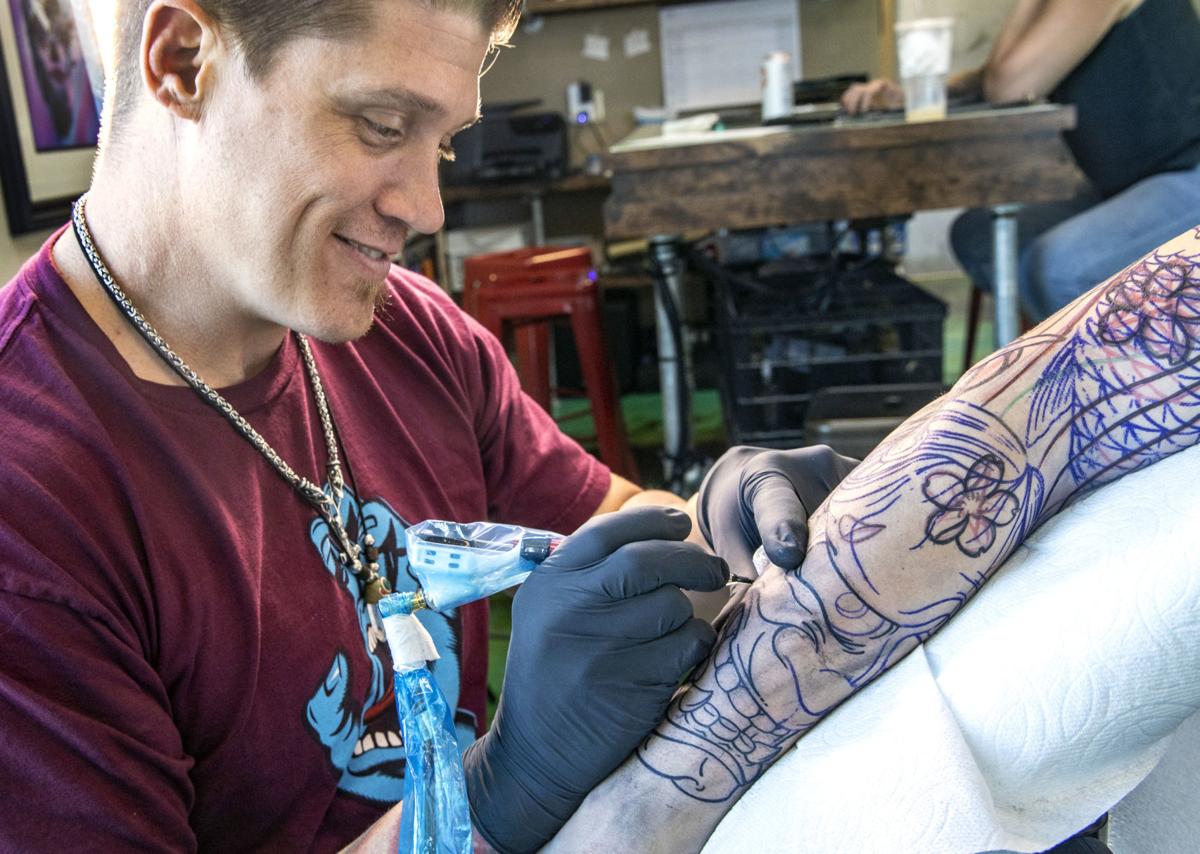 Tony "4 Fingers" Stannard started tattooing when he was in high school.
Next week, he'll be featured on a new TV show.
Stannard, a Tucson native and graduate of Sunnyside High School, joined the Marine Corps in 1994 and served for eight years. While serving in Iraq, he lost his left pinky finger and almost lost a leg.
Stannard's interest in tattoos peaked when he was a kid after admiring a tattoo artist at the swap meet.
"I was so infatuated with the process of tattooing and how permanent it was," he said. "I've always been drawn to that ever since I was a kid. I would draw on myself and my friends with markers."
When he got to high school, he tattooed one of his friends — real tattoos that time.
And when he joined the Marines, one of his friends told him to buy a tattooing kit out of a magazine — so he did, and continued tattooing.
Eight years later, Stannard left the Marines and tried to find apprenticeships for tattooing. But it wasn't easy.
"I got the door closed in my face and got kind of discouraged," Stannard said.
Eventually, he met an old friend of his wife's, who happened to be working at a tattoo shop in Tucson. Stannard was offered a job — mainly mopping and sweeping up the shop.
Then one day, Stannard tattooed a walk-in client. At that moment, everyone finally realized what Stannard knew all along: he shouldn't be sweeping up the shop — he should be giving Tucsonans tattoos.
At the time, Stannard was a government contractor overseas. He would be gone for several months at a time, but when he'd come back to Tucson for another handful of months, he'd work 10-hour days at the tattoo shop. It was difficult to spend time with family, he said.
"I made the decision to start tattooing full-time and I haven't looked back," he said.
It wasn't long before he opened up tattoo shop Trinity Art Collective, 7455 W. Twin Peaks Road, with two other people. Stannard eventually submitted his information to A&E's tattooing competition "Ink Master."
Stannard wasn't chosen, but because he mentioned that he had a military background, his application stood out to A&E when the network was pitching "Hero Ink" years later.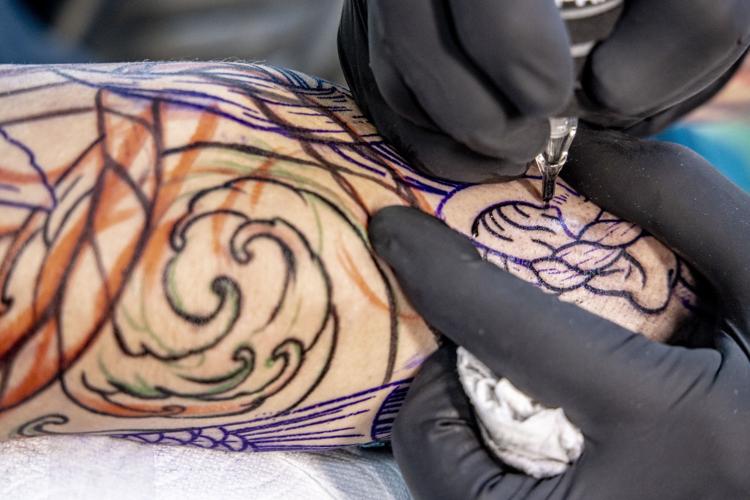 "I was really excited because it's not a competition," he said. "It's about listening to someone's story and giving them a piece of art. That's what we do on a daily basis at the shop."
Although Stannard has his own shop in Tucson, filming for "Hero Ink" took place at Houston tattoo shop Prison Break Tattoos, which specializes in meaningful tattoos for first responders. Stannard is one of the show's featured artists.
"I think the show is important because I truly believe it's going to bring good light to the first responder jobs that men and women have," he said. "I think sometimes what they do and what they sacrifice isn't noticed as much.
"I hope that this will give light on the real heroes."
Stannard said that matching first responders with an artist who has a similar background is important.
"It's therapy sometimes — everyone says that with tattooing, but it almost is," he said. "I've done certain things and been in certain situations in combat, that when people come in, we can talk about certain things and there's no judgment."
Stannard said not only can he listen and empathize but he can relate to certain stories.
"It's the last stage of that person's journey from everything they've gone through," he said. "That really warms my heart because it's giving back to that person."
The first episode of "Hero Ink" airs on A&E June 6. Check your local listings for the time.
Contact reporter Gloria Knott at gknott@tucson.com or 573-4235. On Twitter: @gloriaeknott