A city bursting with smarts, innovation, unique thinkers and, especially, creativity.
Sometimes it's hard to get that.
But it's hard to ignore now with the murals that have popped up all around downtown.
The city of Tucson's Mural Arts Program has made the area an outdoor art gallery, with murals that scream Tucson in gorgeous colors, graceful birds, big hearts and blooming cacti. The murals speak to the Southwest and to the soul of the community.
The new murals that have gone up in the last month are visual celebrations of the Old Pueblo's colorful personality. One, the jaguar, is courtesy of the Center for Biological Diversity. The remaining eight (including one that is not yet done) are a result of the city's mural program.
"I got the idea for the program from one in Richmond, Virginia," says Camila Bekat, an economic development specialist with the city's economic initiatives office.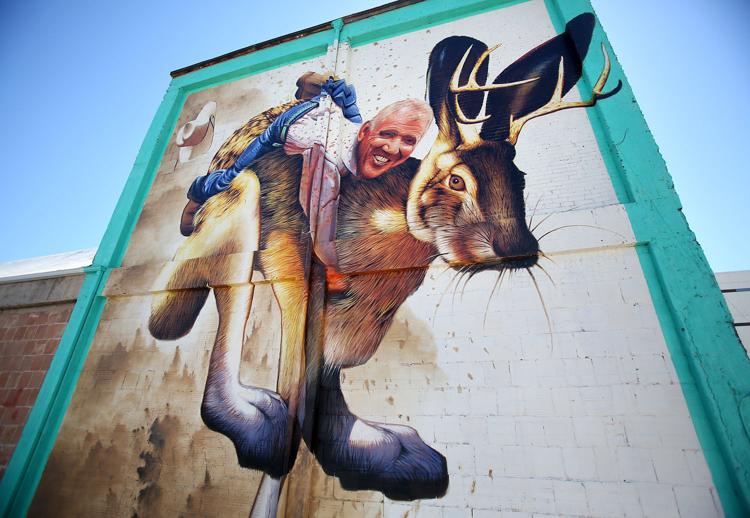 "They've used murals as a way to revitalize areas and a way to create visual interest and deter taggers. We thought a similar program would help us achieve those goals, too."
The first step in the mural program was securing the funding, and the Tohono O'odham Nation came in with a $50,000 grant. Visit Tucson threw in a couple grand.
Then Bekat and the city went to a group who knows how to do what they wanted done: the Tucson Arts Brigade.
The 20-year-old nonprofit has long matched up muralists with owners of walls that called out for visual pizazz. It has also brought art to schools, neighborhoods and community centers and has an extensive arts education program. The idea is a community that embraces and cares about art and artists thrives culturally and economically.
The Art Brigade's recent Trash Container Mural project, an effort to reduce graffiti while brightening up neighborhoods, sent Bekat to the organization with the idea it could manage the downtown mural program.
"She said, 'We need this in Tucson,'" recalls Michael Schwartz, a co-founder of the Arts Brigade.
"I've been waiting 20 years for that call."
Planning began in late January. In the little more than four months since, the city and the Arts Brigade called for proposals from artists, looked for partners in building owners who wanted murals on walls, winnowed down 58 artists' proposals to 16, and saw seven of the eight murals completed. The last will be done by Monday, June 20.
"I thought it would be a real asset," says developer John Wesley Miller, on his wall at 9 N. Scott Ave. Miller, like all those offering up walls, was able to select the mural he wanted from the final 16.
"Isn't it pretty?" he asks about the Isaac Caruso mural. The towering piece looks over an alleyway and drips with juicy oranges and orange blossoms on a cool blue background.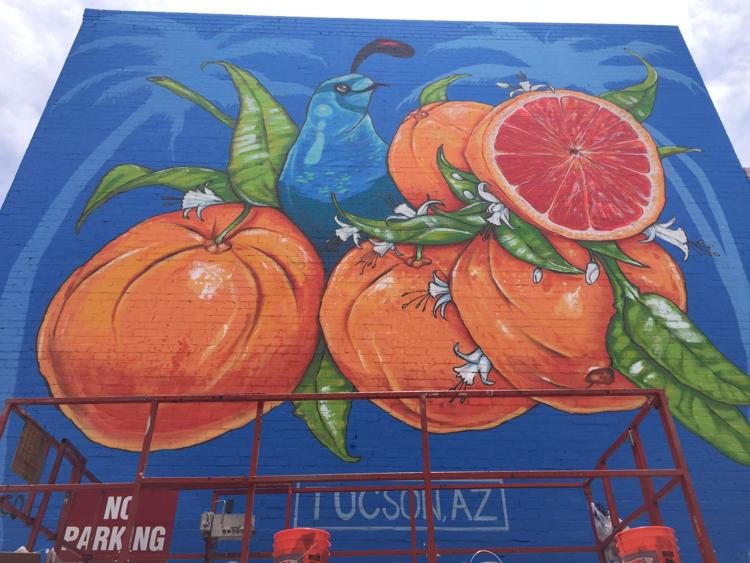 Benjamin Plumbing Supply's historic building at 440 N. Seventh Ave. has a 55-foot-high wall facing west. Blank, it was a magnet for taggers. "Tagging and graffiti have never been our friend," says Tina Roesler, director of marketing at the 56-year-old Tucson company.
"We've spent thousands of dollars trying to keep up with taggers."
Today, Rock Martinez's riveting Agave Lady peers over the buildings toward the Stone Avenue underpass, serving as a can't-miss-it greeting to downtown travelers and a beckoning to the arts district.
Tagging is an uncomfortable reality in Tucson. Schwartz hopes the graffiti artists respect the murals, but he is realistic. All the works have a protective coating that will make removal of graffiti a quick and fairly easy job.
Most of the artists began the work in May and finished early this month.
The response has been electric. While a few have groused about "wasting taxpayer dollars" — which were not used for this project — most of the reaction has been positive, says Jessica Harris, who is tracking responses for the Arts Brigade.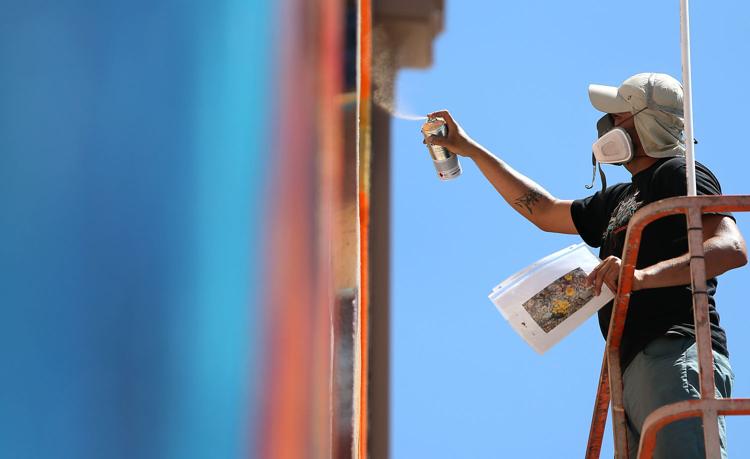 The city's Bekat says her office is receiving mostly praise from the community for the project, as well. So much so that she's planning more.
"We just applied for another round of funding through the Tohono O'odham Nation, and hopefully we will be" successful, she says.
"If that happens, we hope to do another eight to 10 murals, and we'll expand it a little bit." Areas along North Stone Avenue and North Oracle Roads are likely the next sites, she says.
That is exciting to Schwartz, who is passionate about the role art plays in the community, and the ripple effect it has on economic development.
The murals "are creating an ambiance downtown that's a reflection of the Tucson that we all love," he says.
"There's a feeling here that this is a special place, an old community with a lot of creative ideas and energy. To see that animated creates possibilities. … Downtown is now poised to be a place of inspiration for all of us, and to draw in a lot of new businesses who see the murals and see a community that supports the arts."
The Murals
Meet the artists of Tucson's Mural Arts Program
Creating one of the murals wasn't as easy as coming up with a design and slapping on paint. The surfaces needed to be power washed — the Tucson business Graffiti Protective Coatings did that job gratis — scaffolding and lifts were necessary for most jobs, as were volunteer assistants to help the artists, who were on tight deadlines.
Mapping it out: Visit the new murals
Contact reporter Kathleen Allen at kallen@tucson.com or 573-4128. On Twitter: KallenStar