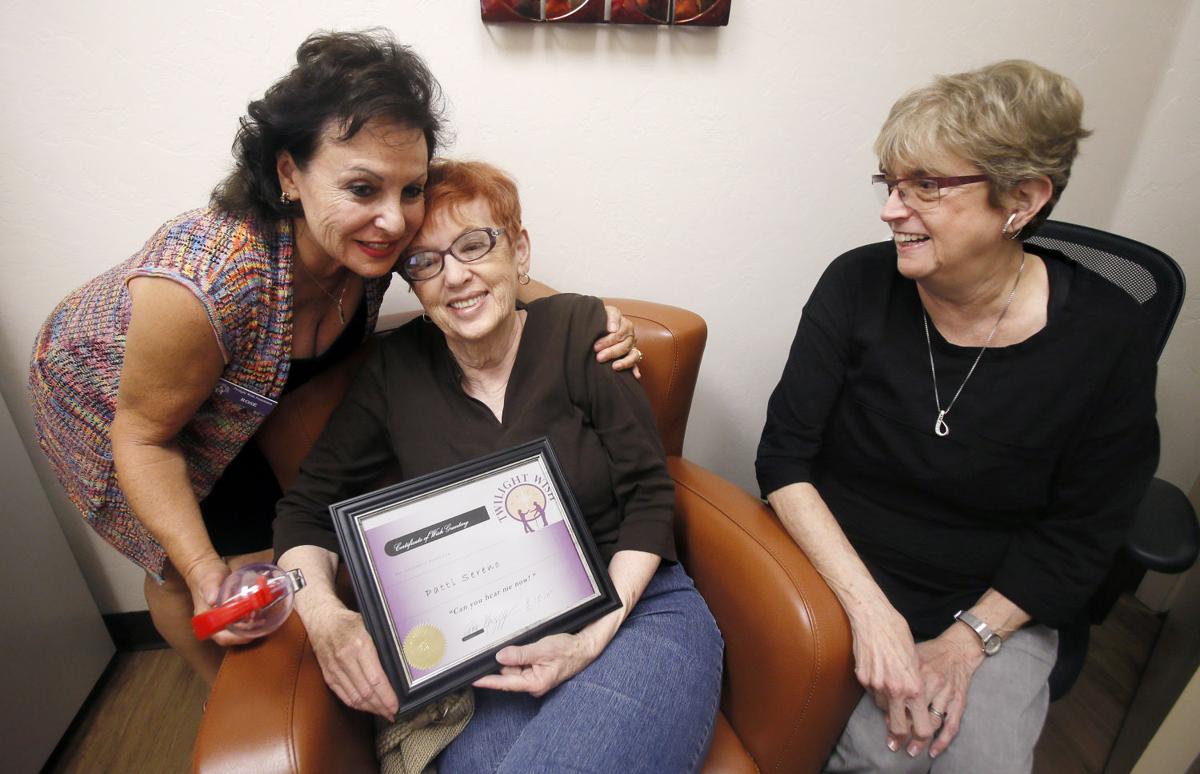 Rose Muzzy is a fairy godmother.
She even has the wand to prove it.
Although today, it's on the fritz. The batteries are dying. Luckily, she's at El Dorado Audiology, which always has plenty of batteries on hand.
Once the wand is in working order — lights flashing, music chiming — she's off to give Patti Sereno her wish: to hear.
Sereno, 71, lost the hearing in her left ear when she was 13 after contracting the mumps. For years, she struggled as the hearing in her right ear faded. She saw nearly a dozen doctors and tried hearing aids that didn't work or were too expensive.
Her husband, John, reached out to the Twilight Wish Foundation's Arizona chapter run by Muzzy and her daughter Lisa Mach — asking for help. The nonprofit grants wishes — whether they're for a basic need or a dream — for low-income elderly.
Muzzy and Mach worked with El Dorado to get Sereno tested and outfitted with a hearing aid, free of charge. The audiology office along with manufacturer Widex are picking up the tab for the $6,000 device.
"I'm so grateful," Sereno said, tearing up, when she learned the news. "Thank you so much. This is so amazing. I don't even remember when I could hear this much."
It was a fitting gift for someone who's never shied away from helping others. When Sereno, who used to be a dollmaker, and her husband John managed a mobile-home park, 70 percent of the residents were elderly and on fixed incomes. The Serenos routinely helped strapped tenants with rent and utilities and even bought them groceries.
Her plight touched the mother-daughter duo that makes dreams become reality for people across the state.
"She can't even afford to hear," says Mach, who along with her mother volunteers her time. "It's just priceless to give that gift. Life changing."
Muzzy founded Arizona's Tucson-based chapter in 2006 — a tribute to her late father who was a veteran and Purple Heart recipient. She and Mach, who hold down full-time jobs helping seniors find care homes, have granted 96 wishes, ranging from a woman in Chandler who wanted to enjoy snow to folks who need dentures.
"Our group hasn't turned anybody down," Muzzy says.
The chapter relies on donations and raised $12,000 last year by having a team participate in El Tour de Tucson, which helped send three veterans to Washington D.C. to visit war memorials.
"The main reason we do this work is to help low-income seniors," Mach says. "They've really paved the path for us. We just want to give back."