A picture paints a thousand words, but each portrait from the Bald Beauties Project embodies enough courage, hope, love, loss, memories, triumphs and tears to fill an entire book.
The family of Owen Taillie know how important the photographs are.
"There is so much meaning behind these photos. The photographer really runs with it if you have an idea or a look that you are going for and now our photos are not just pretty pictures," said Rachael Taillie. "They are a memory of Owen with something he really loved in a fun place that we can revisit where we can feel close to him and make more memories. That is helpful for his siblings and for all of our family and friends."
Rachael and her husband, Frank, and their children — Nathan, 12, Harper, 6, and twins, Kate and Owen, 2 — participated in the professional photo shoot at Tucson's historic Train Depot in February courtesy of the Bald Beauties Project. The Sierra Vista family was offered the photo session by the nonprofit after Owen was diagnosed with a rare and aggressive form of brain cancer in August 2018. He succumbed to the cancer June 9.
"Initially, I had to convince my husband to do the photo session. People always want to take pictures during happy times, but when your child is very ill, it is not necessarily a time you think of doing that. But we had the photographer come right before he began his stem cell transplant and it was such a fun experience for all of us. We were able to incorporate the trains that Owen loves and I am thrilled that he was so comfortable and they captured him so well," Rachael said.
The Taillies are one of 125 families whose photo sessions have been facilitated by the Bald Beauties Project, founded in honor of Kelsey Taylor Luria after she passed away due to complications from acute myeloid leukemia in 2015.
In addition to providing professional portraits (complete with make-up upon request) of children, teens and young adults who are undergoing cancer treatments and their families, the nonprofit has also distributed more than 100 teen comfort kits at Diamond Children's Medical Center to teenagers battling serious medical conditions.
Each comfort kit contains a plush blanket, eye mask, small pillow, ear buds and other luxury items intended to make hospital stays more pleasant. The Bald Beauties Project has also provided research grants to Target Pediatric AML, a grassroots initiative seeking to develop safer, more effective treatments for young AML patients, according to Bald Beauties Project co-founder Maya Luria, Kelsey's mother.
"Kelsey was a senior at Catalina Foothills High School when she was diagnosed with AML. She was just one out of 730 who face this cancer each year. Childhood cancer is made up of 16 major types of pediatric cancer and it is indiscriminate: It spares no race, socioeconomic status or geographic region. With 15,780 children diagnosed with cancer in the U.S. each year, it's not so rare, and we try to try to make people aware of that each September during Childhood Cancer Awareness Month," said Maya.
Maya is also promoting awareness about the annual Southwest Hope & Healing Bereavement Retreat held each summer at Tanque Verde Ranch. The weekend retreat is a partnership between Bald Beauties Project and another local nonprofit, Courtney's Courage, along with Arms Wide Open Childhood Cancer Foundation.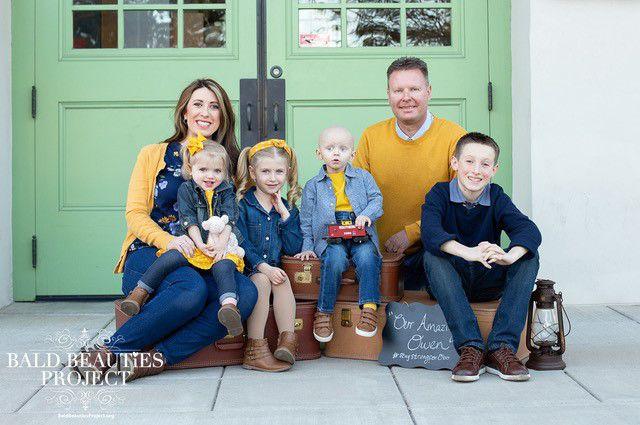 The conference provides a distinctive opportunity for families to come together to support each other, according to Rachael.
"I have never experienced this type of loss before and I am clueless. It is hard for lots of outsiders to understand. Most people have no idea what it is like to lose a child, and to lose a child to cancer is so tough. This opportunity to be around other families who have been going through the same things is so unique," she said.
The retreat offered arts and crafts, recreation, support groups, grief work, writing, memorial ceremonies and other therapeutic activities. Rachael emphasized she was particularly grateful to see Nathan connect with other pre-teens and Katie interact with other toddlers. She said it was also the first time Frank talked with other men about how he was coping with what happened to Owen.
"It was incredible. All the kids were able to go off with their peers and even if they didn't realize it, just spending time with other kids talking about what life is like now and sharing thoughts about the brothers or sisters they had lost was such a wonderful gift. The lives and death of our children are incredibly sacred to us and to be in an environment where we were able to feel comfortable to share that is critical when it comes to healing," said Rachael.
Ultimately, Rachael said that nonprofits such as the Bald Beauties Project and Courtney's Courage have provided support and inspiration for countless children and families.
In fact, she and Frank are paying forward the passion to give back to others in honor of their son.
They have founded Our Amazing Owen — The Giving Train to provide comfort kits that give parents and caretakers a comfortable place to sleep in their child's hospital room "when they are literally plucked from their homes for at least three to four weeks after the initial diagnosis." The comfort kits contain an air mattress with an electric pump, sheets, pillowcase and matching throw; the foundation plans to donate 20 comfort kits to Diamond Children's by Oct. 1 and is in the process of raising funds for more.
"Women like Maya are so inspirational. They collaborate and share their stories and that helps to give us the strength to stay optimistic about the future. It makes us realize that we can continue to live our lives and do good things and help others. It may not get easier, but we will get through it and still be able to find some joy," Rachael said.