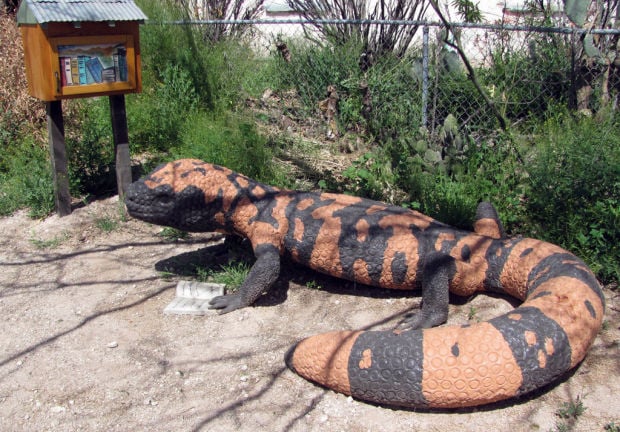 It's not every day that you see an 8-foot-long Gila monster lounging beside a city street.
And if the critter happens to be reading a book, well, that's bound to catch your attention.
The literary lizard - a super-sized and wonderfully whimsical artistic creation - sits next to the Little Free Library at West Second Street and North 10th Avenue in the Dunbar Spring Neighborhood.
"We've had lots of comments on it since it was installed in December," said Ian Fritz, president of the Dunbar Spring Neighborhood Association. "It's very sturdy and can be used as a bench. And that Gila monster seems to slow traffic in the neighborhood more than other methods" of traffic management.
Fritz said artists Hirotsune Tashima and Jason Butler created the big lizard likeness as part of a neighborhood reinvestment program.
The fact that the monster is shown reading a book ties the piece nicely to the Little Free Library. The library, about the size of a large suitcase, invites people to "take a book, leave a book" with no fees involved.
"It was kind of a community effort," with several people involved in the library design and construction, Fritz said.
No word so far as to whether the Gila monster might be working on a novel of its own.
Is there something you've noticed while driving through Tucson that has piqued your curiosity to the point you wish you could find out more about it? Drop us a line, and we'll look into it. Call the Star newsroom at 573-4142 or email oddity@azstarnet.com