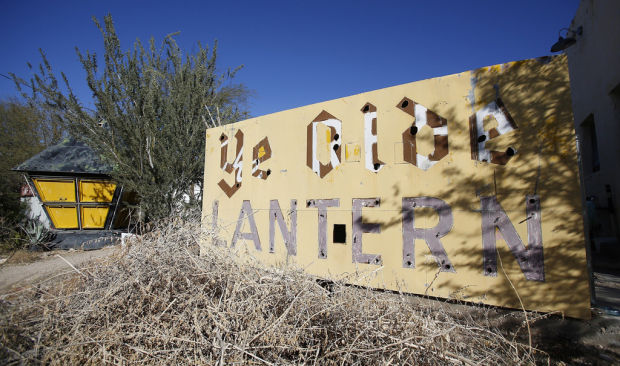 Some people have gnomes or flamingos as lawn ornaments. Dirk Arnold has an 11-foot icon that used to grace a once-popular Tucson eatery.
The fixture from the defunct Ye Olde Lantern restaurant now forms part of the landscape in his backyard in a historic part of Tucson.
"People love it," Arnold said of the midcentury sign that decorates the corner of North 10th Avenue and West University Boulevard in the Dunbar-Spring Neighborhood.
"They come by in cars or on their bikes and ask, 'Is that the old lantern?' and I tell them the story of how it got here."
That story goes like this:
In 2006, the restaurant, at 1800 N. Oracle Road, shut down after decades in business under different names.
It had been Ye Olde Lantern since 1959, renowned for its steak and seafood, red Naugahyde booths and the golden neon glow cast by the giant lantern fixture.
The building was bought by a local Elks group, whose members initially hoped to keep the sign intact but eventually took it down.
In those days - and until fairly recently - the city's sign code didn't allow for renovation and repair of such signs.
Arnold credits Casey Hovey of Tucson for saving the relic from the scrap heap. She happened to drive by the building one day as the lantern was being loaded onto a trailer for a journey to the junkyard, he said.
Hovey had them take the sign parts to her place instead, where they stayed for a year or so before she gave them to Arnold.
Now they sit among agaves and hummingbird feeders, proclaiming the availability of fine food and cocktails in fading painted lettering.
Though the lantern is out in the open, Arnold never worries about someone trying to steal it.
"They'd need a crane and a giant truck," he said with a chuckle.
Not everyone would welcome the sight of an aging business sign in the backyard, but to Arnold, a software interface designer, artist and lover of local history, this is bliss.
"To me, it represents the heyday of Tucson," he said.
Is there something you've noticed while driving through Tucson that has piqued your curiosity? Or is there some piece of Old Pueblo history you've wondered about? Drop us a line, and we'll look into it.
Get local news delivered to your inbox!
Subscribe to our Daily Headlines newsletter.