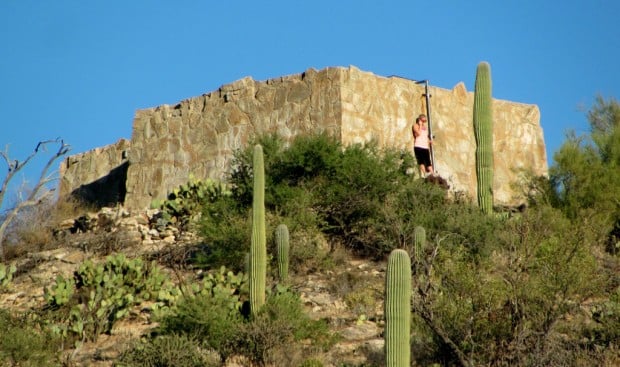 Sabino Canyon is known for its grand stands of cacti, soaring rock walls, vibrant stream and abundant wildlife.
But a human-made creation stands out among the natural wonders: an old stone building perched atop a hill less than a mile up the main road in the canyon northeast of Tucson.
What the heck is it? Or was it?
Hikers and cyclists peer up from the road at the building and speculate that it might have been:
• Somebody's long-ago homestead.
• A one-time ranger station.
Answer: none of the above.
"The structure is a water tower - or above-ground storage facility - probably associated with a well to the south and east," said Chris Schrager, a historic preservation specialist with the U.S. Forest Service.
"Varying sources claim that both the well and stone masonry structure may have been built by the WPA (Works Progress Administration), the CCC (Civilian Conservation Corps) or neither," Schrager said. "I think the structure was likely built in the 1930s or 1940s."
Does the building still hold water?
"As far as I know, it's no longer in use," Schrager said.
Is there something you've noticed while driving through Tucson that has piqued your curiosity to the point you wish you could find out more about it? Drop us a line, and we'll look into it.