A horse barn might seem like merely a place of endless chores, dust and dirt, but two Tucson friends know well the hidden magic.
Melanie Roeder and Lauren Schroeder, who grew up horse-crazy in barns on opposite coasts, want to share that magic with as many riders as they can.
The pair are lifelong equestrians, and though they have been friends just a few years, they are now offering their shared love of barns and horses at Steady Strides Riding Center at East Tanque Verde and North Houghton roads.
Steady Strides combines a horse rescue for abandoned, abused or neglected animals with a therapeutic riding center and a place where people of all abilities can ride, whether they are learning the basics on an English saddle or competing over jumps.
The pair, both instructors through the Professional Association of Therapeutic Horsemanship, started taking their first riders in December. As they get more established with their nonprofit operation, they plan to offer lessons on a sliding scale for low-income riders.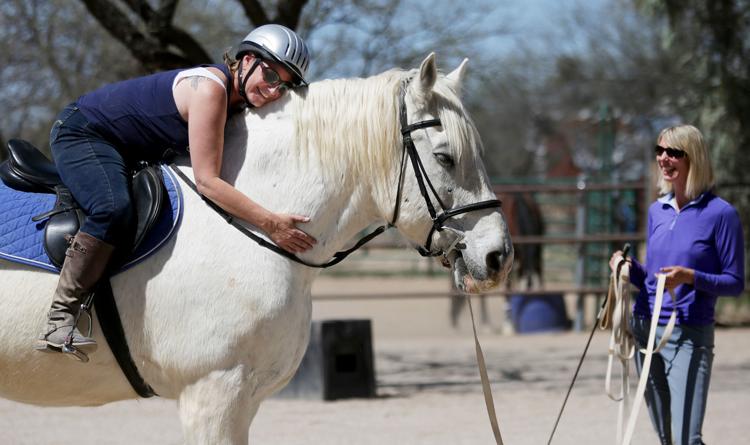 One of their objectives, said Shroeder, 36, is to "shatter the myth" that children with disabilities can do little more than a quick spin on horseback. They want to offer all interested children the chance to ride to the best of their ability, she said. One goal is to get an electric lift that will enable wheelchair-bound people the chance to ride.
Horses can be therapy for just about anyone, Roeder said, whether it's hanging around the barn, mucking a stall or cleaning saddles and bridles.
"All of my life, horses have been therapy for me," Roeder said. "I want this to be a place where people become horse enthusiasts."
Volunteers are needed on a daily basis, and people are welcome to contact Steady Strides to schedule a tour and learn about opportunities, Roeder said.
Vicki Inouye and her husband contribute hours doing a variety of tasks, which included building a new mounting block, which people use to get in the saddle.
Inouye worked as a pediatric physical therapist before retiring. Because she has long been attracted to horses, Inouye says she finds this volunteer work very rewarding. Inouye said she has been amazed how much riding helps kids living with disabilities develop both core strength and confidence.
"I've always had that love of being around a barn, that culture. I've found strong, wonderful, joyful connections working in a barn," she said. "I was so excited to hear that they want this barn culture to be a main focus."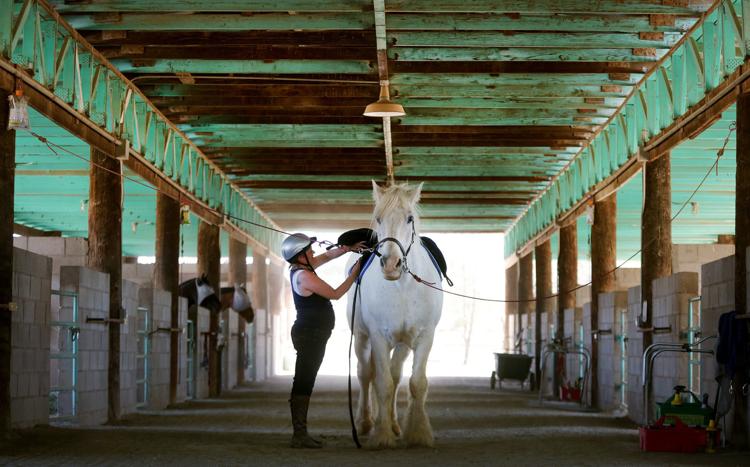 Cathy Brooks is another volunteer who says she loves how there are "always a million things to do at a barn."
"I have this draw to horses, even though I'm not a horse person or a rider," said Brooks, who helped trim trees on the property when they first were getting set up and now drags the arena dirt into an even surface each week. She also walks alongside new riders who need extra support.
"If you're a student that has a special need, they can accommodate you, but then they are also great instructors if you are looking to go further," she said.
Roeder, 41, said one of her favorite memories of bringing together equestrian sports and children living with disabilities happened when she was working in Chicago several years ago.
Her student was a boy born with spina bifida, a birth defect in which the spine and spinal cord do not develop normally.
What started as very controlled rides, with Roeder leading the horse and volunteers walking alongside, evolved into independent riding at a walk and then at a trot.
He's now competing in the show ring.
Roeder knows this will not be the path for all of her riders, but she wants to help as many children as she can to go as far as they can.
That's what Connie Aguilar has in mind for her 15-year-old grandson, Angel. He is being taught by Shroeder, and Aguilar said it's a perfect fit.
"She is so patient and so good at working with special-needs children," Aguilar said.
Angel's challenge is autism, so getting him used to horses has taken some extra effort, his grandmother said. At one point, they offered him a bag of gummy bears — one of Angel's favorites — to help him get motivated.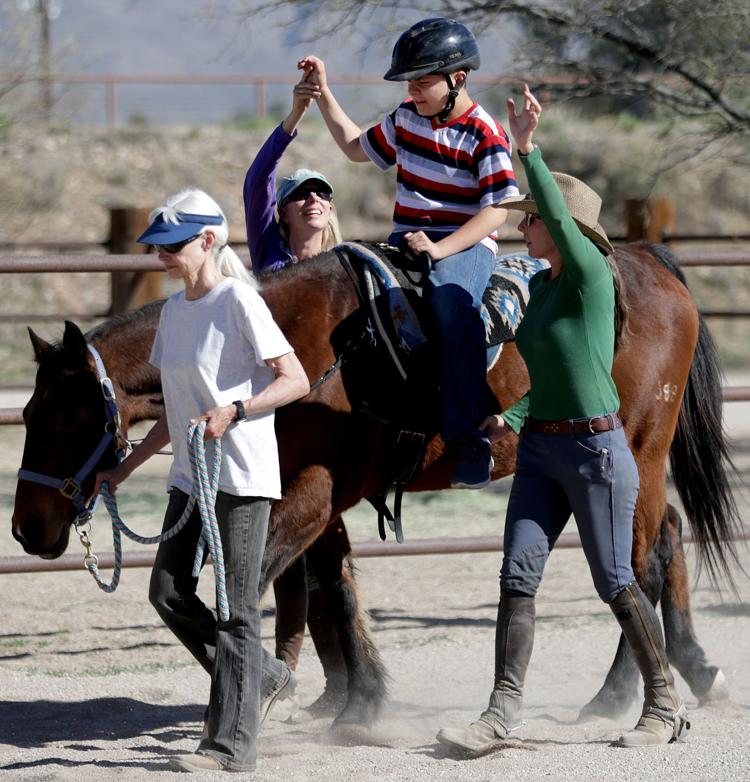 "He was terrified of animals before, even small dogs, and so I didn't think it would work," she said of riding lessons.
It not only worked, it exceeded her expectations.
Angel is using his voice more around the horses, and figuring out that he needs to apply a little pressure with his legs to get the horse to move forward. His grandmother dreams he'll eventually ride on his own.
"He just loves it. He absolutely loves it," she said.
When it's Friday and she asks him what they do on that day, she said he answers right away, "Horses!"