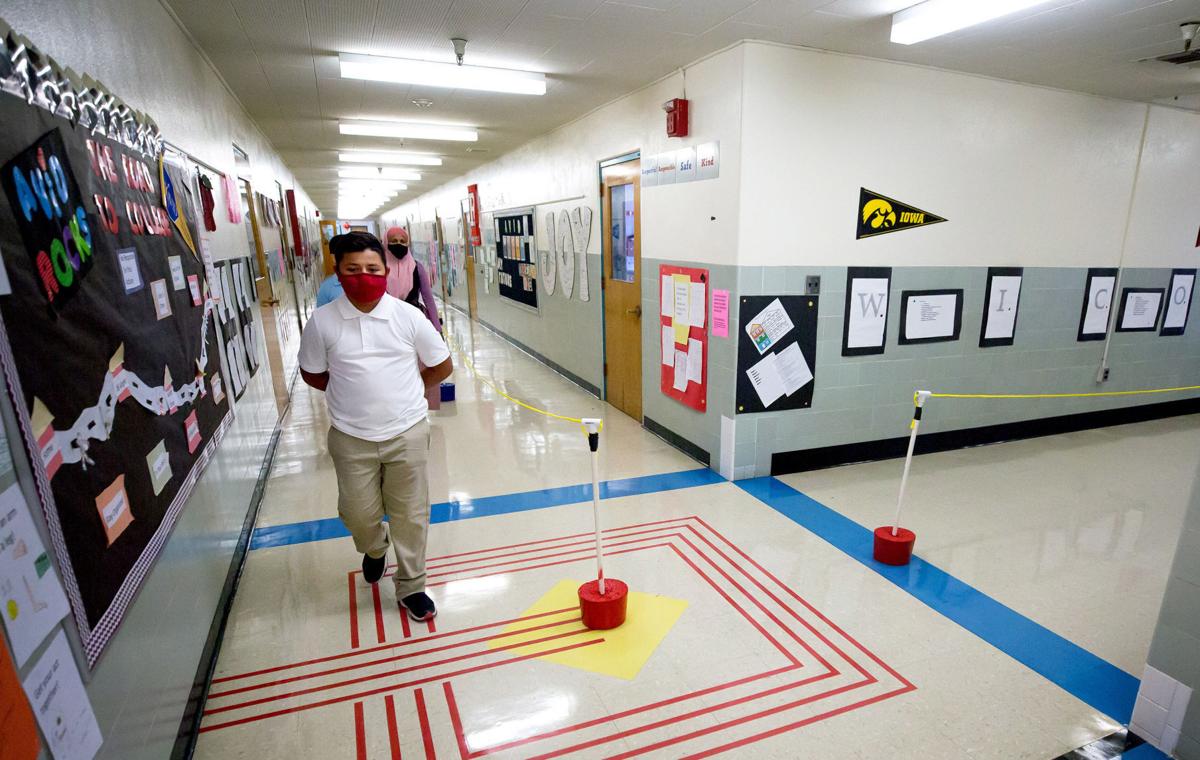 Tucson parents who want to send their children to school will likely have to sign either a liability waiver or a form acknowledging the risks of returning to campuses during the pandemic.
The Trust, which provides property and liability coverage for 247 Arizona public school districts and community colleges, is requiring that schools pay additional premiums to get coverage on any COVID-related claims from students and visitors on campus and that schools ask families to either sign a waiver and release of claims, or an acknowledgment of COVID-19 risks.
The insurance doesn't apply to employees, who can make such claims through workers' compensation.
The Trust gave school districts three options:
1. Pay no deductible on any claims if the school district asks families to sign a form waiving the district's liability should a child get sick;
2. Pay a $10,000 deductible for each claim if the school district asks families to sign an acknowledgment of COVID-19 risks;
3. Or pay a $20,000 deductible for each claim if the school district decides not to have families sign either form.
The Trust's website says districts should ask parents and guardians to sign one of the forms, but they cannot require parents to do so.
The Tucson Unified School District Governing Board reluctantly opted to have parents sign the acknowledgment form. The COVID-19 coverage will cost the district $150,000 on top of more than $4.4 million it already paid The Trust this year for insurance needs, including liability, property and workers' compensation.
TUSD Superintendent Gabriel Trujillo said although he supports the use of an acknowledgment form given the choice before school districts, he called The Trust's requirement a scheme.
"I am just not a fan of any part of this," he said.
The Trust already had an exclusion to covering pathogen-related claims before the pandemic, said TUSD general counsel Robert Ross. The insurer created this program for the member school districts to cover losses for liability and legal fees related to COVID-19 exposures occurring on school campuses.
TUSD looked for another option, but "there really isn't anything on the market," Ross said.
The Marana, Catalina Foothills and Flowing Wells school districts are going to ask families to sign the waiver when children return to schools. Like TUSD, the Tanque Verde, Vail, Sahuarita and Sunnyside school districts are opting to pay a potential $10,000 deductible per claim and are going to ask families to sign the acknowledgment form.
"I just thought that would be better received by our parents versus a waiver," said Sunnyside Superintendent Steve Holmes.
He said the waiver also has language in it that wouldn't be well-received by the Governing Board.
Amphitheater Public Schools hasn't yet decided whether it will use the waiver or the acknowledgment form, but it has been asking families using on-site care services to sign the waiver, said district spokeswoman Michelle Valenzuela.
A number of local districts have already been requiring families using on-site care services to sign one of the forms.
Districts have until Sept. 15 to make a choice on which form to use to have retroactive coverage to July 1.
Ross said the acknowledgment form is the middle-of-the-road approach. The only other option would be for the district to cover their potential losses, which could be more than the $150,000 premium just to defend a few cases, even if the district is not found liable, he said.
"There are a lot of districts that are going for the full waiver-and-release approach, trying to get to that zero deductible," Ross said at the Sept. 9 Governing Board meeting.
"We really took a close look at what is it that our relationship with our families is here in Tucson Unified, and you're trying to balance that with what The Trust is doing with this deductible scheme."
TUSD risk manager Nicole Lowery said the waiver has "fairly stringent legal language and is a little harsh."
For districts that choose this option, The Trust will pay all fees associated with any claims the district is found responsible for to the limits outlined in the program.
"So there is legal language in the acknowledgment, but it's a little nicer, a little less scary for a parent to sign, but is still acknowledging — in this time of COVID, I understand my risk," she said.
The forms are another way of acknowledging that no matter how hard districts try, they cannot eliminate the risk of COVID-19, said Trust spokesman Ryan Cole.
"Although districts are taking numerous steps to protect students, staff and the community from the spread of COVID-19, it is impossible to reduce the risk to zero," he said. "As an example, students may contract COVID-19 outside of school, show no symptoms at all and unintentionally infect a classmate."
The acknowledgment of risk form does not waive a parent's right to sue a school or district for COVID-related claims.
And as far as the waivers that some school districts are using, Ross said it isn't even clear if they would have any legal standing in court. A lawyer could argue that a parent can't be required to waive their right to sue when they are legally required to send their child to school, he said.
The TUSD board will publicly review the acknowledgment form before it goes out to families.
The decision regarding the liability forms comes as Pima County has met state benchmarks to start offering hybrid instruction.
However, the Pima County Health Department has an additional metric regarding the region's ability to conduct contact tracing that hasn't been met.
County health officials have also recommended schools wait to reopen until it's apparent how the influx of students at the University of Arizona affects the coronavirus and public-health metrics.
Most of Tucson's school districts have decided to adhere to the local Health Department's recommendations. A few charter and private schools welcomed children back to classrooms even before the state's benchmarks had been met.
"being blackmailed"
Since schools are not required to report cases unless there is an outbreak, it is not clear whether there have been COVID-19 cases in these schools.
Along with deciding to have families sign the acknowledgment form, the TUSD Governing Board also voted to undertake an initiative to inform parents of all options available to them, including continuing remote learning for the rest of the school year.
"All of our unified districts are having to go through this same process where we all sort of have this heartburn about the fact that we're kind of being blackmailed," said TUSD board member Adelita Grijalva. "You have no coverage or you do this."
Contact reporter Danyelle Khmara at dkhmara@tucson.com or 573-4223. On Twitter: @DanyelleKhmara
Concerned about COVID-19?
Sign up now to get the most recent coronavirus headlines and other important local and national news sent to your email inbox daily.