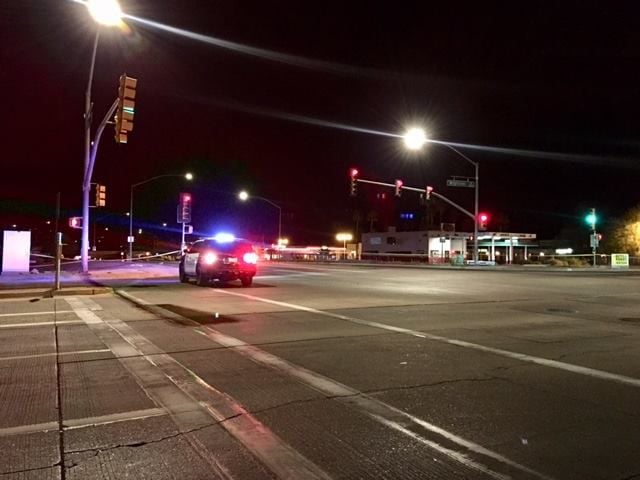 Tucson police identified the man shot and killed by officers Wednesday night as Daniel Spear, 35.
Police responded to a report of an armed robbery with multiple gunshots fired on the 2400 block of North Pantano Road around 9:40 p.m., the Tucson Police Department said in a news release Thursday.
The initial shooting occurred in the parking lot of a fitness store near the intersection of Pantano and East Tanque Verde Road, police said. An off-duty police officer moved people not involved with the shooting into the store and locked the doors.
The victim of the robbery said he was robbed at gunpoint, but was not shot, police said. Two suspects left the parking lot before officers arrived. Another off-duty officer heard descriptions of the suspects on the police radio and saw Spear running toward a car wash on the 7800 block of East Tanque Verde Road.
When officers approached the car wash on foot, Spear fired a shotgun at them and entered an unmarked police vehicle. No keys were in the vehicle and Spear exited the vehicle with a shotgun and fired in the direction of the police officers, who returned fire and struck Spear multiple times, police said. He was pronounced dead at the scene.
The second suspect drove away from the scene. After a description of the vehicle was broadcast on police radio, officers found the vehicle on the 5600 block of East First Street. The driver was detained in a traffic stop, but was released eventually without charges.
Police are conducting a criminal investigation. The Office of Professional Standards is conducting a parallel administrative investigation of the actions taken by police, which according to the news release is standard protocol when officers fire their weapons. The department's Critical Incident Review Board was called to the scene to review officers' response to the incident.
Detectives determined Spear used "ambush style tactics to engage the officers as they approached the car wash," according to the news release. Spear was carrying the shotgun, as well as a handgun he took from the victim of the armed robbery.
The Tucson police officers who fired during the incident are Officer Nathaniel Foster, a 10-year veteran of the department; Officer Rafael Rodriguez, a 6-year veteran; Officer Carter Wingate, a 4-year veteran; and Officer Matthew Kosmider, a 3-year veteran of the department.
More information will be released as it becomes available, police said. Anyone with information about the incident can call 88-CRIME anonymously.