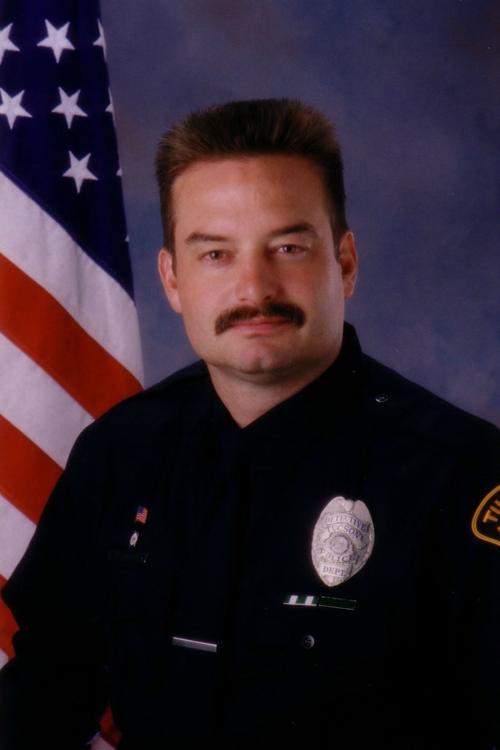 A Tucson detective retired in lieu of termination last month after police officials said he failed to properly investigate violent and serious crimes. He is the fourth detective to leave the department in less than three years for investigative lapses, according to police commanders and reports.
An investigation by the Tucson Police Department's office of professional standards revealed that 18 of former Detective Brett Barber's homicide cases were found to be "deficient or significantly compromised," according to documents provided by TPD to the Star last week.
Since April 2015, three other detectives have been fired or resigned in lieu of termination as a result of internal investigations that exposed serious flaws in cases dealing with armed robbery, homicide, and the abuse of vulnerable adults and children, department officials said Tuesday.
"It's sad, because unfortunately you get a few people and it's just rotten," said Chief Chris Magnus. "I'm glad they're not in the workplace anymore because I think they're a demoralizing influence on the larger group of really good employees, but I'm also sorry to see that it tends to cast a shadow on what is really good work being done by the overwhelming majority of detectives out there."
The department has made changes in how officers are selected to become detectives and how they are trained. It has also made changes in how supervisors review detectives' cases, as well as implementing a new audit procedure of randomly selected cases.
"We are seriously committed to continuous professional improvement and this is unacceptable to us. We're not good with just saying, 'Well, those folks are gone, let's just move on,'" Magnus said. "We want to take every step we possibly can to make sure this kind of thing doesn't happen again."
Magnus and several members of his command staff met with the Star last week after the newspaper's story Aug. 27 about Detective Lisa Lopez, who resigned last year after failing to investigate numerous cases involving child and elderly abuse. At the meeting, the department released reports documenting the internal investigations of several other detectives who are also no longer on the force.
Cold case leads
to review of detective
In May 2016, Barber was transferred to the Street Crimes Interdiction Unit from the Gang Investigation Unit, taking with him an unsolved homicide investigation, per agency practice at the time, according to investigative documents.
Barber was hired in 1993, but its unclear from the documents when he was promoted to detective.
Barber's new sergeant instructed him to continue with follow-up, complete the case and get it prepared for cold case, where it would be closed and filed until there were new leads. Two months later, Barber's supervisor noticed the case had been updated only twice and the entries said there was no current information to follow up on, the documents said.
In August 2016, Barber's supervisor asked him again why the case wasn't closed and was told the case was done and no follow-up was needed. Weeks later, the case was closed, but Barber's supervisor had already noted "deficiencies with other aspects of Detective Barber's attitude and performance," including inattention to detail, failure to follow through and a lack of documentation.
Shortly after, Barber's supervisor became concerned about a home-invasion robbery case with possible ties to human trafficking to which Barber was assigned. Although Barber contacted the victim within days of the incident, there was no additional documented work done on the case.
Barber's supervisor decided to review his cases for the previous two years and identified 18 cases with "substandard work product, missing work product and a failure to follow up on leads," the documents show.
After Barber's case was reviewed, Capt. James Scott recommended Barber be fired, saying he "eroded" the trust between the department and community.
"Detective Barber's conduct can only be characterized as willful and unknowing," Assistant Chief Carla Johnson wrote, when she also recommended the detective be fired. "His actions and inactions reflect poorly on the Tucson Police Department and fall short of what is expected of a police officer."
Barber was allowed to retire in lieu of termination
Flawed sexual
assault investigation
The first of the four detectives to leave the department as a result of flawed investigatory work was Gabriel Rivera, who resigned in lieu of termination in April 2015 after an internal investigation found he failed to investigate a juvenile gang rape.
Rivera, who was hired in 1999, was promoted to detective in 2007.
In 2012, Rivera was assigned to the case of a 17-year-old victim who was sexually assaulted by five male suspects at a party, before her best friend broke into the room and rescued her, the documents show.
Rivera didn't attempt to interview the friend for seven months and didn't visit the crime scene until 11 months after the assault took place.
In his case supplements, Rivera documented his attempt to get a "no-knock" search warrant from a Pima County judge, who Rivera said rejected the request.
TPD investigators learned the judge Rivera said denied his request had retired five days before the assault and there was no record of Rivera visiting the court to apply for a search warrant at all, the documents show.
Only three of the five suspects were arrested, even though the other two suspects had been identified by the victim and a witness.
As a result of the serious flaws in Rivera's case, it was re-examined by two investigators with the Pima County Attorney's Office who were able to get a confession from one of the suspects who had not been arrested, but they were unable to charge him— despite corresponding DNA evidence — because Rivera had previously ruled him out as a suspect, weakening the case, the documents show.
"Universal consensus by the victim, her mother, the Pima County Attorney's Office and the trial judge is that police failed to handle this investigation appropriately," according to the documents.
Kathryn Furtado, the prosecutor, told police investigators the quality of Rivera's investigation affected her case and the way the suspects were charged with and sentenced for lesser offenses.
"I had to tell a mom that there wasn't anything I could to do seek justice for this kid because I didn't have evidence to show what happened to her daughter was not consensual and that she was raped," Furtado told investigators, according to documents.
In his early interviews with investigators, Rivera said he didn't view the incident as a violent crime, saying that "it's open up to interpretation," the documents show.
As a result of Rivera's false claim that he tried to obtain a warrant, TPD opened a separate criminal investigation and recommended he be charged with tampering with a public record. The case was presented to the County Attorney's Office, which declined to prosecute, saying it would be difficult to prove intent.
Rivera admitted to making "great, grave mistakes" in the investigation, saying that it could and should have been more thorough.
Lt. Elise Souter wrote in her review that Rivera failed "to truly capture the magnitude of his repeated mishandling of this case and the effect this had on the victim, her mother and the primary witness."
The department also found deficiencies in an earlier case of Rivera's that also involved a juvenile victim, the documents show. The suspect in the incident was a Level 3 sex offender out of Texas, whom Rivera interviewed three years after the 2011 incident.
Despite the fact that Rivera wrote in his supplement that he would present the case to the county attorney, he never did, the documents show.
It's unclear if the suspect was ever arrested.
Detective's "casual incompetence"
Last November, the Star reported that former Detective Rudy Rodriguez lost his appeal with the city's Civil Service Commission, after the board upheld the department's decision to fire him for failing to investigate three cases the county attorney's office declined to prosecute, as a result.
Two of the cases involved alleged child abuse, and Rodriguez, who was fired in April 2016, wrote in all three case files that prosecutors had reviewed the case and declined to prosecute.
At the time of his termination, Rodriguez was a 13-year veteran of TPD and had been a detective for three years.
Upon reviewing the cases with prosecutors, police investigators discovered that two of the cases had not been declined, but sent back for further investigation.
The department opened a criminal investigation into falsifying police documents, but the County Attorney's Office declined to issue charges against Rodriguez.
Investigators found evidence that Rodriguez "intentionally made decisions to bypass standard and accepted investigative procedures," including failure to record interviews, making no efforts to locate suspects and witnesses and in one instances, interviewing a witness and a suspect at the same time over the telephone, the documents show.
"There is an abundance of evidence that Detective Rodriguez deliberately closed these cases while his supervisor was out of the office to prevent her from evaluating his exceptionally poor performance," Capt. John Leavitt wrote in his recommendation of termination.
"(Rodriguez's) casual incompetence in basic investigative techniques make him unsuitable in any role."
Also, the Star reported last Sunday about former Detective Lisa Lopez, who resigned in lieu of termination last September after investigators found that she failed to investigate 36 cases involving vulnerable adult and child sexual abuse.
Lopez, a 19-year veteran of the department, had been a detective for 12 years.
All of the cases assigned to the four former detectives have been or are in the process of being reassigned to other detectives.
randomly picked cases will be reviewed
The Police Department has 137 detectives, and over the past several years it has undertaken major changes in the way detectives are selected, assigned to units and are trained, Magnus said.
In the past several months, a number of changes have been made to the way supervisors oversee cases and case management, including weekly case review meetings with detectives.
Another change is that detectives no longer take cases with them if they transfer to another unit.
Because three of the four mentioned detectives were deceptive with their supervisors, assessing their performance and identifying the behavioral issues was more difficult, Magnus said.
However, as a result of the investigations, one sergeant received a 10-hour suspension for his role in Rivera's case and another received managerial counseling.
A third supervisor is under review for his role in the Barber case.
"We really do not take lightly our obligation to do the best we can with these cases and to serve this community well," Magnus said.
To deal with these kinds of situations, TPD developed a new division called the Audit and Best Practices unit, which is in the process of reviewing 204 randomly selected cases for quality control. Those results should be available in a few months, officials said.
Editorial: Tucson is watching / A8