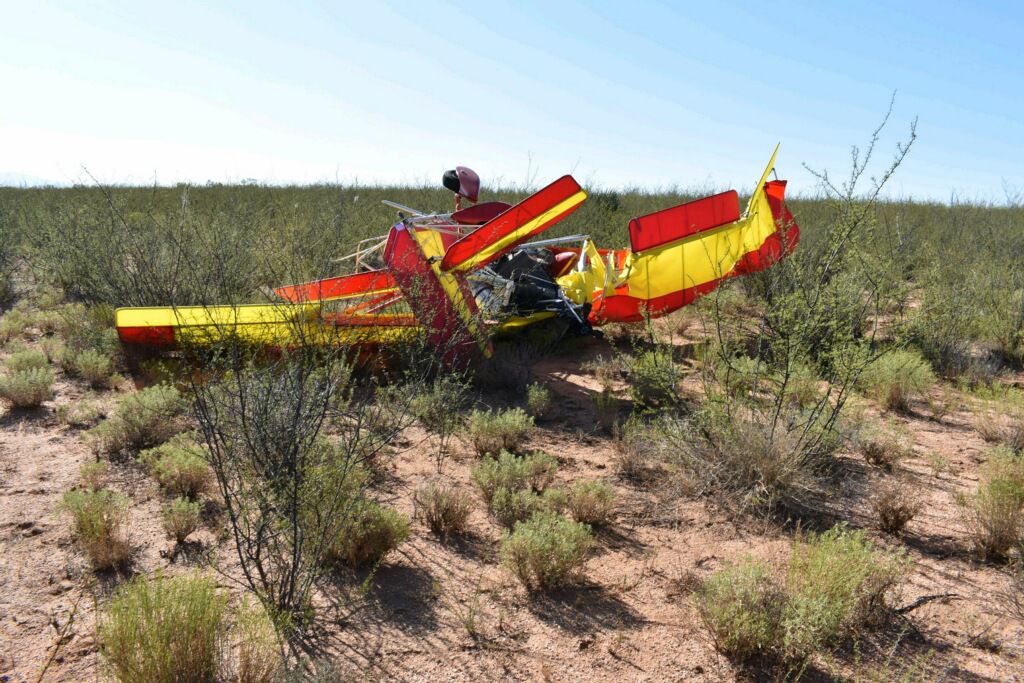 A Tucson Police sergeant died Wednesday morning in an ultralight plane crash in Benson, officials said.
Sgt. Timothy Froebe, who served with the Tucson Police Department for 24 years, was piloting the single-person plane while off-duty, said Benson Police Chief Paul Moncada. 
The Benson Police Department received a report of an aircraft down just before 8 a.m. Wednesday, Moncada said. Officers located the wreckage about 10 feet outside the Benson Municipal Airport and determined the pilot was deceased. 
The Benson Police Department is investigating the incident.
Moncada said interviews with witnesses indicated Froebe was having mechanical issues with the aircraft. Witnesses said they heard the throttle going up and down as if Froebe was manipulating it before the aircraft went down, Moncada said. 
Froebe had a hangar at the Benson airport where he had been working to refurbish the plane, Moncada said.  
Benson police notified the Federal Aviation Administration and the National Transportation Safety Board of the crash.
The safety board, which works in conjunction with the FAA, does not investigate accidents involving ultralight aircraft because they are not registered and pilot licenses are not required to fly them, said Ian Gregor, FAA spokesman.
As part of their investigation police detectives will interview people from the airport who spend time around the hangar and are familiar with Froebe and his aircraft, Moncada said. 
Froebe served in the U.S. Marine Corps from 1978 to 2012, reaching the rank of colonel.
He joined the Tucson Police Department in January 1995 as a patrol officer and was promoted to sergeant in October 2007, the department said.
His most recent assignment with the police department was supervisor of the Explosive Ordnance Disposal Unit.
Froebe received numerous awards in the police department, including the Medal of Merit, Medal of Distinguished Service and the Chief's Citation of Excellence.
Froebe, 59, is survived by his wife and four children.
"The Tucson Police Department extends our deepest condolences to Sergeant Froebe's family and friends," the department said in a news release Wednesday night. "He was loved and respected by so many at TPD, and he will be deeply missed."
Froebe was one of three officers recognized in the 2012 Tucson Police Foundation Unsung Heroes Celebration.
He and two other officers, as well as a retired officer, were nominated by their peers because of their community service, according to Arizona Daily Star archives.
As of 2012, Froebe had built up the department's honor guard through training, volunteered almost 1,000 hours to the honor guard unit and coordinated more than 240 events including funerals, memorial services and government events.
He also helped other Southern Arizona law enforcement agencies build their honor guard units.
Moncada, who has served in the Benson Police Department for 43 years, said this is the second fatal airplane crash he can recall at the Benson Municipal Airport, which opened November 1999. It is the fourth or fifth plane crash in almost 20 years, he said.
Tonight our hearts are broken as we learned of Sgt. Froebe's passing.

For decades, Sgt. Froebe led Marines and Tucson Police Officers with distinction and honor. His service to our country and the city of Tucson will never be forgotten. pic.twitter.com/YOGsP2O9VQ

— Tucson Police Dept (@Tucson_Police) September 5, 2019