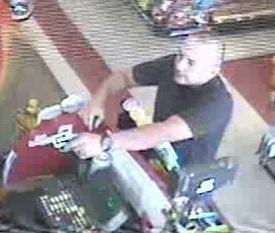 Tucson police officers are asking for help identifying a gunman who robbed a Quik Mart late last month.
In the May 31 robbery, the man pulled a silver revolver on a clerk and demanded money after gathering several items from the store at 6301 S. Park Ave., police say.
The gunman fled in a Ford Expedition with an undisclosed amount of money, police said.
The man is believed to be in his 30s, he's 5-feet-8 inches tall and weighs around 160 to 170 pounds. He appears to have tattoos on the left side of his neck and left forearm.
Anyone with information is asked to call 88-CRIME, an anonymous tip line. 
Armed Robbery Suspect - Know Him?
On 5/31/18, pictured suspect robbed the Quik Mart(6301 S. Park Ave) @ gunpoint. Susp left in a black Ford Expedition. Described as Hispanic or White male in his 30's. Tattoos on left side of neck (Asian style script) & left forearm. Call 88-CRIME pic.twitter.com/LoSem1yPA0

— Tucson Police Dept (@Tucson_Police) June 6, 2018