Students at St. Michael's School unleash a roar of disgust as nurse Erika Huff uses a blacklight to expose bright blue splatters. Huff uses a Glo Germ solution in a spray bottle to demonstrate just how much havoc a sneeze can cause.
These hand-washing lessons, coupled with their dramatic visual warnings, are just one of the tools schools have had to employ in the fight against COVID-19. How effective prevention measures are depends largely on the school's resources and autonomy.
Layered mitigation has the most success in keeping the virus at bay, said Brian Eller, Pima County Health Department's school liaison. Strategies like masking, testing and physical distancing all work together. To some extent, smaller schools have the upper hand.
Arizona public school districts, with some of the most packed classrooms in the nation, have more difficulty social-distancing students. Private schools also deal with fewer policy constraints. This is clearest in the case of the mask-mandate prohibition, which is already affecting funding options for public schools who choose to mandate masks and will become law Sept. 29 unless a judge blocks it from going into effect.
Private school St. Michael's boasts zero COVID-19 transmissions or cases and has a firm mask mandate in place without fear of funding retribution. In fact, the mandate has even yielded an increase in enrollment.
"I can point to a handful of families that are here this year particularly because of the masking," said Branden Sullivan, head of school.
As well, a student body of 270 and classes that average 15 students make it easier to separate into cohorts, whether by grade or classroom. Creating these groups and keeping them from mixing with others drastically helps reduce the risk of transmission, said Shannon Thorn, an infectious disease physician and member of St. Michael's COVID Management Group.
The group consists of parents of past and current students, who are medical or legal experts. They meet weekly to discuss public health guidance, local COVID trends and propose mitigation strategies.
Paycheck Protection Program loans — federal loans that were forgivable so functioned like grants to help small businesses keep employees on the payroll amid COVID-19 difficulties — and tuition, ranging from $10,750 to $11,200, helped St. Michael's cover personnel costs and facility enhancements. Both of these revenue streams are unavailable to school districts though charter schools could apply for the loans.
With these funds, St. Michael's installed air purifiers in every classroom, established an isolation room in the nurse's office and installed upward of 37 new hand-washing stations.
While the same funding opportunities aren't available to public schools, three federal relief packages were passed to support K-12 schools during the pandemic.
Public schools, however, were required to pay a portion of these funds for private schools in their area with low income students if requested. TUSD, for example, received $18 million for the first package and paid out $797,000 to private schools, said spokeswoman Leslie Lenhart.
TUSD, which received nearly $268 million in federal relief funding from the three relief packages, was able to do much of the same sort of upgrades as St. Michael's. The district replaced air filters, provided air purifiers and installed water bottle filling stations in each school, Lenhart said.
It also updated soap and paper dispensers, added hand sanitizers and plexiglass dividers in classrooms and set up outside hand-washing stations for elementary and K-8 schools. All schools have an isolation room in the nurse's office, and additional seating is being ordered to increase social distancing.
But fund allocations per district varied widely, because amounts were dependent on the number of low-income students enrolled. For example, for all three packages combined, TUSD and Sunnyside schools received more than $5,500 per student while Tanque Verde, Catalina Foothills and Vail school districts received about $600 or less per student, making necessary COVID-19 upgrades and measures much more difficult.
St. Michael's success in keeping students safe is due not just to financial resources, but also, in large part, to involved and cooperative families, said virologist and COVID Management Group member Felicia Goodrum-Sterling. This is one of the biggest differences from a large school district where parents are more likely to have different views on COVID precautions such as mask wearing and vaccines.
"As a private school and a smaller school, it's a school with high parental engagement," she said.
Huff echoed this, noting that the biggest help in stopping COVID transmission in school has been parents keeping students home if any symptoms arise.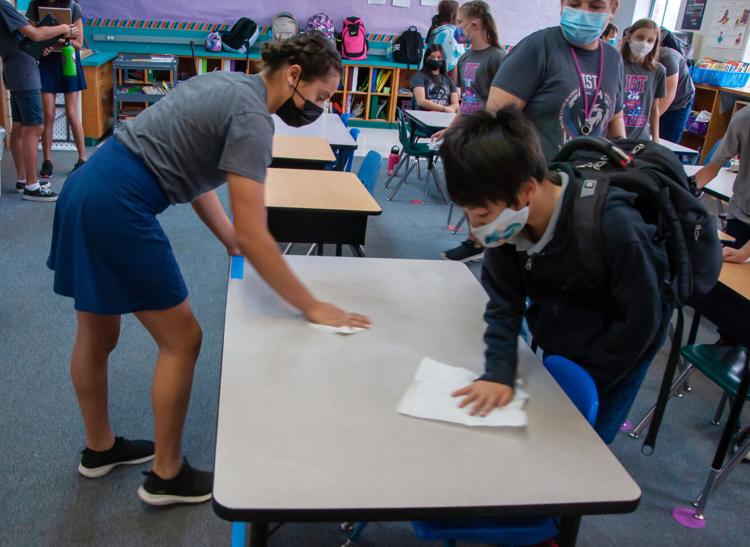 The closest St. Michael's has come to a COVID-19 exposure has been cases where an employee's children and spouses tested positive, Goodrum-Sterling said. Here, too, a high level of self-reporting has ensured students stayed safe. Once the faculty member notified the administration, they were immediately quarantined until they got a negative test. This early action prevented any instance of faculty members being on campus with active infections.
The county health department could not confirm the number of COVID-19 cases in any individual school.
As for replicating St. Michael's results at a public school level, Huff points out that there exist structural impediments.
"Most schools only have one registered nurse, if that," said Huff, "They might have a health assistant, or they might have a registered nurse overseeing multiple schools. So we're looking at thousands of potential students that one nurse might be responsible for."
Currently, the nurse-to-student ratio at TUSD is one registered nurse to about 1,600 students, Lenhart said.
The International School of Tucson, a private school in midtown Tucson with a tuition ranging from $9,050 to $10,300, has employed similar approaches to COVID-19 mitigation and has experienced comparable success.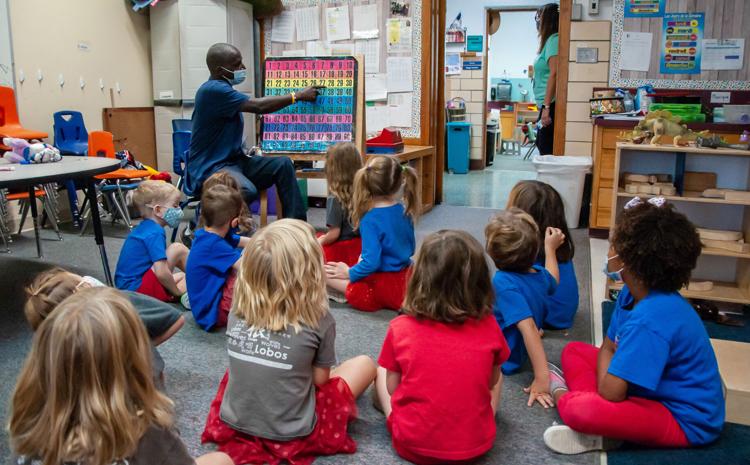 IST kept its doors open when most schools in Tucson shifted to remote learning. Enrollment dipped slightly last year, from 248 to 233, but quickly rebounded. Last year, parents chose the school due to its commitment to in-person instruction, and this year, enrollment jumped from 233 to 272 because parents view IST as more experienced in preventing COVID-19 than other schools that closed, said Jessica Palma, head of school.
A mask mandate has been in place since last year for all students and faculty. Faculty have also been required to get either vaccinated or tested weekly — which public schools are legally prohibited from doing. Similar to St. Michael's, a COVID SWAT Team was established to determine best practices for COVID-19 mitigation. The group includes pediatricians, a lawyer, an air quality expert from the University of Arizona and an infectious disease doctor at Tucson Medical Center.
IST's relative flexibility in determining strategies for itself has been a chief reason for its success. By contrast, public schools have to deal with "so much more red tape," Palma said.
The school installed extra hand-washing and sanitizing stations and purchased more tables and desks to increase social distancing between students in class. IST also added air filters to classrooms with poor ventilation.
A PPP loan of $250,000 helped keep teachers paid during the enrollment dip last year. IST was also recently approved for a Child Care Stabilization Grant, an Arizona Department of Economic Security program that provides IST with $10,000 a month. IST uses these resources to keep preschool rooms running and to increase staff salaries, said Palma.
COVID-19 transmissions in public schools last year were nearly twice as likely to have occurred in athletics programs like football and cheerleading than anywhere else on campus. IST avoided this simply because it has no competitive sports program.
Transmission on campus has been zero, and there have only been two cases within the student body, Palma said. On the second day of classes this year, two brothers were found to have contracted COVID-19 outside of school and were immediately quarantined for the required 10 days. Classmates were quarantined for five days until they got negative COVID tests.
Private schools have experienced positive results from their multi-layered approaches to COVID-19 mitigation. Public schools, however, face considerably more restraints on their decision-making processes and resources.
"Public schools walk a fine line between how they do what's best for their kids, in accordance with public health guidance, and meet the demands of their constituents," Eller, with the health department, said.