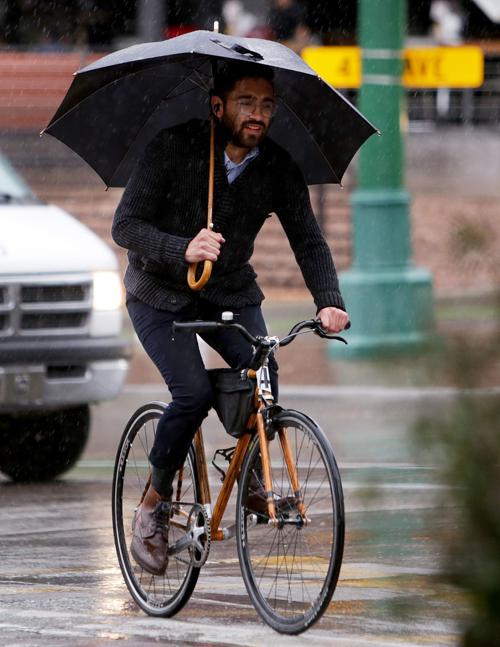 The first month of 2017 was average in temperature and slightly above average in rainfall in Tucson and Southern Arizona.
Arizona's mountains, meanwhile, received a good dump of snow and the Great Basin states that provide the spring flow into reservoirs on the Colorado River got even more.
In Tucson, 1.18 inches of rain fell at Tucson International Airport, about a quarter-inch better than normal. Across the valley, rain totals ranged from 0.75 inches to 4 inches, according to the monthly climate report compiled by John Glueck of the National Weather Service in Tucson.
That followed a December total of 1.08 inches that was 0.15 inches above normal.
The temperatures averaged about normal at 52.9 degrees — but seesawed wildly from a low of 29 to a high of 81 as a series of winter storms hit the region, dropping mostly light rain on Tucson, but enough snow on Mount Lemmon to start the ski season (though it blew down the upper ski lift) and provide a picture-perfect backdrop for the desert floor, where wildflowers were beginning to pop up.
Glueck noted a couple of anomalies in his report:
On the 15th, the temperature in Tucson varied by only four degrees with a high of 53 and a low of 49 degrees.
Tucson's average high temperatures also exceeded those in Phoenix for two months.
"The December average high temperature at the Tucson airport was 69.1 degrees while at Phoenix Sky Harbor it was 68.4. This month (January) the Tucson airport recorded a monthly average high temperature of 65 degrees versus the 64 recorded at Phoenix Sky Harbor," Glueck wrote.
Climatologist Mike Crimmins of the University of Arizona said he was pleasantly surprised that snow and rain totals were above normal in a year when a weak La Niña system was supposed to hold down precipitation totals.
That weather signal, caused by a cooling of ocean temperatures in the Pacific, has now shifted into neutral.
Crimmins said he is pessimistic that the winter will end with above-normal rainfall. He then apologized: "I'm standing in my backyard in 75-degree weather, complaining."
But the predictions for February and into spring are pessimistic. The National Climate Prediction Center says Southern Arizona will probably be warmer and drier than normal for the next three months.
The short-term outlook for Tucson is also pessimistic, if you look at things that way.
It will be mostly sunny with highs in the mid-to-upper 70s and lows in the upper 40s — downright beautiful — for the foreseeable future.
Contact: tbeal@tucson.com or 573-4158. Follow him on Facebook or on Twitter: @bealagram
Get local news delivered to your inbox!
Subscribe to our Daily Headlines newsletter.