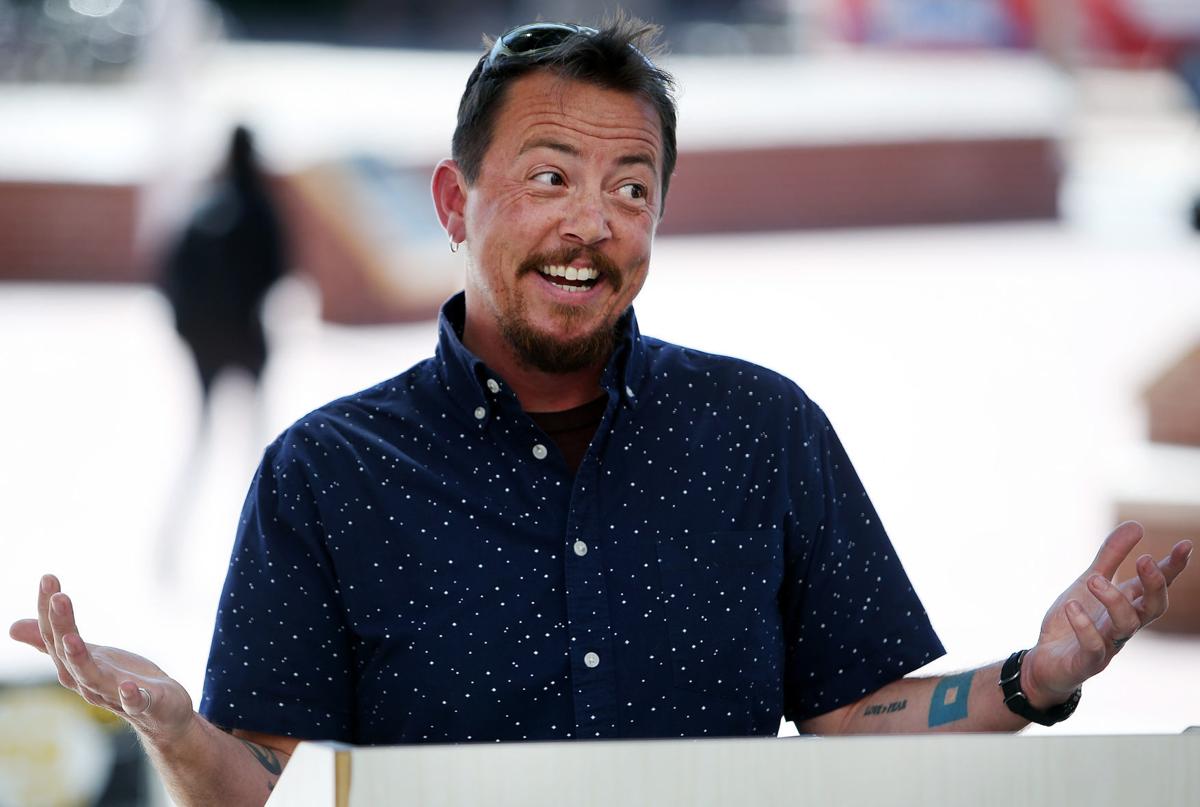 Less than two weeks ago, University of Arizona lecturer TC Tolbert was sitting with a student reading over an essay when the phone rang.
It was a call from the Academy of American Poets. Tolbert, who is Tucson's poet laureate, had applied for a fellowship with the academy in February.
"I knew I needed to take the phone call because they had texted me earlier and I honestly thought I was in trouble," Tolbert said.
But Tolbert wasn't in trouble. Quite the opposite, actually.
Tolbert, a UA graduate, was selected for the award — a whopping $100,000 to support civic programs in Tucson. Tolbert was one of 13 poets laureate selected across the country.
"I said, 'If I wasn't sitting with a student right now, I would start weeping.'"
But the worst part? The news had to be kept top secret for an entire week until the academy could announce the winners publicly.
"It was this hilarious moment of getting off the phone and holding this information and being like, 'I'm going to explode,'" Tolbert said.
Tolbert, who identifies as transgender and genderqueer, plans to use the award to implement poetry workshops to highlight the voices of Tucson's LGBTQ+ community, primarily youth.
Tolbert first drew up the workshop ideas in 2006 — years later, they're finally coming to life.
People attending the free workshops, which are expected to start in the fall, will learn about poetry and have the opportunity to be recorded. The audio will be heard in public restrooms across Tucson, essentially replacing other music you might hear.
"That feels like the perfect place to amplify trans voices," Tolbert said, adding that restrooms are a focal point in transgender rights.
A phone tree is also in the works. Posters will be stuck to telephone poles around the city and will have a phone number for passersby to call to hear a poem from the LGBTQ+ community.
When people call, they'll have several options. Press No. 1 to hear a poem about love, for example.
The phone number will work from anywhere in the country and poems will range in topics.
"I want to share some of the range of poetry that's being written right now by queer and trans folks and ask, 'What do you want to say?'" Tolbert said. "So often I feel like trans folks and queer folks — our stories are made simple for people to understand. I don't want to do that. I don't want to put people in tiny boxes. I want to ask what it is they want to share."
In addition to using the award for technology and teaching, Tolbert plans to purchase poetry books for workshop participants. There are also plans to hire an interpreter to translate the poems to Spanish.
"I want this to be accessible for everyone," Tolbert said.
Tolbert became interested in poetry as a kid but it wasn't until college when it became more than a hobby.
"Poetry was a way for me to express my queerness, way before I even knew that word," Tolbert said. "There was something about using language in a way that was very intentional and not necessarily about telling a coherent story and felt very right for my experience of the world."
Tolbert now teaches at the UA and the UA Poetry Center's Writing the Community program, in addition to other teaching gigs out of the city and during summers.
As poet laureate, Tolbert's job is to "infuse public space with poetry in ways that it hasn't been already or to get the community excited about poems."
Tolbert has also worked with nonprofit organizations such as Habitat For Humanity. And a blood drive is in the works, where poets will read poems to donors.
"I feel like we often talk about poetry as leading to change," Tolbert said. "I think if poetry inspires you to do something different, let's go do something different.
"Let's see tangible results of this internal process and beauty that we see on the page. Let's bring that to the world."
Contact reporter Gloria Knott at gknott@tucson.com or 573-4235. On Twitter: @gloriaeknott