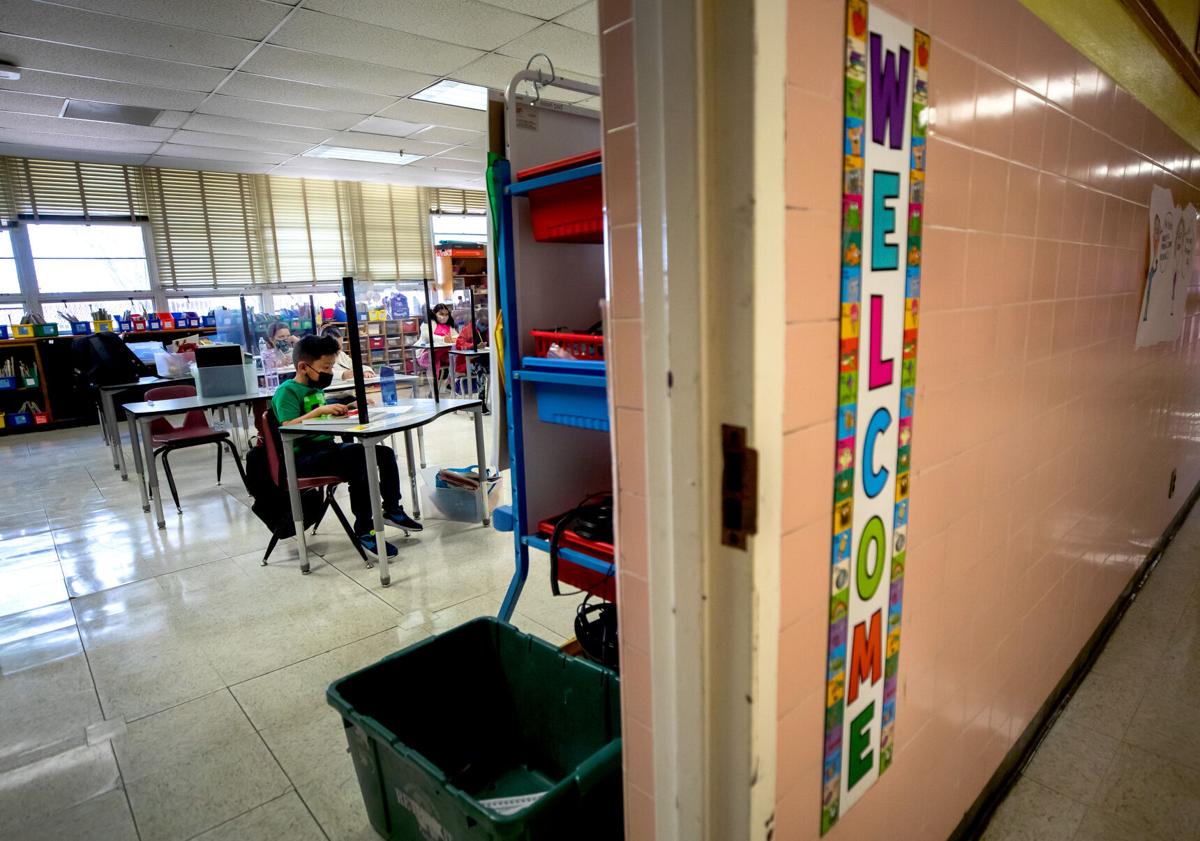 Students are returning to Tucson's school districts after an exodus last year for in-person charter and private schools, home instruc- tion or leaving school altogether.
More than half of the amount of students who left last year while in-person options were limited because of the COVID-19 pandemic have returned to Tucson's nine major school districts.
Tucson school districts lost a collective 7,400 students last school year, and while about half have returned, enrollment is still thousands of students short of what it was pre-pandemic.
Public schools are funded based on enrollment, so when students leave, districts have less money for expenses that don't change, like teachers' salaries and keeping the lights on.
Education officials see the increased enrollment as a positive sign.
TUSD's enrollment is currently about 42,000 students. Although that's still about 3,000 students fewer than pre-pandemic enrollment, it's a 765-student increase over the 40th day of 2020, an important day for calculating funding.
Tucson Unified Virtual Academy, TUSD's remote-learning model, accounts for a significant portion of the district's overall enrollment increase, with live classes rather than the fully self-paced model that many other districts are offering for their online option. Virtual academy enrollment is currently 2,380 students, of which 442 are new to the district.
"We have seen a real enthusiasm and excitement for a return to in-person learning in our earliest grades of kindergarten through third as well as in grades 9-12," said Superintendent Gabriel Trujillo. "This is where we have seen the most pronounced enrollment growth. The launch of the Tucson Unified Virtual Academy has provided a unique and innovative fully remote option for families, which I believe has accounted for a substantial portion of our current enrollment increase."
Amphitheater Public Schools and the Sahuarita Unified School District saw some of the largest percentages of students leave last year, and they have both seen about half those students return this year.
The dip in Sahuarita got to just below 5,900 students enrolled and now the district is up to to more than 6,200 students enrolled this school year.
Sahuarita is a town south of Tucson that has seen consistent growth over the last decade, and likewise the school district has steadily seen increasing enrollment until COVID-19 hit.
The school district lost about 11% of its enrollment last school year, which created budgetary challenges for the district in its ability to retain staff workers and maintain many student programs, said Sahuarita Superintendent Manuel Valenzuela.
Students left for many reasons, including parents' jobs changing and needing to relocate, and people needing to find what they considered to be the best and safest school setting for their children, he said.
Valenzuela credits the increase in enrollment to outreach to families who left as well as the broader community, improving their remote learning programs and infrastructure, and expanding popular high school courses like dual enrollment college courses and technical education programs.
"We're really striving to build the kind of programs that are needed for the area and also for the future," he said.
With students returning, the district is able to retain all their staffers and student programs, and Valenzuela anticipates that growth to continue.
Another reason for enrollment increases across Tucson is that more parents of kindergartners are enrolling their children after many held off last year, waiting for the pandemic to improve.
Every local school district has seen their enrollment increase except for Catalina Foothills, the only district without an online option, where enrollment is currently the same as last year, and Sunnyside, which continues to lose students for reasons unrelated to the pandemic.
Sunnyside, with a current enrollment of about 14,700 students, is down 350 students from final enrollment last school year, which is consistent with the district's projections. A demographic study conducted in both May 2016 and February 2020 found the district's enrollment loss was primarily due to fewer children being born and limited planned residential development. They project the decline to continue for another seven years.
Vail, Tanque Verde, Marana and Flowing Wells school districts are all above or near pre-pandemic enrollment levels.
But while traditional enrollment climbs in most districts, so does enrollment in districts' online schools, with enrollment for remote learning increasing from 2,280 to 3,930 students since the beginning of the school year, as the delta variant has spread throughout the community and infected more children.
COVID-19 transmission in Pima County is currently high. There have been 1,413 cases in schools since July 20, 54 outbreaks and more than 4,000 people told to quarantine after being in close contact with someone who tested positive.
Still, with nearly 4,000 students learning online in Tucson school districts, that remains a small fraction of the more than 115,000 students enrolled in all nine districts.
Despite the many challenges that persist and the uncertainty that remains, schools are looking more like normal.
Last September, when school districts were still all closed, Valenzuela walked across a Sahuarita school campus and could hear the wind blow through the silence of the empty school.
"It means the world that students are in school and that they are around their peers and their teachers and that, although not ideal and still with challenges, school looks more like school," he said. "Where we are right now, despite the challenges that we still have, is a good place, and I'm looking forward to walking through the challenges that we're currently in to hopefully continue to brighter days."