Parents hand off their young children at the gate of Copper View Elementary, the students' playful cloth masks snugly in place.
A tub of hand sanitizer and a box of disposable masks mark the threshold beyond where only students and school workers can cross, limiting the number of people on campus to mitigate the spread of COVID-19.
"We're excited to have real live kids," says Copper View Principal Desi Raulston, from behind her "Star Wars" mask.
The first district in Pima County to start hybrid learning, with the elementary grades, the Sahuarita School District welcomed half of kindergarten through fifth grade, who opted to come in person, on Thursday, Sept. 17.
Hybrid learning is a method that splits classes into staggered days on campus to allow for smaller cohorts of students and social distancing to mitigate spread of the coronavirus.
The 165 kindergarten through fifth graders attended in-person classes at Copper View on Thursday and Friday. On Monday and Tuesday, another 165 kids will experience their first day back to school since March, when schools closed because of the pandemic, which has since ravaged the state, killing nearly 5,500 Arizonans, 10 of whom were under 20 years old, according to state data.
About 110 Copper View students opted to continue remote-learning completely from home.
Throughout the district, 72% of K-5 students will attend hybrid school — more than 1,600 children. Sahuarita middle and high schoolers are expected to return in the coming weeks.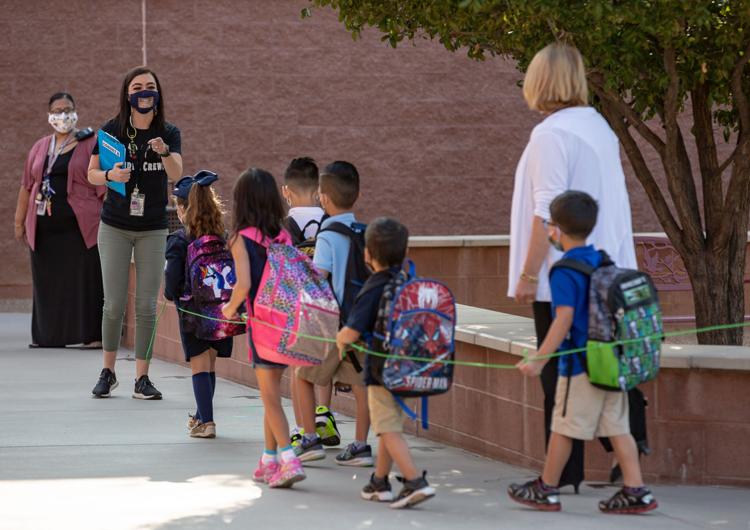 One by one, Copper View teachers lead their classes of six to 12 students into classrooms set up with hand sanitizers at the door and signs about mask-wearing and social-distancing hanging next to signs from another era, about voice levels and healthy meals.
Staff members have their temperature checked daily when they arrive on campus. The district is asking parents to take their child's temperature every morning before school and assess them for signs of illness. And any student or staff member who shows signs of illness will be promptly sent home. Like other schools throughout the district, Copper View has an isolation area for sick children who may need to be picked up.
Chrisie Dang set up her second grade class with her six students sitting about 4 feet apart. Each one has a personal box of supplies on their desk, items that used to be shared.
The students seem relaxed. Six weeks into the school year, Dang says, her students are used to seeing her every day, albeit on Zoom.
"It's not first-day jitters anymore," she says.
A cluster of desks sit in the back of the room with their own labeled supply boxes. Before a new group of students come in on Monday, Dang will clean the desks and rearrange the classroom to bring forward and space out the other group's desks.
"We would love to have all our kids but understand we have to wait until it's safe," she says.
Local and state health departments have created metrics to guide schools on when it's safe to start hybrid learning and when it's safe to move to more a traditional approach. Pima County recently entered the phase of meeting the metrics for hybrid learning.
In Janette Rodriguez's kindergarten class, 5-year-olds with cartoon-embellished masks and bright bows in their hair gaze at each other through little windows cut into partitions that physically divide their desks. Like Dang, Rodriguez set up her own classroom to follow public-health guidelines. She enlisted her husband to build the barriers between the desks.
Though district guidelines have been set, teachers were left to decide how their classrooms should be set up and how matters like social-distancing will be enforced.
"Every time we touch our masks, we're talking and there's germs in our masks," Rodriguez says to a little girl who keeps pulling down the bright pink cloth over her face. Rodriguez tells the girl to wash her hands in a sink in the corner of the classroom.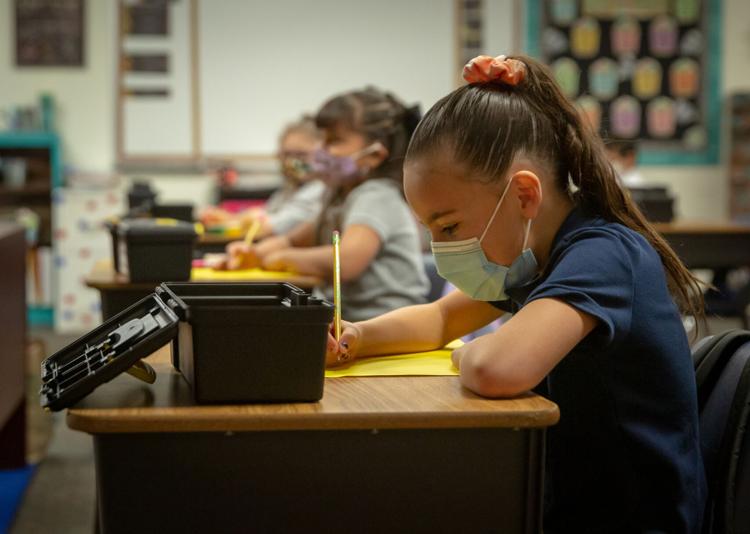 Safety plans shared with health officials
Although the Arizona Department of Health Service's metrics showed that Pima County was in the clear to begin hybrid learning on Sept. 3, the Pima County Health Department asked schools to wait a bit longer until there was a better capacity to test for COVID-19 and contact trace.
All school districts have shared their mitigation plans with the local Health Department, and Dr. Francisco Garcia, the county's chief medical officer, says it's now safe for schools to move into hybrid learning.
"I think our public school districts have done a really good job of planning for this," he said. "And I think that these additional weeks that they've had, it really allowed them to have a good work product and to return children safely into that hybrid environment."
Garcia said the Health Department doesn't have that same relationship with all private and charter schools, but it is working on building that partnership.
Although the number of confirmed coronavirus cases has been increasing among University of Arizona students, that demographic is largely isolated from the broader community and in particular, school-age children, Garcia says.
Guidance on when schools need to close again if cases rise is forthcoming from the state, but the local Health Department was conservative in recommending when schools open in the hope of not having to close them again, Garcia says.
ALL GRADES GOING BACK
Vail Unified School District begins hybrid learning for all grades on Monday, Sept. 21, with 76% of the 12,000-plus student body opting to come in person.
Kindergarten through fifth grade students will attend four days a week, in cohorts of no more than 24. To limit class sizes, some teachers were repurposed to take grade-level classes. For example, a music teacher with previous experience as a third grade teacher may take over a third grade class and teach the lessons created by the regular third grade teacher.
And the hybrid model for the upper grades is similar to Sahuarita, with two cohorts of students coming in two days a week on staggered days.
"There isn't a one-size-fits-all, other than the guidelines that we are trying to reduce class sizes, reduce movement of students and provide quality instruction," says Vail Superintendent John Carruth.
In general, staff and families are supportive of how the district is navigating the pandemic and returning to the classroom, he said. Although he admits there is some apprehension.
"I think it's mixed anxiousness, with doing the second new instructional model that none of us wanted to choose in a school year, and I think some of it is anxiousness with having kids return in person," he said.
Of Vail's student body, 24% are staying fully remote, allowing the district to accommodate some teachers who don't feel safe returning to the classroom, but not all of them, Carruth said.
Vail Academy and High School STEM teacher Shannon Federoff is excited about school starting, as a teacher and a parent with teenagers in the district. Federoff was part of a group that protested in front of the Pima County government building on Sept. 8 for schools to reopen, before the local Health Department had given the green light.
"People get into teaching because they want to be relational," Federoff says. "So we are really looking forward to being able to be with the kids."
Federoff's school serves grades K-12. She will be going into the elementary classes, but the middle school kids will be coming to her. Her classroom will be cleaned in between groups of students, she said.
Shannon Jelle, a fifth grade teacher in Vail's Mesquite Elementary, is also looking forward to getting back into the classroom with her students. She's not concerned for her safety given the smaller class size and added safety measures, she said, but she's heard a range of emotions from her colleagues.
"There are some like me, who are very, very excited to see the kids in person and have that opportunity to work with them without tech getting in the way," she said. "There are others who have some worries, they have some concerns, but they're ready to do the job."
Carruth says despite the fact that some local school districts are divided on whether to open schools to students, for the most part, Vail is not.
"I feel we're going to be in hybrid learning for a while," he says. "Following health metrics, that's probably where we're going to be for a while. And that's both being responsive to our families and our community and to our staff."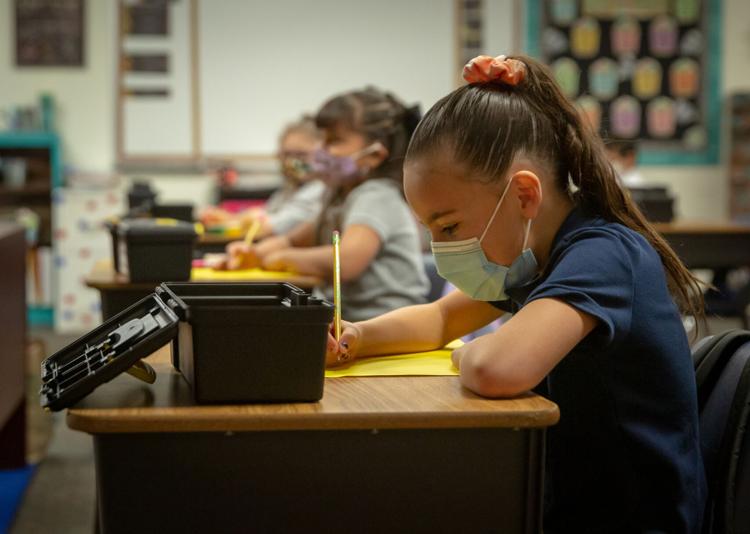 All of Pima County's unified school districts have announced tentative dates when they will begin hybrid instruction.
Flowing Wells would be the next district to open on Oct. 5, followed by Amphitheater on Oct. 12. On Oct. 19, Tucson's largest school district, TUSD, plans to open for hybrid learning along with Sunnyside, Marana and Tanque Verde. Catalina Foothills is planning an Oct. 26 return for hybrid instruction.
Gallery: Back-to-school in Tucson during the pandemic
Photos: Back-to-school in Tucson during the pandemic
"Mustang Stampede"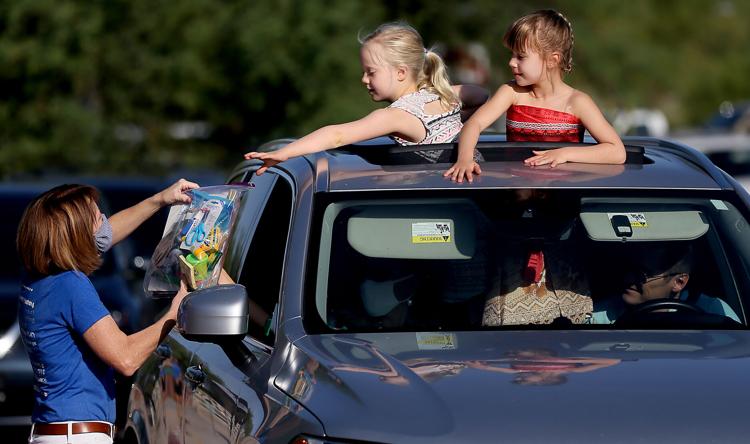 First Day of School, John B. Wright Elementary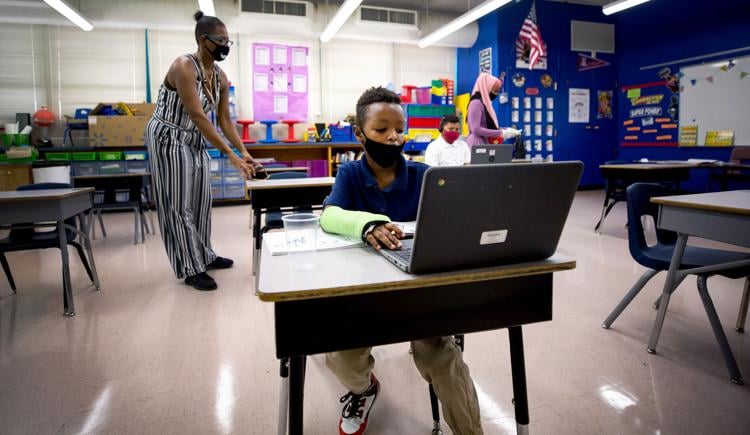 "Mustang Stampede"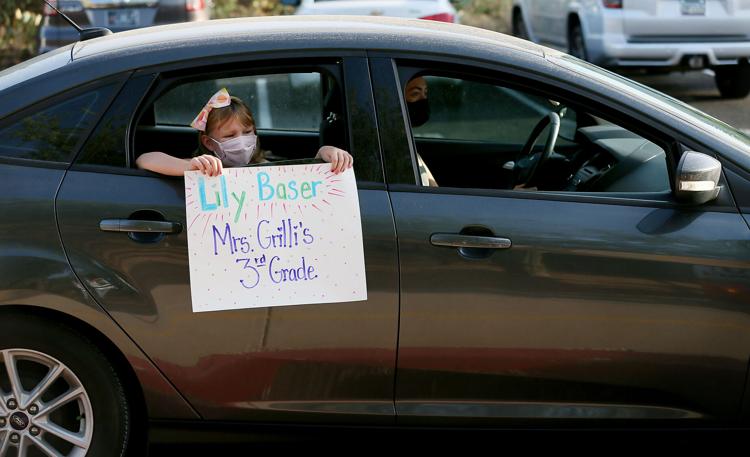 "Mustang Stampede"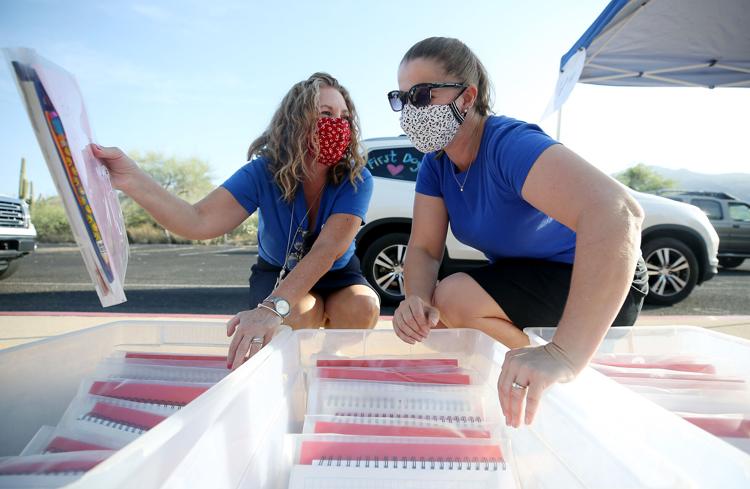 "Mustang Stampede"
"Mustang Stampede"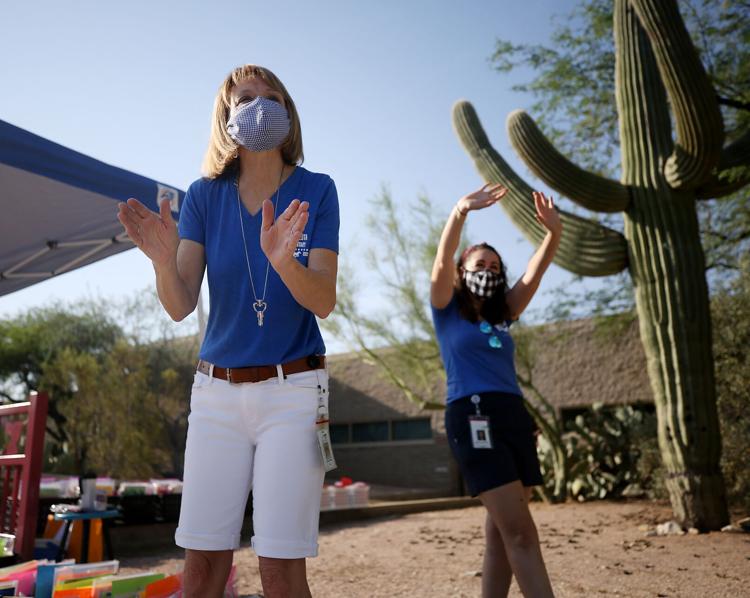 "Mustang Stampede"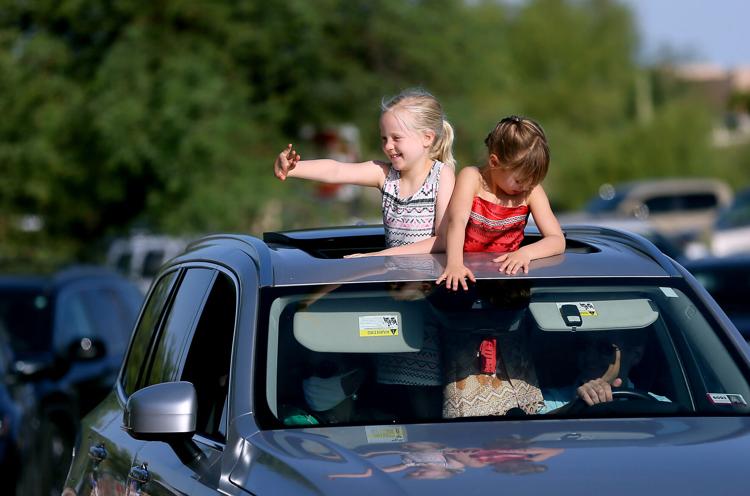 "Mustang Stampede"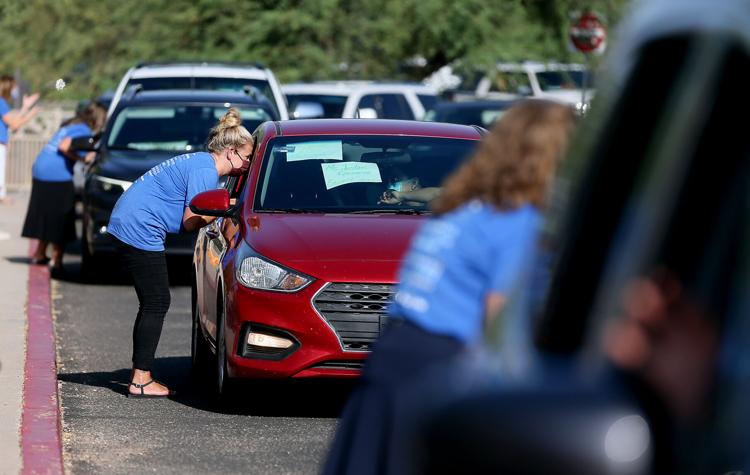 "Mustang Stampede"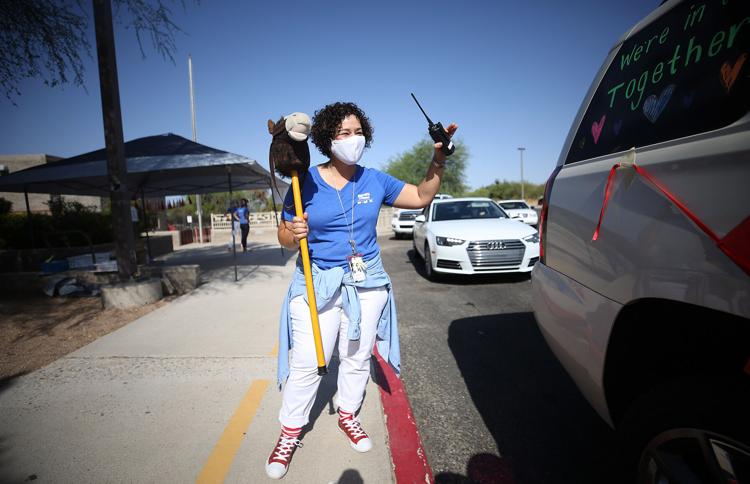 First Day of School, John B. Wright Elementary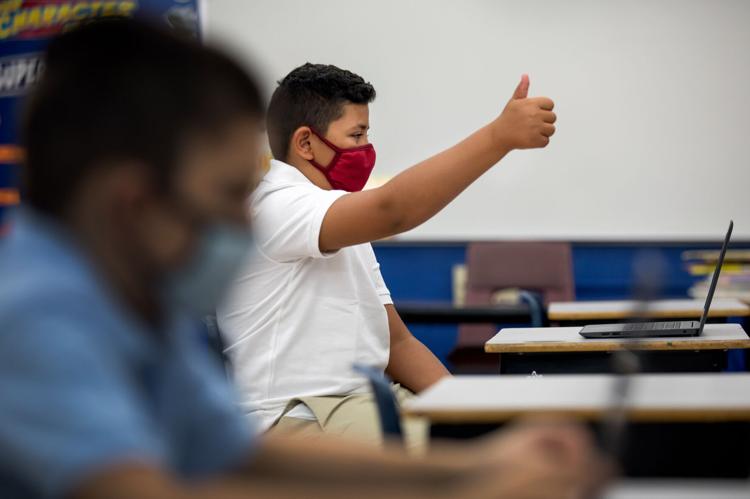 First Day of School, John B. Wright Elementary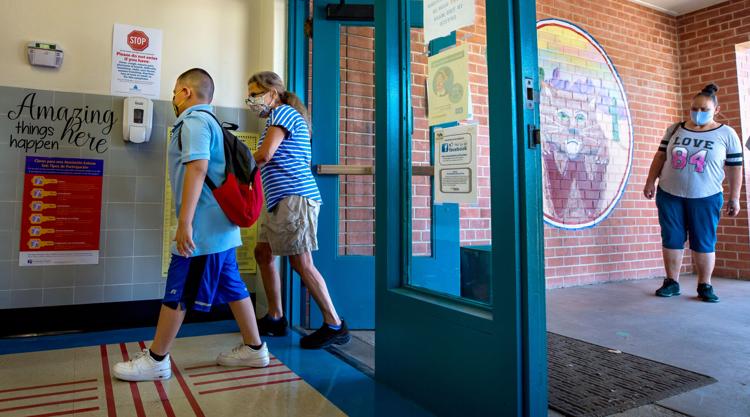 First Day of School, John B. Wright Elementary