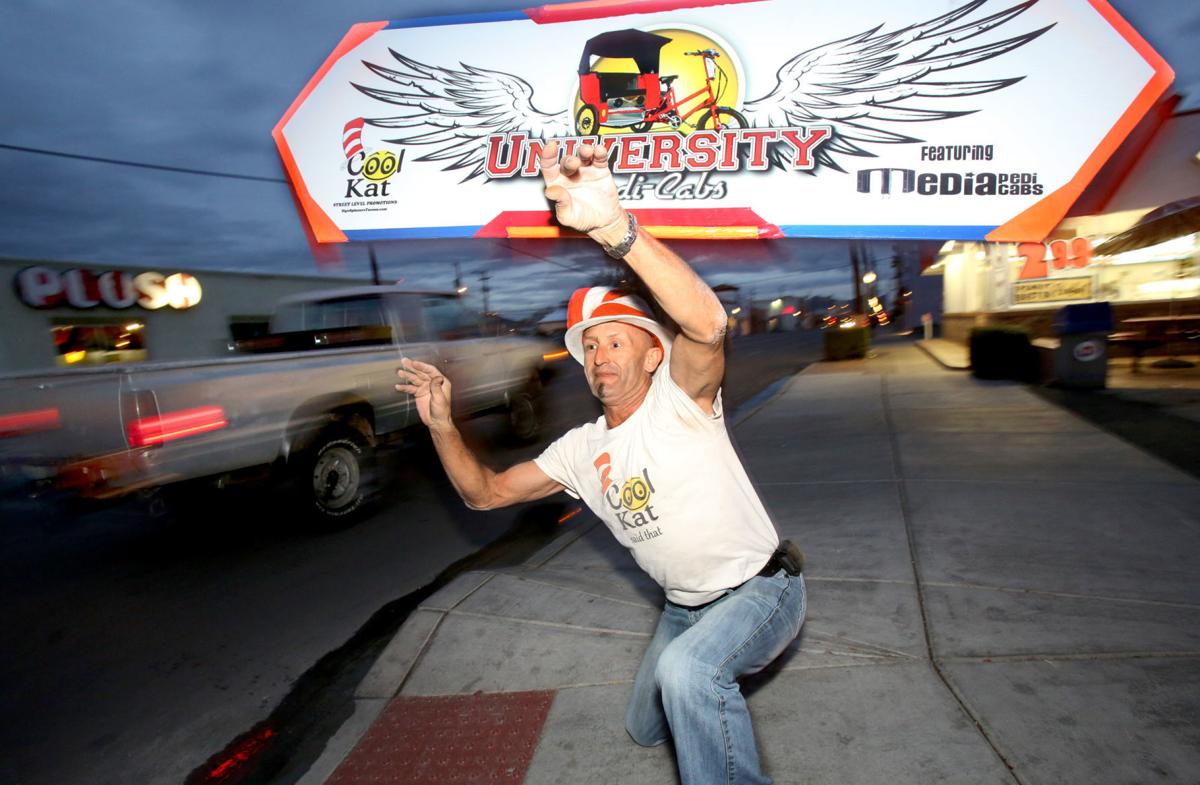 Sign spinner Codie Norman — founder of Cool Kat Street Level Promotions — was known to many motorists because of his smile, performances and friendly demeanor.
The 58-year-old worked spinning signs, advertising for businesses throughout Tucson, and at street fairs on Fourth Avenue, Second Saturdays downtown and Tucson Meet Yourself.
On Dec. 28, Norman died of an apparent drug overdose, according to his family.
"He wanted to make people smile," said his son Codie Norman Jr., 29, of Missoula, Montana, who spent time with his dad when he founded the promotions company in 2012.
"He would look at individuals in their eyes as they were passing, and he would wave and they would recognize he was waving to them. He was more than and advertiser. He was everybody's friend," said the son, recalling how his dad would collect Bibles and coats every year to give to the homeless.
The elder Norman struggled with alcoholism and drugs over the years, which led to episodes of homelessness and more than two years in prison for a burglary conviction. At one point years ago, he was living in a makeshift tent behind Pima Street Baptist Church on East Pima Street and North Rosemont Boulevard.
Pastor Randy Raaum and his wife reached out to help him after Norman approached them about living on the property. Norman was allowed to stay, and he eventually was able to rent an apartment, and bettered himself.
"We have known him very well for 10 years. My wife and I were very close to him. It was a shock to all of us at the church," said Raaum about Norman's death.
"He was spinning up until the day he passed away, or a few days before," Raaum recalled. "Codie was the kind of person, who if you were down, he lifted you up with his positivity. He had great faith in God. ... He just struggled," said the pastor.
Norman was born in Magnolia, Arkansas, and moved with his family to Phoenix in the late 1960s. The family returned to Nampa, Idaho, and Norman permanently moved to Arizona in the 1990s. After his father died in 1998, Norman briefly joined Circus Gatti in Yuma. He worked moving props and performed as a clown.
"I know he loved doing what he did," said his sister Vickie Reed of the sign spinning business. "I know Tucson loved him, and he loved Tucson," said Reed of Nampa.
Norman is survived by two daughters, two sons, five grandchildren, three brothers and three sisters.
Services are at 12:15 p.m. Sunday, Jan. 6, at Pima Street Baptist Church, 5056 E. Pima St.
Contact reporter Carmen Duarte at cduarte@tucson.com or 573-4104. On Twitter: @cduartestar
Get local news delivered to your inbox!
Subscribe to our Daily Headlines newsletter.