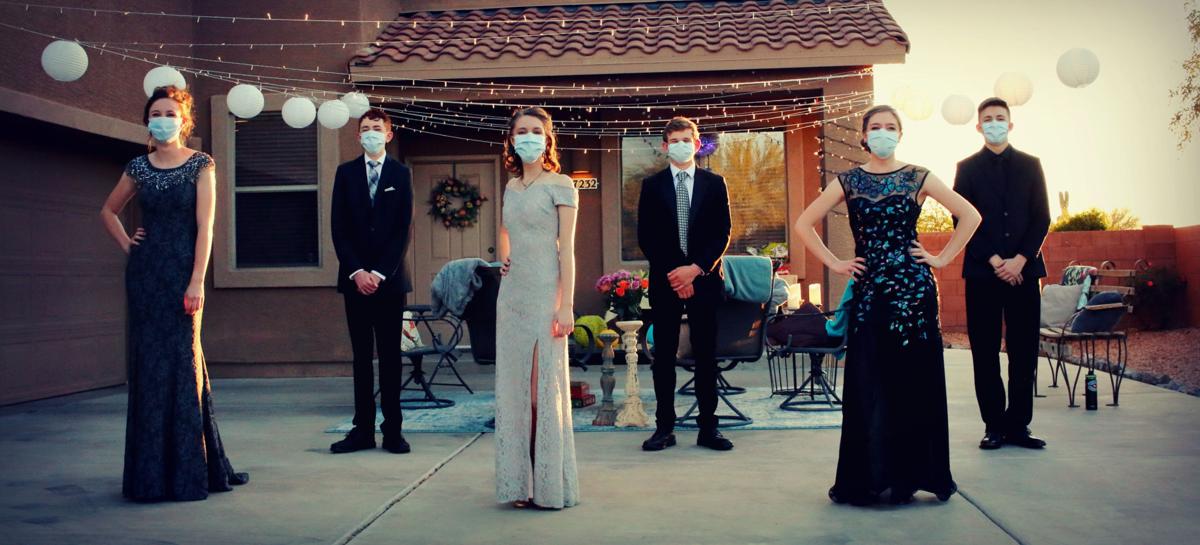 It would have been the first prom for one of Christine Ralston's daughters. The last prom for another.
The mother of five helped her oldest get ready for an "isolation prom" instead.
"I had my last day of high school, and I didn't even know it," Taylor Ralston said to her mom. "I don't even remember what I did."
Like teens across Tucson, the Cienega High senior was on spring break when state officials closed schools because of the coronavirus pandemic. Taylor, her sister, and four friends had planned on going to prom together.
They wanted to dress up and have their photo taken, and they achieved that with a little gathering in a driveway.
But the gathering was also meant to cheer up Ralston's second oldest, Evelynn. The Cienega High sophomore has a couple of rare autoimmune disorders and has been "under lock and key in a bubble," Ralston says.
The girl's best friend, Holly Smith, planned the prom to give Evelynn a reprieve from her bubble.
Instead of dancing, they played games where they could keep their distance. And instead of corsages, they gave each other hand sanitizer.
Ralston posed her oldest children with their best friends, 6 feet apart, masks on their faces. The photographer-turned-nurse wanted to capture how different this moment is for teenage milestones.
Her daughters' version of prom became an act of solidarity with teens everywhere and an act of defiance against a global human tragedy. As she took their photo, Ralston told the teens to show her how they felt about missing prom.
"It was just so raw," she said. "The girls are holding themselves high. They almost looked defiant, very solemn. It just really kind of blew me away."
Most of the kids in the photo are children of essential workers.
Ralston works in a medical clinic where they've treated patients with COVID-19, one of whom died from it. Her husband is a defense contractor who still goes into the office every day.
And while the parents are at work, Taylor watches her younger siblings, who are 13, 10 and 9, and helps them with remote learning.
These teens may not have gotten a proper prom, but they got a Friday night together, hanging out in a driveway. It was their last hurrah, Ralston says. The last high school activity her two daughters will ever do together.
"They've lost their prom, they've lost their graduation, and they're filling in at home," she says. "But there's still ways to find happiness and good times even with all of this."
Contact reporter Danyelle Khmara at dkhmara@tucson.com or 573-4223. On Twitter: @DanyelleKhmara
Concerned about COVID-19?
Sign up now to get the most recent coronavirus headlines and other important local and national news sent to your email inbox daily.