Tucson's economy is slowly reopening, providing glimpses of what's tantalizingly just around the corner: the future.
What does it hold? Increased hand-washing, social distancing and masks are a given. But bigger questions loom:
How will community gatherings that unite us happen in an era of social distancing? What about hands-on experiences that don't work virtually, like jumping and climbing at kids' entertainment venues?
Then there's the question eating at high schoolers ready to get on the field and Wildcats fan going through withdrawals: When — and how — will live sports resume?
Some of those questions have an easy answer: This festival will happen; that concert won't. Other answers, like the future they lie in, are harder to predict.
At least this much is clear: Tucson's rebirth is contingent on all of us coming together and visualizing a future based on the best science and the brightest dreams.
Because, to paraphrase Nietzche, the future influences the present just as much as the past.
Come one, come all
COMMUNITY GATHERINGS
With Tucson's annual spring and summer events dashed, two of the largest community gatherings remain on the books for 2020, but they're expected to be dramatically different.
The All Souls Procession, which brings tens of thousands of people downtown in November to celebrate and mourn loved ones and ancestors, is likely to go virtual.
While the pandemic partially plays into the consideration to take All Souls online for 2020, America's political climate is more of the driving factor, said Paul Weir, All Souls' technical adviser and a founding board member.
Weir has been considering taking some of the 2020 events, including the arts workshops, online since shortly after the 2016 election when tensions escalated nationwide. All Souls has been streamed online for several years, attracting tens of thousands of viewers worldwide.
Tucson Meet Yourself, slated for October, highlights the traditions, foods and cultures of the many communities that call our city home. It draws some 150,000 visitors downtown over three days, but this year, the festival could be spread out across town and partially virtual.
Deconstructing Tucson Meet Yourself into smaller in-person events throughout Pima County would help meet social distancing guidelines, said event director Maribel Alvarez. The plan is still in the draft stage, however, and decisions will be made at the end of the month.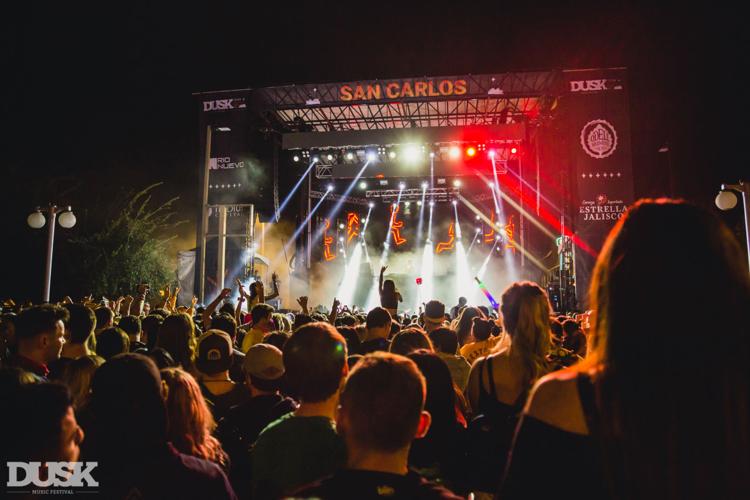 LIVE ENTERTAINMENT
With few exceptions, Tucson concert venue marquees are still dark.
The Tucson Convention Center has a few late summer and early fall shows scheduled.
The Rialto Theatre has nothing on its books until July, and even those events are uncertain. The historic downtown venue's Executive Director Curtis McCrary says it will be hard to make ends meet with the state's social distancing mandates, especially given the general admission shows the Rialto is known for.
And at the other end of Congress Street, the Fox Tucson Theatre will remain closed until Aug. 31. The first show on its book so far is a Sept. 18 appearance by the comedy duo Cheech & Chong.
The AVA at Casino del Sol and Desert Diamond Casino have no shows planned.
One of the region's largest music events, Country Thunder, is still on for Oct. 29-Nov. 1 in Florence, festival spokesman Gerry Krochak said, though logistics have yet to be worked out.
The Dusk Music Festival planned for downtown Tucson in November is still forging ahead, said organizer Page Repp. However, many performers are hesitant to commit to shows this calendar year. Repp says the Dusk lineup is a work in progress. The crowd size may be limited and staggered entry times are being considered.
— Cathalena Burch, Gerald Gay and Gloria Knott
Food and drink
RESTAURANTS
Patios, whether they be on the property or makeshift enclosures in the parking lot, will become a "hot" item as more potential customers venture out. Without outdoor spaces, smaller dining rooms like Tallboys, which decided to temporarily close, will have a harder time bringing in enough people to pay the bills given requirements to reduce indoor seating.
In a city that's highly dependent on affluent winter visitors, Tucson's gourmet restaurants will also be hit hard.
But downtown Tucson will have the most trouble recovering because of the lack of parking and the absence of daytime workers and evening shows.
Who's doing better? Pizza places. Takeout joints. Fast-casual restaurants with drive-thrus and counter service, especially in residential areas.
But as more places open up, the playing field will begin to even out, says Steve Chucri, president of the Arizona Restaurant Association.
"What I love about Tucson is there's a sense of community. They want to help each other," he said.
— Andi Berlin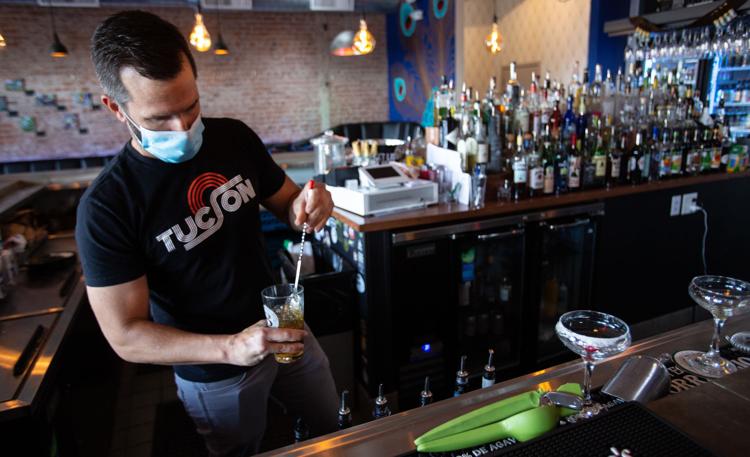 BARS
When it comes to the bar scene, aside from fewer sticky surfaces drastic change isn't anticipated. But some watering holes may not make it through the upheaval.
Peyton Reavis, general manager of the downtown-area bar John Henry's, sees the challenges ahead being analogous to those faced in the service industry, especially when it comes to competition.
Surprisingly, some of that competition won't necessarily come from new, hip places, but from do-it-yourself, at-home bartenders, Reavis says.
"I have to think that people are at home making cocktails, and their cocktail game has gotten that much better, too," Reavis said. "That comes back to bars feeling a little expendable."
To counter that newfound sense of partying in, Reavis expects to see more, smaller bars without kitchen space partnering with food trucks and nearby restaurants.
"I think a food truck in front of a bar is going to be a necessity for most places for many different reasons," he said.
Reavis sees Tucson's bar scene recovering. How that will look is unclear, but he believes the mainstay bars of many a Tucson generation are the key to recovery.
"Places that Tucsonans have felt so comfortable going to — like Che's or The Shelter or Danny's Baboquivari, or some of those other places that have earned their popularity deservedly — once those places start opening and people see some of the mainstays they're comfortable with, I think every bar will benefit from that."
— Edward Celaya
See, touch, feel
FOR THE LITTLE ones
While many businesses pivoted to offer virtual and takeout services as Tucsonans sheltered in place, some experiences can't be replicated.
"Our entire existence is based on hands-on, touching, experimental exhibits," said Teresa Truelsen, director of marketing for the Children's Museum Tucson. "So it makes it a little more important for us to be cognizant — to make sure we're safe for everybody."
The Children's Museum is shooting for a July 1 open date, but instead of opening its doors, the plan is to turn its outdoor space downtown into a "curiosity courtyard" that is open in the mornings and filled with activities created by a local artist.
Ticketed time slots are also being considered as a way to manage social distancing and allow workers to clean between time intervals.
Round 1, a newcomer to Tucson offering bowling, karaoke, an arcade and kids zone, has emerged from coronavirus closures with fewer games and limited bowling lanes. Designed to serve more than 2,000 people, the entertainment center at Park Place will allow only 200 guests inside for the time being. Round 1's bar — for the grown-ups — is closed, though that may change soon, said general manager Casey Schwamb.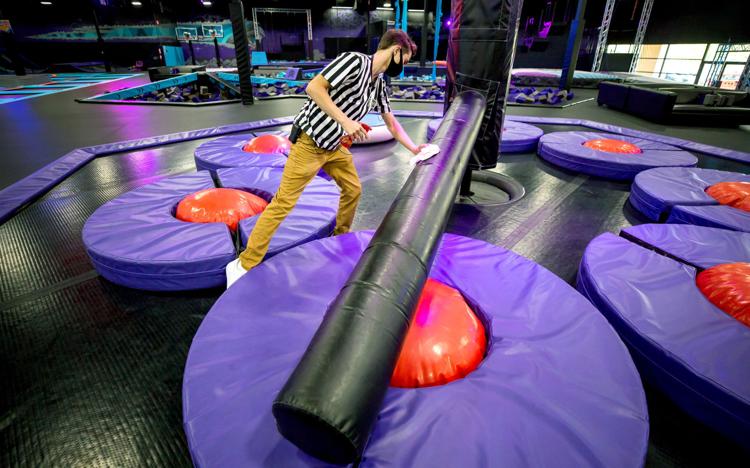 Trampoline park Defy Tucson also reopened with limited capacity and heightened cleaning procedures. Jumpers making use of the park's zipline and other direct-contact experiences can expect to have their hands sanitized by a staffer before each ride. Other high-touch areas will be cleaned hourly.
— Gloria Knott
CASINOS
When it comes to taking money from a one-armed bandit, things have changed at Tucson-area casinos.
Desert Diamond Casinos and Casino del Sol reopened this week, though both have reduced hours and are limiting the number of players allowed in at any given time.
Besides the obligatory mask wearing and 6 feet of social distancing, guests at Desert Diamond are subject to temperature screenings. At both enterprises, fewer slot machines are available and high-touch surfaces (think slots, card tables, chairs) are being cleaned frequently.
— Edward Celaya
MOVIES
Movie theaters plan to reopen in the coming weeks, allowing Tucsonans to once again take shelter from the summer heat without worrying about the electric bill.
Online ticket buying will help create space between parties. Whether movie-goers will have to navigate wearing masks while munching on popcorn will depend on the theater.
Dine-in theater RoadHouse Cinemas, 4811 E. Grant Road, is welcoming customers starting Wednesday, June 10. A lack of new releases means RoadHouse will feature some classic movies and some new.
Cinemark, with four Tucson-area cinemas, is starting a phased reopening, with all locations expected to open by July 10. The theater chain will also show classic films for $5 before transitioning to studio releases with regular pricing.
The pandemic could leave Tucson with one less theater as AMC said earlier this week it may not be able to continue operating if its locations remain closed beyond the summer, The Associated Press reported. AMC Foothills 15 is in the Foothills Mall.
Harkins, with two theaters in Tucson, plans to reopen sometime this summer.
— Staff and wire reports
Beauty and brawn
SALONS
If you're eager to step into a hair or nail salon, you may have to wait a little longer.
Many salons no longer take walk-ins, and waiting outside until your appointment time is now the norm. Walking into your nail shop, you may find clear plastic curtains dividing clients in pedicure chairs.
But getting on your stylist's calendar may be the bigger challenge. With the need to sanitize tools after each customer and limited capacity, salons are seeing fewer clients daily, pushing appointment availability out several weeks sometimes.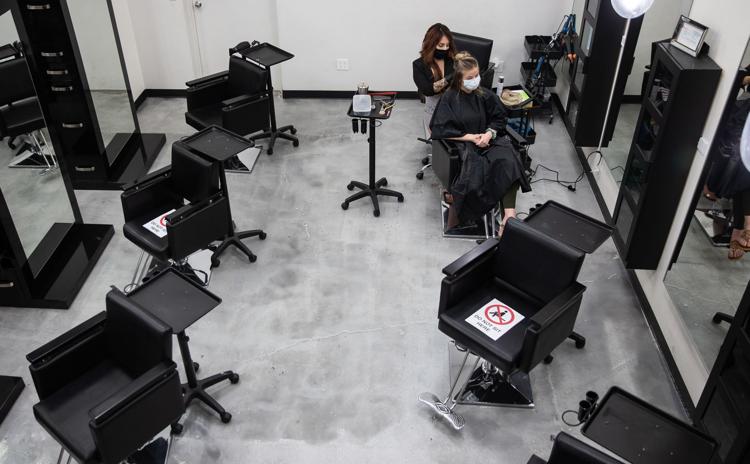 Stylists are often working longer days to be able to serve more guests and to attempt to make up for financial losses. There's also the added cost of hiring companies to do regular deep cleanings, purchasing masks for customers who don't bring them, and more, which may result in price hikes.
Being generous with tips or purchasing salon products directly from the salon instead of a retailer can go a long way in helping make up for some lost revenue, says Rufina Monteverde, owner of Great Waves salon.
— Veronica M. Cruz
GYMS
With the need for social distancing, fitness centers have reduced their operating capacity — a business model that is not sustainable in the long run, owners say.
But some local gyms, like the YMCA of Southern Arizona, plan to maintain small group classes going forward as a way of creating a sense of community, said Kurtis Dawson, president and CEO for Tucson locations.
For Soleil Chiquette, owner of Let's Sweat, connecting with clients will be made possible not only through smaller class sizes, but by offering classes outdoors, in creative spaces, and by continuing virtual workouts.
Increased cleaning protocols may also remain as a matter of good practice, owners say.
At the YMCA, new touchless door entry and water bottle filling stations have been installed, reducing the number of surfaces gym-goers have contact with, Dawson said.
While some of the changes are inconvenient for guests and employees, local gyms will comply in the name of health, said CrossFit Milo co-owner Alan Williams.
"If this became permanent, you adapt and overcome. You make it work," he said.
— Stephanie Casanova
Pack your bags
At this point we're all eager to get away, and whether that means a quick staycation or a long flight, COVID-19 measures are expected to loom into the foreseeable future.
While some Tucson resorts and hotels are welcoming guests, the number of new hotel projects and renovations will likely decline because of the downturn in tourism. Some hotels and other tourism-related businesses may close permanently.
"There are many unknowns regarding how quickly travel will recover," said Brent DeRaad, president and CEO of Visit Tucson and chairman of the Arizona Lodging and Tourism Association. "We need to increase consumer confidence in the safety of travel, and that will take time."
Tourism leaders, however, are optimistic that downtown hotels under construction, including the DoubleTree Tucson Convention Center Hotel, The Graduate and the dual-branded Home2/Hampton Inn, will open as scheduled.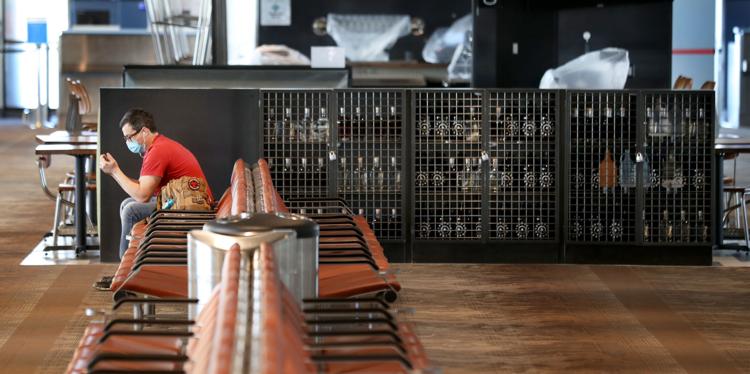 Anyone coming to or departing from Tucson International Airport can expect the standard coronavirus containment measures, but over the long term, TIA and its airline partners are looking at new safety features, including some technology passengers won't necessarily see, said Bruce Goetz, vice president of operations and chief operating officer for the Tucson Airport Authority.
Like many airports, TIA has sensor-operated toilets and water stations, but look for more touch-free facilities as the airline industry and airports evolve to make air travel a "contactless journey," Goetz said.
One such example is the use of technology to allow passengers to check-in completely via cellphone, he said.
Two new sanitization practices will also benefit travelers.
The airport's custodial staff is using disinfecting "guns" that quickly sterilize large areas. And ultraviolet lights will continually disinfect escalator handrails.
On flights, depending on the carrier, snack and drink service may not be available, and masks are likely required. Aircraft are cleaned between trips in addition to deep-cleaning procedures, and major airlines say planes are equipped with filtration systems that refresh cabin air frequently.
— David Wichner
Back to school
K-12 EDUCATION
With classes to resume in a matter of months, Tucson school districts are considering options that will change the face of education.
Masks may be added to school supply lists, temperature checks and a mix of in-person and livestreamed learning may go into effect, and considerations are underway to provide internet for families in need. Playgrounds may be closed.
"How can we think big-picture about restructuring school in a different way that will allow for easier social distancing, less student traffic in our physical buildings and a better opportunity for parents to feel better about sending their kids to us in a safer environment?" said Gabriel Trujillo, superintendent of Tucson's largest school district.
No final decisions have been made, but safety protocols under consideration include Plexiglas barriers in offices and buses, mass installation of no-touch hand sanitizer dispensers, one-way hallways and limiting building entry to appointment only.
For students, schedules may be staggered with varying start times or days, though some districts are looking to offer a fully online curriculum for families who aren't ready to send their children back while the pandemic continues.
TUSD will prioritize in-person instruction for special education student, and is also forming an emergency plan to move all students to online learning should the coronavirus flare up again.
— Danyelle Khmara
HIGH SCHOOL SPORTS
Summer is a crucial time for high school sports — specifically football.
High school football teams across Arizona typically participate in passing league tournaments in June and July to test their progress and showcase players in front of college recruiters.
Passing league tournaments have been canceled, and sanctioned practices have been put on hold. To start the football season on time, teams would have to begin practicing by the start of August.
And questions still remain for high school sports in general: Will players and coaches be tested for COVID-19? How easily can the virus spread in a contact sport? Will parents allow their children to play? Will seasons start on time? And if not, what will each team's schedule look like?
Tucson high schools will hold off on all practices until at least July. The Arizona Interscholastic Association has offered a three-phase reentry plan that can be used with the approval of school districts and local health officials.
— Justin Spears
HIGHER ED
The University of Arizona plans to resume in-person classes on Aug. 24.
On-campus housing arrangements are under consideration and courses may take some form of a hybrid model. A task force is developing a return-to-campus plan as the UA works to make testing readily available for students and staff, and to provide contact tracing and wrap-around services to those impacted by COVID-19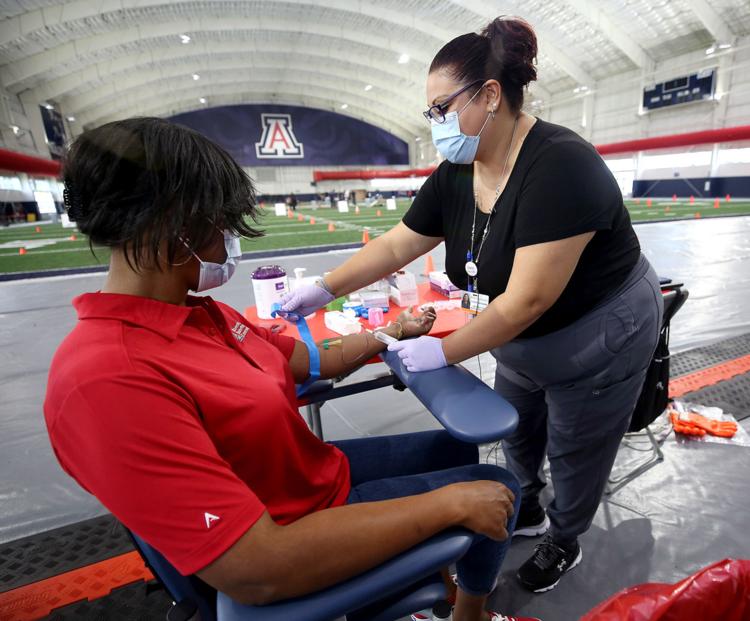 Pima Community College campuses remain closed with no opening date set.
The fall class schedule is made up of online learning options and limited in-person instruction for courses requiring a lab or other hands-on components, the PCC website says. Student services like advising, financial aid and tutoring have also gone virtual.
Our older neighbors
Caring for the vulnerable
Even as coronavirus restrictions ease, assisted living facilities, including senior communities, memory care and nursing homes, are still adhering to safety protocols put in place in March.
Arizona has not reached its peak, and numbers of infected persons are on the rise as more testing becomes available.
When and how the industry will shape up after the COVID-19 pandemic is still unknown for owners of Tucson facilities.
"It is hard to predict what the future will bring," said Sean Bennett, president of the Assisted Living Network of Southern Arizona. The organization has about 200 members who represent 40 small care homes in Southern Arizona.
"We are going to be very protective of our residents from now on because they are so vulnerable," said Mattie Nason, owner of Fairmount Assisted Living and Memory Care.
Nason said current protocols may continue throughout this year and into next "unless we can give a vaccine to our residents to make sure they are safe."
"I don't see the person-to-person visit and physical contact any time soon," Bennett said .
While virtual and window visits continue, interaction among residents has loosened up some for communal activities, including gatherings for board games, bingo and dominoes.
— Carmen Duarte
Government
GETTING AROUND
Public transit has remained a constant for Tucsonans in need, with fares temporarily waived under an emergency order.
As the end of the emergency order nears, fares will be reinstated once safety barriers have been installed between drivers and fareboxes on all buses, Sun Tran said. For the foreseeable future, riders should continue wearing face coverings during trips across all transit services, including Sun Van and Sun Shuttle services. Passengers 2 years old and under and those who are medically unable are exempt.
Daily enhanced cleanings of transit vehicles will continue until public-health experts say otherwise, Sun Tran said. The same goes for providing drivers with masks, gloves and disinfectant spray.
— Shaq Davis
SOUNDING OFF
When Arizonans were ordered to stay home, their ability to make their voices heard to their elected public officials was also limited.
The Pima County Board of Supervisors allowed participation virtually for those who have access to the necessary technology, while the Tucson City Council cut off call-to-the-audience sessions altogether.
As in-person services resume, Pima County plans to continue to allow people to tune in to meetings via Facebook and the county website, and to submit comments electronically.
"If we can have it done reliably, without a great deal of technical difficulties, I would imagine that virtual participation would stay in place even after the pandemic," said County Administrator Chuck Huckelberry. "It's just another form of community input, just remotely."
Those attending meetings in person will be required to wear masks and follow social distancing standards until there is a reliable vaccine, Huckelberry said.
At City Hall, council members will be separated by sneeze guards. Visitors will get temperature checks.
At most public city of Tucson facilities, employees will be required to wear masks and/or gloves. Visitors will be asked, but not required, to wear masks.
— Jasmine Demers and Justin Sayers
Game on
FC TUCSON
FC Tucson players have returned to Kino North Stadium, where they'll prepare for the delayed start to the USL League One season.
When that happens, however, is still up in the air.
The USL League One's board of governors voted Friday on a framework for returning to play, with July 18 as an initial return date. But the team said Monday that it does not have a revised schedule yet, and that details for parking, seating, ticketing, merchandising, concessions and fan conduct will be released in the coming weeks.
The team said season ticket holders will have priority for seats when matches begin. Kino North Stadium, and other venues throughout the league, will shrink in capacity in accordance with social-distancing rules. "It's important to note that FC Tucson's return to play will be conducted in strict alignment with all local and state public health deadlines," the team said in a news release.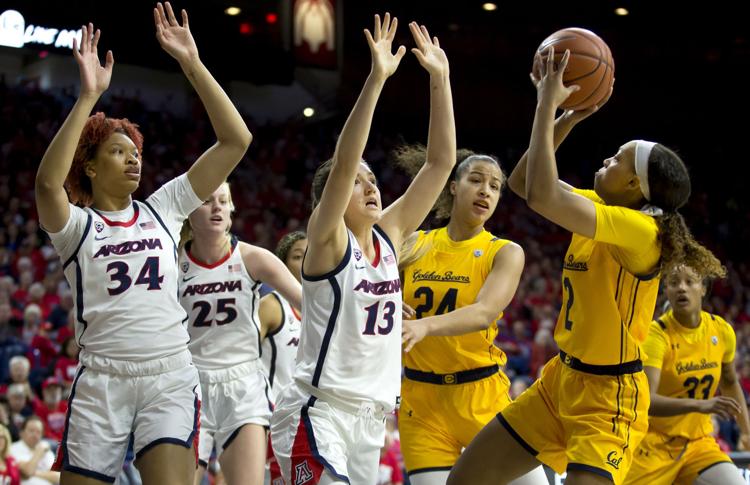 COLLEGE FOOTBALL, BASKETBALL
College sports will provide plenty of visible bellwethers as the pandemic continues.
Will campuses stay open, allowing the games to go on? If they do, will all seats be available for fans, or just some — or none? And how does social distancing work inside a packed and rabid McKale Center anyway?
Since college football and men's basketball are typically the only profitable programs in college athletic departments, athletic directors across the nation have been penciling out all sorts of financial scenarios.
"None of us know what the college football season will entail at this point," University of Arizona athletic director Dave Heeke said last month. "There are numerous hypotheticals and ideas out there. We're focused on trying to preserve a complete season of football, or as many games as possible."
The Pac-12 is allowing its schools to start individual workouts as early as June 15, and Arizona is starting with some football players. But the protocols are strict: Athletes are expected to quarantine for seven days if they fly to campus, undergo testing and evaluation, and wear masks during workouts. The scenarios for fans are less certain, but digital no-touch ticketing is expected, along with additional sanitization and distancing measures.
While basketball has time to plan because its season doesn't start until November, the UA's men's team and, increasingly, its women's team play in front of large crowds indoors, where the virus is believed to be more easily spread. The women are expected to return to campus July 12 to start training. They will wear masks while lifting weights, and will focus on individual development over team drills at first. Only a few players will be allowed in each session.
If fans want to sit out because of health concerns, the UA is allowing season ticket holders to keep their seats for the 2021 football and/or '21-22 men's basketball seasons with a minimum 25% deposit toward renewal for those campaigns.
— Bruce Pascoe and PJ Brown
Baseball, softball, and track and field
Every sport will face its own challenges as it attempts to return from the pandemic.
In track and field, runners will try to find a way to safely hand off the baton in relay races. Organizers may skip lanes in between runners. The bar used in high jumps may need to be cleaned between attempts.
Other sports, like tennis and swimming, are played outdoors and will likely return with minimal changes.
Similarly, college softball and baseball games could look mostly the same when they resume play in February. There is already a blueprint from the Korean Baseball Organization, which started play in the beginning of May.
In the KBO, players socially-distance in the dugout and use their own equipment. Non-uniformed personnel wear masks and gloves. Home-plate umpires stand a little farther away from the catcher.
— PJ Brown
ARIZONA BOWL
The Arizona Bowl has the benefit of time. Tucson's college bowl game — a mainstay at Arizona Stadium since 2015 — is tentatively slated for Dec. 31.
As such, the staffers and volunteers who make the Arizona Bowl happen every year are operating with a simple mantra.
"We're looking at everything," said Eric Rhodes, the Arizona Bowl's VP of communication, "but our No. 1 plan is business as usual."
Multiple contingencies under consideration include, per Rhodes, "no game, a delayed game, an adjusted game and a business-as-usual game."
No game is considered a worst-case scenario as the bowl devotes 100% of net proceeds to local charities, regardless of the state of the economy.
— Michael Lev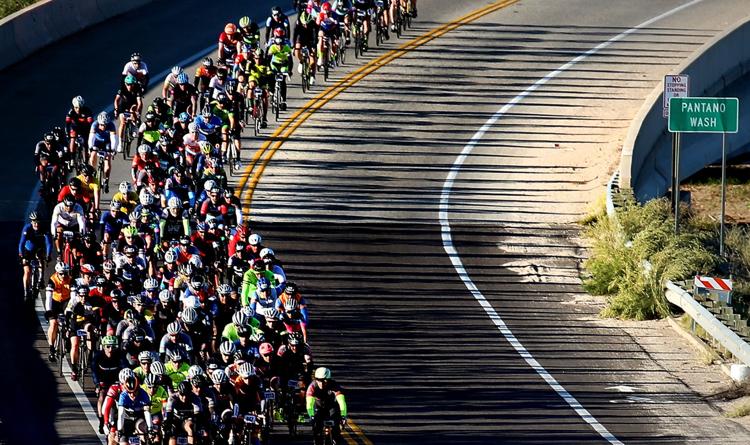 EL TOUR
Safety is the top priority for the 38th running of Banner-University Medicine's El Tour de Tucson. CEO Charlene Grabowski is taking a tip from a webinar she teaches called Fearless Leadership in Challenging Times — "solve for the next normal and the next normal."
El Tour, which has raised upward of $100 million for local charities over nearly four decades, is on track for Nov. 21, organizers say.
What might a bicycle race of thousands look like?
Grabowski is considering staggered starts and social distancing rules. Riders could pick up registration packets only at certain times, arriving at El Tour's expo in shifts, wearing masks at the starting line and using water bottles instead of paper cups at aid stations. She is also looking into a virtual ride for international and out-of-state cyclists who can't make it to Tucson.
— PJ Brown
SUGAR SKULLS
The Indoor Football League suspended the 2020 season less than a week before the Sugar Skulls' March 19 season opener.
What's next for the team? First-year coach and general manager Dixie Wooten will have to assemble an entire roster before the 2021 season.
Before the league shuttered its season, the Sugar Skulls had signed ex-Iowa quarterback and IFL MVP Daquan Neal, All-IFL wide receiver Ryan Balentine, defensive lineman BJ Butler and defensive back Jajuan Harley.
The team is expected to return in March for training camp, with games scheduled for the spring and summer at Tucson Arena.
— Justin Spears
ROADRUNNERS
The American Hockey League canceled its season last month. The Tucson Roadrunners will take their cues from the NHL when they return to the ice — whenever that is.
The NHL announced its "Return to Play" plan on Tuesday, which includes a 24-team playoff format at "hub" sites throughout North America later this summer. Training camps are expected to reopen in mid-July, with playoffs starting after that.
The summer playoffs are likely to delay the start of the NHL's 2020-21 season, which would certainly affect its top minor league. The Roadrunners' season typically begins in early October.
Hockey offers arguably the biggest challenge when it comes to virus spread. The sport is full-contact, like football, and played indoors, like basketball.
— Ryan Finley
RODEO AND GOLF
La Fiesta de los Vaqueros and the Cologuard Classic may have both the weather and time on their sides. The Tucson traditions are scheduled to take on the same week in February, and both are held outdoors, often in the late-winter sun.
However, both events rely on large crowds to make money. A cut in capacity at the Omni Tucson National Resort or Tucson Rodeo Grounds could be devastating.
The Cologuard Classic, a PGA Tour Champions event, is apt to follow rule changes set forth by the PGA Tour. Pro golf is scheduled to resume next week in Texas, albeit with no fans. Golf may be the most socially distant of all of America's major sports.
Locally, golfers have been teeing off nonstop since the start of the pandemic, with rules in place to limit contact between players.
Cancellations of summer rodeos throughout the West have caused concern among competitors and Tucson Rodeo officials.
"Greeley (Colorado) is canceled, St. Paul, Oregon, is canceled," Tucson Rodeo GM Gary Williams said last month. "Nobody knows where this thing is gonna go."
— Ryan Finley