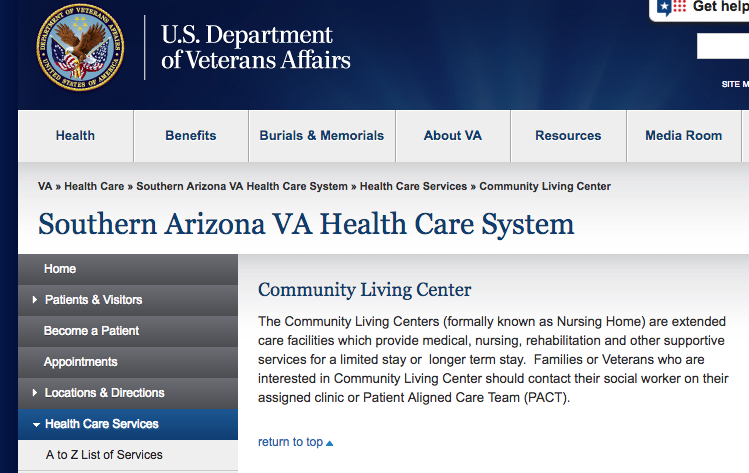 The Tucson VA's nursing home received two out of five stars in its annual ratings, which the U.S. Department of Veterans Affairs released publicly for the first time last week, citing a commitment to transparency.
But that transparency only goes so far: The department would not release the underlying data — detailed statistics in measures such as long-term catheter use, pressure sores and patient pain levels — that were used to calculate the star ratings.
The limited ratings information released by the VA came after the department learned reporters with USA Today and The Boston Globe had already obtained extensive internal VA quality data as part of an investigation into quality of care at VA nursing homes.
The Boston Globe / USA Today investigation, published on Sunday, found that nationwide, VA nursing homes performed worse than private-sector nursing homes. The report found that on average last year, VA facilities scored worse than private facilities in nine of 11 quality indicators, including whether residents deteriorated during their stay and rates of antipsychotic drug prescriptions.
Local VA officials emphasized that it's complicated to compare private nursing homes and VA facilities, which accept any patient into their care, no matter how sick or challenging a case. Private nursing homes often have less complex patient-care needs.
For example, the Tucson VA had a high rate of pressure ulcers, at 29 percent, compared with 9 percent across the VA system and 6 percent in the private sector, according to the data obtained by USA Today. (The VA has not released that detailed data publicly.)
VA workers point out that the Tucson VA specializes in complex wound care and gets referrals to manage those complications.
Over the past two years, no patients have acquired new pressure ulcers at the Tucson VA's nursing home, Susan Wood, Tucson VA associate director of patient-care services, said in an interview with the Arizona Daily Star.
And over the past two years, the facility has had no urinary tract infections associated with catheters, despite having higher rates of catheter use compared to other facilities, according to the VA.
Of patients in the Tucson VA's nursing home, 39 percent had long-term catheters, compared with 12 percent in other VA nursing homes and 2 percent in the private sector, data obtained by USA Today show.
Wood said the Tucson VA nursing home's rate of patient falls that result in injury is 0.6, well below the national average of 4.5.
In a number of measures, "We've been improving consistently," Wood said.
The Tucson VA nursing home employs 98 people, and in May it had an 84 percent occupancy rate, or 76 patients per day.
SECRET RATINGS
Tucson's 90-bed nursing home, known as a "community living center" in VA lingo, scored an overall rating of two stars, but the database released by the VA also included three other categories: The Tucson VA's nursing home received one star in the category of independent health-inspection surveys, two stars in internal quality-of-care results and five stars in the category of staffing levels.
Nearly half of the 133 VA nursing homes in the U.S. scored just one out of five stars, including Prescott's VA nursing home in Arizona.
Federally run VA nursing homes have long tracked quality measures at their facilities but have kept that information secret, until the release of limited ratings data last week.
But nursing homes that accept Medicare or Medicaid insurance — including private and state-run facilities — are bound by the Centers for Medicare and Medicaid Services' rules on transparency. Under those regulations, they must submit quality data for publication on Medicare.gov's Nursing Home Compare website.
VA facilities don't face that requirement, and advocates say that leaves veterans and their families searching blind when choosing a VA nursing facility.
"Veterans not only deserve a choice in where to get care, but also the information available to make an informed choice," Dan Caldwell, executive director of the advocacy group Concerned Veterans for America, said in an emailed statement to the Star.
"Anyone can find extensive data and ratings on private nursing homes, but veterans relying on the VA for care have been robbed of that info."
Dave Voepel, president of the Arizona Health Care Association, which represents skilled-nursing facilities and assisted-living facilities, said there's no reason VA nursing homes shouldn't release their more-detailed quality data to the public, in addition to the star ratings.
"We're all about transparency so if we're doing it, they should be doing it," he said.
"UNPRECEDENTED TRANSPARENCY"
USA Today reporter Donovan Slack tweeted Monday that she first asked the VA for the secret quality data last summer and VA spokesman Curt Cashour said no.
When VA officials learned the reporters had already obtained the data this month, officials asked for more time to respond to the journalists' questions. Then, as the reporters waited, the VA released the star ratings in a June 12 news release, heralding the VA's "unprecedented 18-month record of transparency disclosures."
The VA insists the transparency effort was already in the works before officials became aware of the journalists' investigation.
"We have been working over the past year to adopt Medicare's 5-Star Rating methodology to our Community Living Centers ... and the information we just released represents the results of that effort," a VA spokesman based in Washington, D.C., said in an email to the Star.
In a Monday interview with the Star, Tucson VA chief of staff Anthony Stazzone said the VA supports publicizing quality data.
"We want to make sure veterans understand the care they're getting as much as possible," he said. "It's not secretive; we're pretty much an open book."
The Star has tussled with the Tucson VA over transparency issues in the past: Last year, the Star successfully appealed the Tucson VA's denial of a public-records request seeking a listing of current VA dermatologists. The resulting Aug. 20 story reported the Tucson VA employed just one dermatologist who worked slightly less than full time, plus a dermatologic physician assistant.