Tucsonan William "Bill" Peel has witnessed critical events in history.
Born in Pittsburgh in 1926, Peel couldn't wait to join the Army. He wanted to join so badly that he and his father falsified his birth certificate so he could enlist at 15 years old.
"I always wanted to wear the uniform," Peel said. He did so, first the Army Air Corps and later the Air Force. He wore a uniform for 28 years through three wars.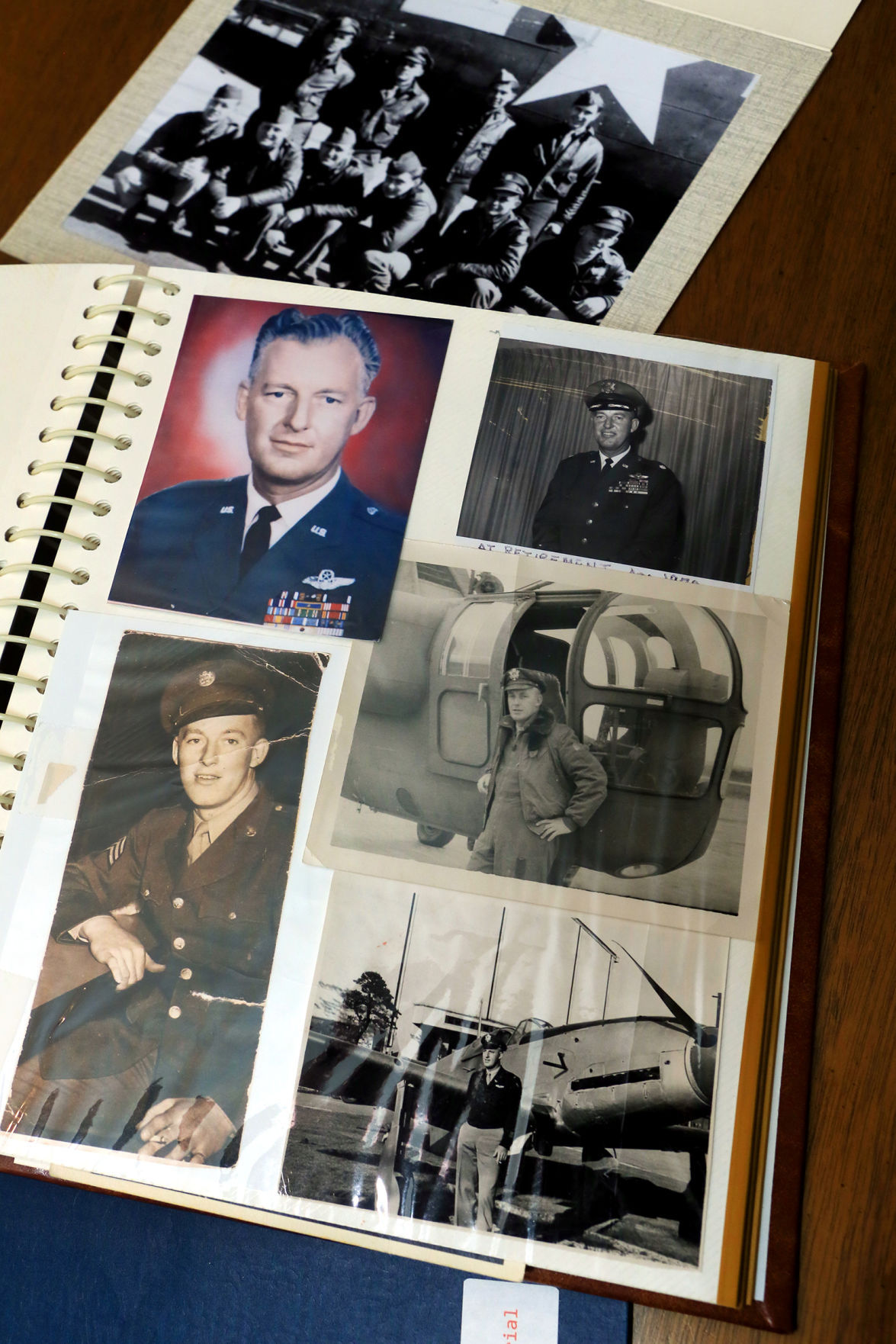 Some of the variety of photos from the collection of Bill Peel during his long career in the military. Peel served in three wars. Enlisting at the age of fifteen during WWII, he was shot down over Austria and spent a year as a POW in Poland and Germany. He went on to fly helicopters in Korea and train South Vietnam helicopter pilots in Vietnam. Photo taken Monday, October 12, 2015. Ron Medvescek / Arizona Daily Star
Peel's first brush with history came in June of 1944, when the bomber the 17-year old Peel was working on was shot down over Austria.
"I flew 28 combat missions and was shot down on the 28th," Peel said with casual confidence.
But what happened next was anything but casual.
"I was in a German POW camp until the end of the war," Peel said.
He was one of more than 10,000 mostly American servicemen held captive in Stalag Luft IV, in what is today northwestern Poland.
Peel remembers the hard times he others had at the camp — eating black bread, the dough having been extended with sawdust as German supplies ran low. And the cramped quarters, with more than 20 men for each room, sleeping on straw-filled mattresses.
But he can also recall the innovative way the captives managed to stay informed of the outside world. "Someone built a radio," he said.
Each night, before their German captors forced them back into their rooms for the night, some of the captives would listen to BBC broadcasts, take notes and distribute reports throughout the camp.
Later, as the Eastern Front began to close in on Nazi territory, the Germans forced Peel and thousands of other prisoners to march west, deep into Germany.
Recorded in history books as "The March" or "The Black March," prisoners were forced to walk hundreds of miles, zig-zagging their way in retreat from Soviet forces.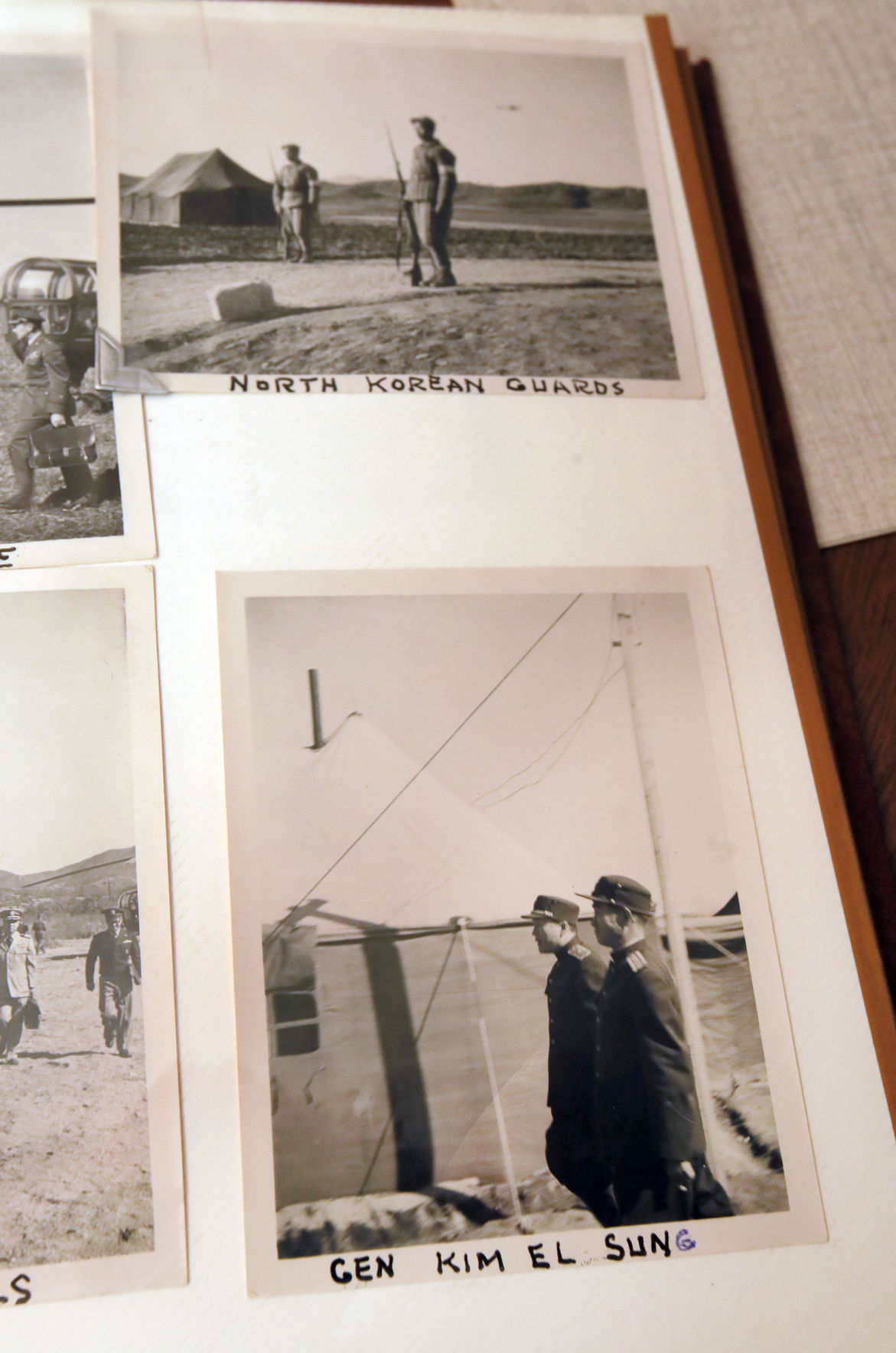 Photos from the Korean War peace talks, including Kim Il-sung, grandfather of Kim Il Sung from the collection of Bill Peel. Photo taken Monday, October 12, 2015. Ron Medvescek / Arizona Daily Star
Peel said he and the others walked for 85 days, covering 600 miles through frozen European forests to Fallingbostel, near Hamburg in northern Germany.
"It was tough. I got frostbite on my feet and I had amoebic dysentery," Peel said.
After the war, Peel decided to stay in the service. "I always wanted to be a pilot," he said.
He learned to fly, first airplanes and then helicopters, which he would pilot during the Korean War.
In Korea, Peel was attached to one of the famed MASH units, Mobile Army Surgical Hospital.
Sitting at the dining room table of his east-side home with his son Mark, Bill Peel thumbs through a photo album. "And this guy we called Hawkeye," he said, describing the surgeon he knew working at the MASH 8055 unit.
A novel titled "MASH: A Novel About Three Army Doctors" introduced the world to the fictionalized Hawkeye character from the film and TV series.
In other photos, Peel points to Vice Admiral Charles Turner Joy, who along with other dignitaries Peel piloted back and forth to armistice negotiations at the Demilitarized Zone.
Another snapshot shows North Korean leader Kim Il-sung among the negotiation team from the north.
Peel later served early in the Vietnam War. The things he saw there, however, he said he's "still not supposed to talk about."
Those are stories that will have to wait for another time, he said.
Peel retired from the Air Force in 1970.