Tucson Village Farm, a community urban garden tasked with engaging the city's youth in farm-to-fork practices, is getting a $445,000 upgrade thanks to Angel Charity, a Tucson-based nonprofit.
The money will be used to help build the Angel Charity Culinary Education Center for Children, which includes a commercial certified teaching kitchen.
The farm is a program of Pima County, the University of Arizona Cooperative Extension, 4-H Youth Development and the UA College of Agriculture and Life Sciences. It will break ground on the new center Thursday, June 28, at 8:30 a.m. The farm is at 4210 N. Campbell Ave.
"The kitchen is a game-changer for us," said Leza Carter, farm founder and program coordinator.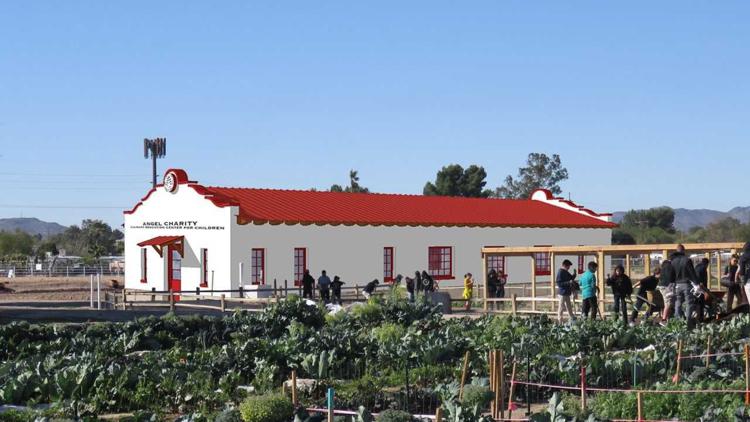 The farm lacked its own commercial kitchen space, said Elizabeth Sparks, 4-H youth development assistant agent. The space was shared by other programs in the cooperative extension office, making it hard to access and not up to par with farming and teaching needs.
Equipment that they have been using is also old and dated, Sparks said.
"It's been the real bottleneck," Carter said.
Additionally, programs and camps for the community fill up quickly and many who want to attend the events are often put on waiting lists, Sparks said.
The extra space will "allow us to serve more kids, do more with the kids and bring in families," Carter said.
Despite this, she estimates the farm serves about 13,000 kids a year. She predicts that number could grow to 18,000 a year.
The new space will also allow the production of value-added goods, which can produce revenue, Carter said.
For example, extra cucumbers can be made into pickles, and extra tomatoes can be made into sauce. Such products can be sold, making farm programming sustainable, Carter said.
"Our mission is to teach kids how to grow, prepare and eat fresh food," Sparks said. "We want them to connect with the farm and cultivate life and leadership skills.
"We want them to become instigators of change and make the community happier and healthier."
"It's the last slice of the pie," Carter said, that will continue to make this possible.