Tucson police say Deborah Barnette, 65, was shot by Donald Shoemaker, 54, after he intentionally "firebombed" three homes, including Barnette's. He then returned to his home where he shot himself, police say. Detectives say Shoemaker had prior disagreements with neighbors in which he threatened them. He remains on life support in a hospital.
On Tuesday, family said Barnette was declared dead Friday, but kept on life support until her organ donation was completed Monday.
The day after she was shot, about 70 people whose ages spanned across generations showed up outside Barnette's home for a candlelight vigil to remember the love they said she showed to everyone she came across.
Within hours of the event being organized, family, co-workers, longtime neighbors and even people who knew her passingly gathered in her front lawn, candles in hand, protecting the flames on a windy Friday night on Tucson's north side. It's probably what Barnette would've done for any one of them.
"Debbie put it all out there for you and most of us wanted to take another spoonful of that," said Jo Rust, a friend of Barnette's since 1976.
"She could be a little bit of a cynic, too, in a humorous and fun way. If we wanted a cynic we could call on her to give us that little spoonful, too," Rust said.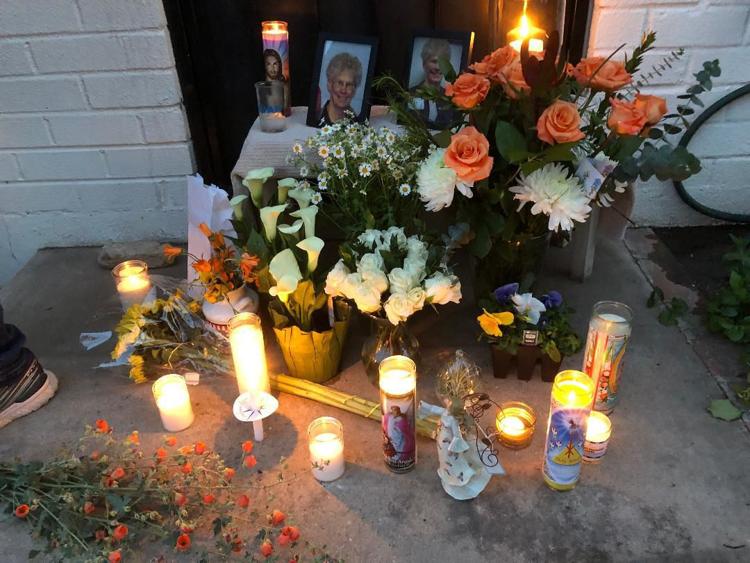 "You don't anticipate it's going to hit this close to home until something like this happens to you and it rocks your ship. It's a pain like you never felt," Rust added.
In her 65 years, Barnette displayed her passion to teach people and support them from whatever place in life she found them.
"She did meet them where they are and went from there, not from where she thought they should be or where they ought to be," said Linda Hughes, Barnette's middle sister, about her teaching approach.
Barnette spent more than 20 years as an educator in the Arizona state prison system teaching inmates who aspired to obtain their GEDs, her sister said.
She also worked as a special education teacher at Amphitheater and Flowing Wells middle schools.
"She loved teaching," Hughes said. "When we were little kids, every summer during summer break she would teach us. She would be our teacher."
Upon retirement, Barnette didn't stop devoting her time to different causes in the Tucson community.
Before her death, she had been volunteering for almost five years with the Tucson Interfaith HIV and AIDS Network, TIHAN, which "offers our hearts & hands to provide compassionate and nonjudgmental service to those affected by HIV or AIDS," the nonprofit's website says.
"Debbie has been the super volunteer, just amazing in giving her time and her energy, she helped in the office, helped with our clients living with HIV, helped with fundraising events," said Scott Blades, TIHAN's executive director. "She helped with everything it takes to run a nonprofit. Debbie was there."
In fact, they all were expecting to see her back Friday morning.
"She was there yesterday, volunteering in the office, meeting with clients and helping them and when she left she said, 'I'll be back tomorrow,'" Blades said on Friday, "and then this happened."
Barnette not only had a big heart for people, but also for animals. From her home she had a view of the cows and horses across the street at the University of Arizona Campus Agricultural Center.
She would always have a dog she rescued from the Arizona Humane Society by her side. The dog she leaves behind, Biscuit, will be provided a good home by one of her neighbors.
Her caring heart is one of the things that will be missed most. "A very generous person, a straight-shooter, tell it like it is, but she'll give you the shirt off her back, and very supportive too. It's quite a loss," said Maggie McCann, who became friends with Barnette through TIHAN.
Now those family and friends will carry on the legacy and keep Barnette's memory alive.
"The last thing she told me was 'Do good out there kiddo,' which just breaks my heart," said Dennisse Ley, Barnette's friend, who now works with Homicide Survivors, Inc., to support families of loved ones lost.
"If there's anything that we can learn from this, it's absolutely to do good and be kind to one another and take care of one another."