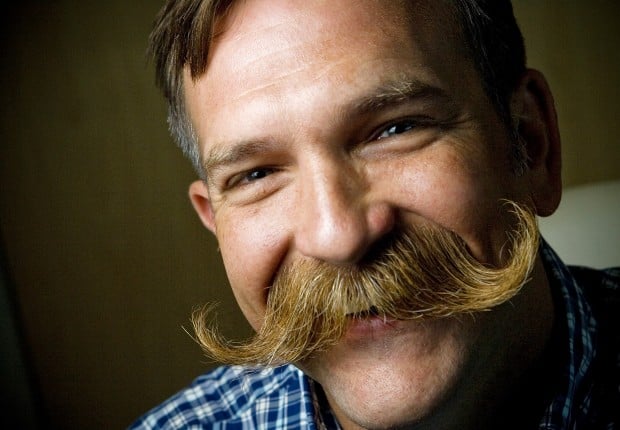 Tucson has a new reason to boast.
The Old Pueblo is home to the best moustache in the nation. And the face that goes with it.
Earlier this month, Patrick Gorman won top honors for his 'stache at the National Beard and Moustache Championships in Lancaster, Pa. For his first-place finish, Gorman was awarded a $600 check and $650 worth of facial-hair grooming equipment.
The civil engineer, 42, has lived in Tucson since 1992.
Beginner's luck? Or an indescribable je ne sais quoi? Gorman answers questions about his win:
Q: What set your moustache apart from the competition?
A: I have no idea. There's only one category (for moustache), so I was lumped in there with those that are highly waxed, those which are freestyle, those which are natural. I don't exactly know what they clued into with me.
Q: Freestyle? What's that?
A: Freestyle can be the ones that are waxed-out hoops, loops. They're out there. They're usually the ones that get out in the press. It's a huge controversy, apparently. This is the first time I did one of these things. All those things were revealed to me. Afterward they had a picnic and it was discussed. Many people think the more categories, the more winners.
Q: So is your moustache a "natural"?
A: I'm more the Hungarian. For me it's not wax as much as styling.
Q: What does it take to grow a 'stache like yours?
A: Time and patience with it getting in your mouth and up your nose, and the ability to take a good ribbing from your co-workers on a daily basis.
Q: Why did you enter the competition?
A: It somehow ended up on my radar. I get comments quite a lot (about the moustache) and somebody said, 'Why don't you do that?' I had a free ticket on Southwest that was getting ready to expire, and that seemed like as good a destination as any, so I did it on a lark.
Q: How long have you had a moustache?
A: Pretty much continuous since I was 19. The longest stretch I didn't have anything was when I was in the Army (for 2 1/2 years).
Q: Why did you start growing one?
A: It's easier than shaving. My dad has a beard. My mom always wants him to shave it off and he has no problem shaving, but it's shaving the next day and the next day.
Q: How are you preparing for next year's competition?
A: I think I'm hanging up my crown, or my sash. I'm one and done. I think I had good enough luck to finish first, and I might as well go out while on top.
Q: What's next? Are you going to shave your moustache?
A: It's going to get pushed back down into some realistic level. It will be nice to eat things such as ice cream cones and ribs.
Even though he doesn't plan to defend his title, Gorman is considering attending next year's national championships event in Las Vegas as a spectator.
Facial hair is putting the Old Pueblo on the international map. In May, Tucsonan Giovanni Dominice won his category at the World Beard and Moustache Championships in Trondheim, Norway. Dominice sported an "imperial" moustache, described on the organization's website as "small and bushy, with tips arching up. The hairs are only allowed to start growing up to the end of the upper lip."
Get local news delivered to your inbox!
Subscribe to our Daily Headlines newsletter.