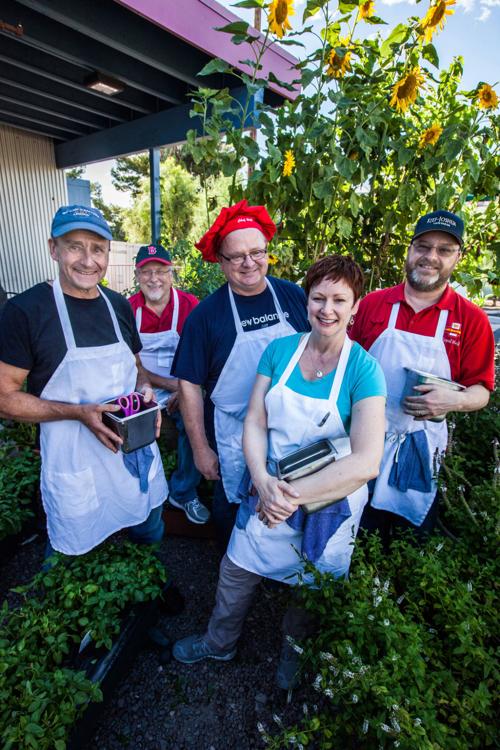 For the 15th consecutive summer, a handful of Old Pueblo restaurateurs are cooking up the philanthropic throw-down known as Primavera Cooks!
Whether you prefer to hone your skills alongside one of the area's best chefs, sample innovative cuisine or both, the unique fundraiser will allow you to indulge your passion.
Primavera Cooks! offers Tucsonans the opportunity to partner with chefs from Tucson Originals — a group of locally owned, independent restaurants — to plan and prepare unique menus that will then be served to guests. Participating restaurants include Downtown Kitchen + Cocktails, Feast, Vivace, Reforma Cocina Y Cantina, Tavolino, Kingfisher and Pastiche.
The dinners begin in June and continue through August; all proceeds support the Primavera Foundation. Dinners are $125, $50 of which is tax-deductible.
It is an ideal opportunity to assist a nonprofit that has been working to bring people out of poverty for almost 35 years, according to Steve Stratagouleas, co-owner with Grant Krueger of Reforma, which will participate for the first time in the culinary fundraiser Aug. 3.
"The Primavera Foundation is a great organization and this will allow us to support their cause and showcase the large selection of fresh local ingredients we use to create our unique Central Mexican cuisine. We have a brand new kitchen and I know our team and the apprentice chefs will develop a great menu together to make it an incredible experience for all of the guests," said Stratagouleas, who plans to make the evening special by providing a tequila or mescal tasting from Reforma's selection of 300 artisanal tequilas.
Andy Rouse is excited about joining the festivities when he serves as an apprentice chef for the sixth time at Reforma.
Rouse, who grew up watching his parents cook and entertain, said he has loved each experience with Primavera Cooks!
"Every restaurant or chef that you work with is a different experience and there is great variety. In some cases you get to chart your own territory and in other cases you get lots of guidance from the chefs. It has been a lot of fun," he said.
Rouse, an assistant professor with the University of Arizona Department of Medical Imaging, said his apprentice chef experiences have boosted his skill and confidence: he and a colleague recently catered a Moroccan dinner for 200.
He said he doesn't know much about Mexican cooking and is looking forward to expanding his knowledge at Reforma while supporting the Primavera Foundation. "It is nice to be able to do both of those together," Rouse said.
Promoting awareness of the foundation's growing efforts with lower income people and those seeking pathways out of poverty is a huge bonus of Primavera Cooks!, according to JoAnn Salazar, Primavera Foundation chief philanthropy officer.
"We started out serving homeless people who were hungry and had nowhere to sleep and over the years we have greatly expanded into a wide spectrum of valuable services that support men, women and children across our community," Salazar said.
The nonprofit now serves about 8,000 people annually with programs and facilities that include a 100-bed emergency shelter to accommodate men who are working or searching for jobs and two drop-in centers for people in need of emergency services — one of which provides mail and phone message systems for those with no home — as well as assistance with basic needs such as hygiene items, food boxes and other resources.
Primavera Foundation also offers a family shelter featuring 17 apartments; two women's supportive housing residences; and Las Abuelitas, a community comprised of individual apartments, a community center and garden for grandparents raising their grandchildren.
The foundation's workforce development program, Primavera Works, provides job readiness training and job placement assistance. Salazar said it also offers a temporary staffing agency that serves as an alternative to predatory day labor practices by paying above-minimum wages in data entry and receptionist work, construction, custodial work, landscaping and manual labor positions.
Another program provides job training for veterans; Project Action for Veterans also offers wrap-around services and housing support for veterans and their families.
Additionally, Primavera offers a variety of financial empowerment programs to help people understand how to budget and build assets so they can break multigenerational cycles of poverty, according to Salazar. Among these programs are Her Family, which targets single mothers who are heads of their households and their daughters. A partnership with Wells Fargo and Trellis, a nonprofit from Phoenix, also assisted more than 250 individuals and families qualify for down payment assistance and become first-time homebuyers last year.
"We get to watch all of these successes unfold in front of us for the hard work the participants do based on the generosity of donors, funders and community partners. Sometimes people think we are giving a hand out and that is not the case. We are giving these people opportunities and they are doing the heavy lifting and succeeding and thriving," Salazar said.
Stratagouleas and other Primavera Cooks! supporters echo that sentiment.
"Primavera helps get people to the next step. They give them the lift they need to make it to the next level and we are happy to help," Stratagouleas said.