Last year was not a record-breaker for heat in Tucson, but 2018 was still part of a steady climb in average annual temperatures here.
2018 was the fourth-hottest year on record for Tucson, closing out at 71.8 degrees, according to the National Weather Service. The previous record for hottest average annual temperature, set in 2017, was 73.3 degrees.
The normal average annual temperature for Tucson is 69.4 degrees.
"We were running warmer than last year through the end of September," said John Glueck, senior meteorologist at NWS Tucson. "Then we had a rather cool October and November that put an end to trying to be as warm as last year."
Much rain fell later in the year as well. In total, nearly 13.5 inches of rain were recorded at the airport, the official recording station, which is more than an inch above Tucson's 11.59 yearly average.
October moisture improved drought conditions from "severe drought" and "extreme drought" throughout Pima County to "abnormally dry," according to the United States Drought Monitor.
Despite the last-minute turnaround, "The last five years have been the five hottest on record, and 2018 didn't reverse that trend," said University of Arizona climatologist Michael Crimmins.
Additionally, eight of the top 10 hottest years in Tucson have occurred in this decade.
"It's been a warm decade," Glueck said. And 2018 marks 20 straight years of above-normal yearly temperatures.
A tale of two temps
If you look separately at all the daily highs and all the daily lows for the year, they'd tell you two different stories, Crimmins said.
High temperatures are more easily influenced by daily weather patterns. Low temperatures, on the other hand, are less volatile and can tell you more about overall warming trends caused by climate change and urban heat, according to Crimmins.
"Interestingly, the highs just bobbed around and the lows climbed evenly," he said. 2018 was only the eighth-hottest year for maximum temperatures, but was bolstered in overall rankings by climbing low temperatures.
Only 26 daily records for both high and low temperatures were made this year, compared to last year's 47, according to NWS Tucson.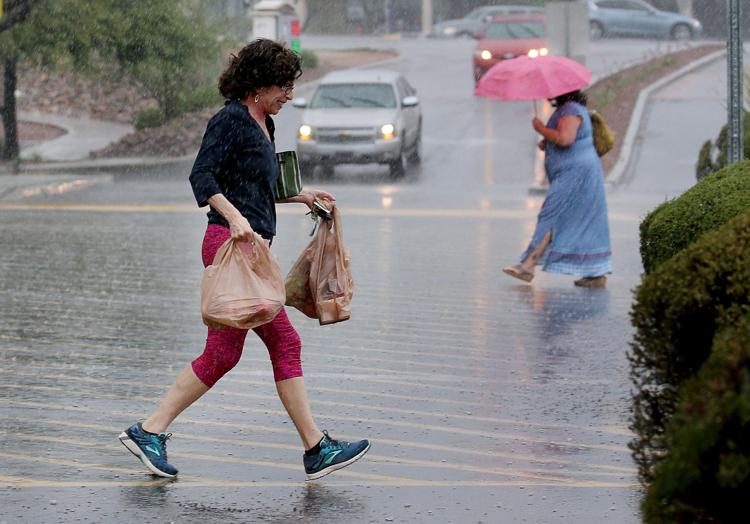 Annual weather wrapup
The year started out hot and dry.
The monthly average temperature in January was 59.1 degrees, which was 6.5 degrees above normal. A record-setting string of 20 days in January was 75 degrees or warmer. That streak beat out January 2003's 14 days of 75 degrees or higher.
In February, the airport recorded a high of 84 degrees on the 8th, 10 degrees above normal. Things started to turn on Valentine's Day when a winter storm dropped the temperature by nearly 30 degrees. The month still ended hotter than normal, but ended up being the 10th-wettest February on record.
March was nearly 3 degrees above normal and also dry.
There was no rainfall in April, and it was the second-hottest on record at 6.3 degrees above normal.
The dry spell continued throughout May, which was more than 2.5 degrees above the norm. The airport reached 100 degrees on May 6, weeks ahead of normal.
June was hot, but it could have been worse. It was only 2 degrees above average. Tucson logged a total of 13 days of 100 degrees or higher in June.
Remnants of Hurricane Bud slid into town just at the start of the monsoon on June 15, which cooled things down and broke a streak of more than 100 days without rain.
July's rainfall was average and 2 degrees above the 87-degree monthly norm. Tucson baked under 20 days of triple-digit heat.
The year's highest daily temperature was 112 degrees on July 24.
August was a degree hotter than average and wetter than normal.
September, which was more than 3 degrees above normal, fell short of average rainfall despite some last-minute rain from the remnants of Hurricane Rosa, which affected both September and October weather. September also marked a streak of 24 months with above-average monthly temperatures.
October was the turning point.
That month, the average monthly temperature was about a degree below normal and the airport recorded only one daily high that surpassed 90 degrees.
In October, 2.87 inches of rain fell, 2 full inches above the norm. Thanks to the remnants of Hurricanes Rosa and Sergio, October was the fifth-wettest on record.
"October was epic for the state," Crimmins said. "That's when we switched from severe and extreme drought to abnormally dry. It was a crazy year with extremes," which highlights that "sometimes averages don't tell you the whole story."
November was fairly normal and December was about 1.5 degrees warmer and slightly wetter than average.
From the perspective of desert dwellers, the last month of the year ended on a frigid note.
Starting Dec. 26, daily highs were in the 50s. The 29th was 13 degrees cooler than normal.
According to NWS Tucson, 2019 will kick off with a winter storm that will bring rain and snow to the region. Hard-freeze warnings were issued for Tuesday, Jan. 1, and Wednesday nights, with temperatures forecast to dip to 25 degrees.
According to the NOAA's Climate Prediction Center, winter on the whole is predicted to be slightly warmer and wetter than average.
Contact Mikayla Mace at mmace@tucson.com or 573-4158. Follow on Facebook and Twitter.