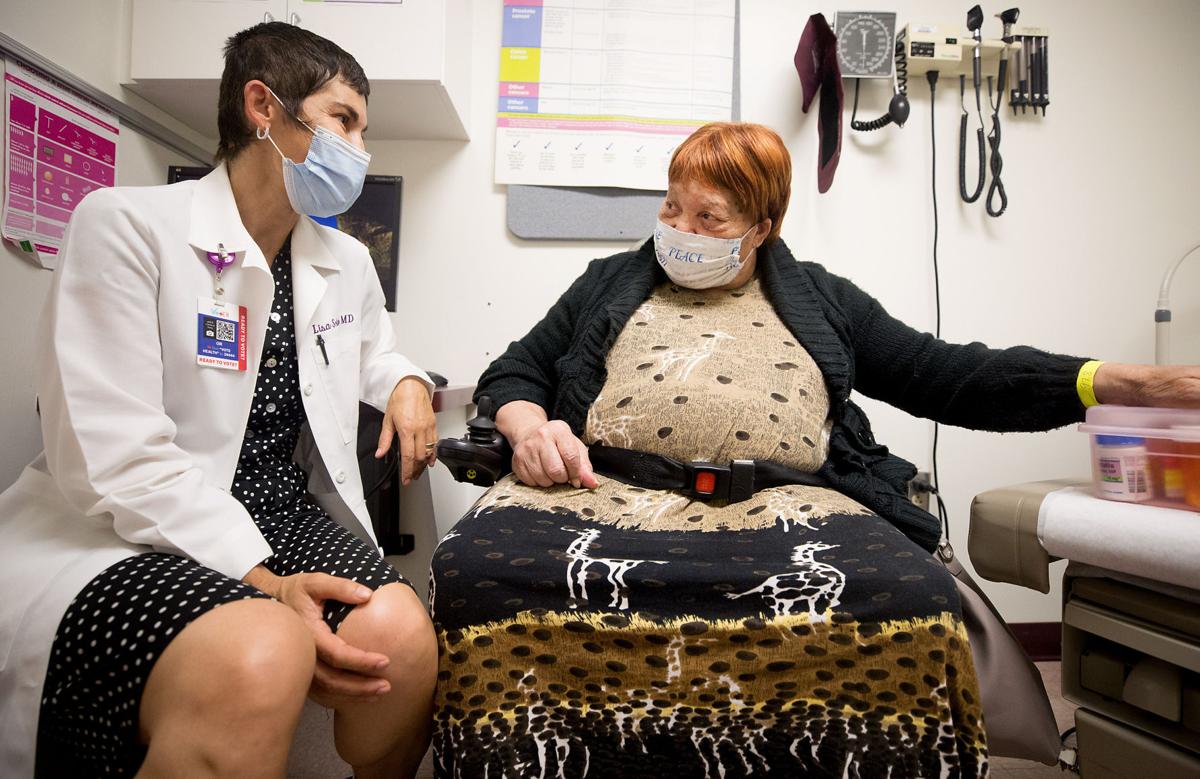 Maebell Mallard's one wish is to keep her apartment, a modest request for an elderly woman who raised six adopted children by cleaning hotel rooms and selling artwork.
For the last two decades, Mallard, 86, used Section 8 federal funding to rent her one-bedroom home at Mission Tierra Apartments, 5505 S. Mission Road.
Her notice to move came earlier this year, shortly before the pandemic, when the complex was sold to Peak Living, a real estate management company based in Pleasant Grove, Utah.
The sale made Mallard's federal voucher worthless there.
Her plight is a common one, as  Tucson grapples with rising rents and low vacancies. It's especially challenging for people who live on fixed incomes and for those like Mallard, who needs wheelchair access and other accommodations as well as a landlord who takes Section 8.
In general, the cost to rent has been going up and vacancies have been going down this year, a trend that's oddly coupled with many landlords also struggling due to unpaid rent because of job loss, and the federal and state eviction moratoriums.
Mallard was given time to find a new place after the COVID-19 crisis started, but for the last three months she's tried in vain to find a landlord who will take Section 8.
At the end of October, as it stands right now, her time at Mission Tierra is up.
"It is truly heartbreaking"
Plainly put, there are not enough resources to address the growing housing crisis for seniors, said Rae Vermeal, rights and benefits coordinator with the Pima Council on Aging.
"It's almost hard to know where to start," she said. "Since I started in my position here, we've almost doubled the number of calls we get about housing, evictions and insufficient income."
For fiscal year 2017-2018, she said, they received 688 calls from seniors about housing insecurity. From 2019-2020, there were 1,242 calls.
And Vermeal said that increase has continued to rise with the pandemic.
"There's just not enough available," she said. "It used to be that we could provide that subsidized housing list and they could call and apply, and some might even have a vacancy."
The problem is not isolated to Tucson. The National Low-Income Housing Coalition reports that one in three of the nation's housing insecure are over the age of 62.
"It's heartbreaking, it is truly heartbreaking," Vermeal said. "And we don't have the resources we used to have."
Sheila Bordeaux knows this worry well, as the pandemic drags on and the cost of her apartment continues to increase.
Bordeaux found out in August that her rent at Casa Loma Apartments, 6639 E. Broadway , was going to go up to $785 as of Oct. 1, an increase of $36 per month and $432 per year. When she started living there several years ago, she paid $629 per month.
Bordeaux, 67, receives $1,187 from Social Security each month and was earning less than $600 every month as a crossing guard, but she lost that income when the schools closed due to the pandemic.
She's started working as a crossing guard again, about three hours per day several times a week, but she's not sure how much longer she can do it. She fell recently and fears it could happen again. And the work sometimes hurts her left shoulder, where she has "bone-on-bone" osteoarthritis.
"I can make it as long as I can keep working," she said. "It's scary as you get older and things like this happen."
It's the same for Jackie Cole, whose rent was a manageable $489 per month when she moved into Far Horizons East, 7570 E. Speedway , several years ago.
Over the last three years, however, the price has gone up $30 per month each year and her rent, now $599 per month, is getting harder to pay. It's a big increase for anyone living on a fixed income, and Cole gets by on about $1,500 per month.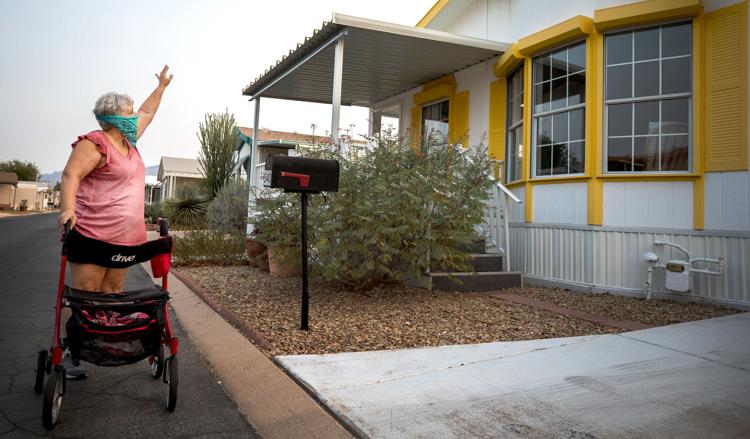 "It's making many of the people there frightened about what they will do if the rent increases again, especially now that the people they relied on for help are facing job losses," she said.
"I just don't know how some of us are going to do it. For many, family members are not able to help out as much because they are out of jobs."
No one from the company that owns Far Horizons East, Cal-Am Properties, responded to interview requests.
Cole, 68, said if she were able to move, she doesn't think she could find anywhere else to live that she could afford.
It's a valid concern, considering how the market is now.
For the quarter ending Sept. 30, Apartment Insights reports Tucson's vacancy rate, at 4.47%, was down .84% from the quarter before and down 4.47% from one year ago.
At the same time, the average rent in Tucson has increased $28 per unit from the second quarter to the third this year, for an average price of $867 per unit per month.
"We're all seniors, almost everybody is 65 and over and there's just a lot of stress and worry," Cole said. "Many don't have a way to make more money."
"I wish I could do more"
Maebell Mallard's nephew, Jerry Crawford, visits from the Phoenix area every other weekend and, for the last three months, the pair spend their time trying to solve her housing problem.
The only place they've found was poorly maintained, dirty and with windows that backed up to an alley where people tend to loiter.
"It was completely unacceptable. We can't put her somewhere that's not safe," he said. "I won't do it."
Nearly all of Mallard's relatives live in Maricopa County and so, in addition to looking for places in Tucson, they are also looking up there. Her name is on more than 20 waiting lists at the moment.
"Lately we've been packing up her apartment, little by little, but I hope she doesn't need to move," Crawford said. "I wish I could do more."
Mallard's family has been paying the full rent now, but they can't afford to keep that going. Typically, Mallard paid $200 and then $650 was covered by Section 8. She lives on less than $800 per month in Social Security Disability Income.
On Saturday, nine days after the company was first contacted, a spokeswoman with Peak Living said Mallard's apartment complex still takes Section 8. The woman could not be reached for further comment about why Mallard and her nephew have been told otherwise.
Crawford said the experience has been quite stressful.
"They wanted her out at the end of August," he said, "and I'm like, 'No, that's not happening. She's 87 and disabled and, no.' "
"Landlords are hard to come by"
Since the city of Tucson started operating hotels for the homeless back in April, 118 people over age 65 have stayed in one to avoid contracting the virus or to wait out the illness with care from El Rio Health if they already had it.
Currently, about 40 people over 65 are living in the hotel shelters, said Liz Morales, director of Tucson's housing department.
People who have stayed in the hotels are slowly being moved into permanent housing through rapid rehousing programs, Section 8 and permanent supportive housing, said Dan Sullivan, community services manager for Pima County's Community Workforce & Development.
"Folks are moving along well, but it takes time," Sullivan said. "Landlords are hard to come by these days."
The hotel program is expected to end by Dec. 31, Morales said, but the city has two other properties they plan to open for those who are high risk for COVID-19 or who have tested positive.
For now, the city is bracing for the end of the eviction moratoriums, with the state mandate scheduled to end Oct. 31 and the federal one at the end of December.
Morales said she is concerned about what's going to happen in terms of evictions and foreclosures if they don't receive more federal assistance by January.
"Although we are trying to mitigate that impact, I think it will result in a vacant units in the coming months," she said. "I would encourage landlords to look at working with the city's rental assistance programs because our payments are timely and regular."
Since Morales started her job here over a year ago, one of her primary objectives has been to manage the Section 8 program better than before. She didn't have data available last week, but said they are getting payments to landlords on time now.
Even so, with so many no longer taking the federal vouchers, it's very challenging to find places for people using Section 8 to live.
"There are not enough landlords right now so that continues to be a challenge," Morales said. "If it wasn't challenging before, it's 10 times more challenging now because of COVID."
"Make this your home"
Maebell Mallard's one-bedroom apartment holds a lot of memories for her now. There's a macramé table she made and the last of her ceramic pieces, along with photos of children on the walls.
Mallard adopted her sister's five children after their mother died, she said, and raised them together rather than letting the courts split them up to different homes.
She was living in the apartment when her oldest child, Rozena, died of cancer, and she was there when she met neighbors who became her treasured friends.
"When I moved here, they told me, 'We want to make this your home,'" Mallard said. "And I did."
And it's where she wants to stay.
"I like it here. It's nice, and it's quiet," Mallard said. "I've paid all my taxes and paid all my bills. Why are they throwing folks away? I've worked hard all my life."