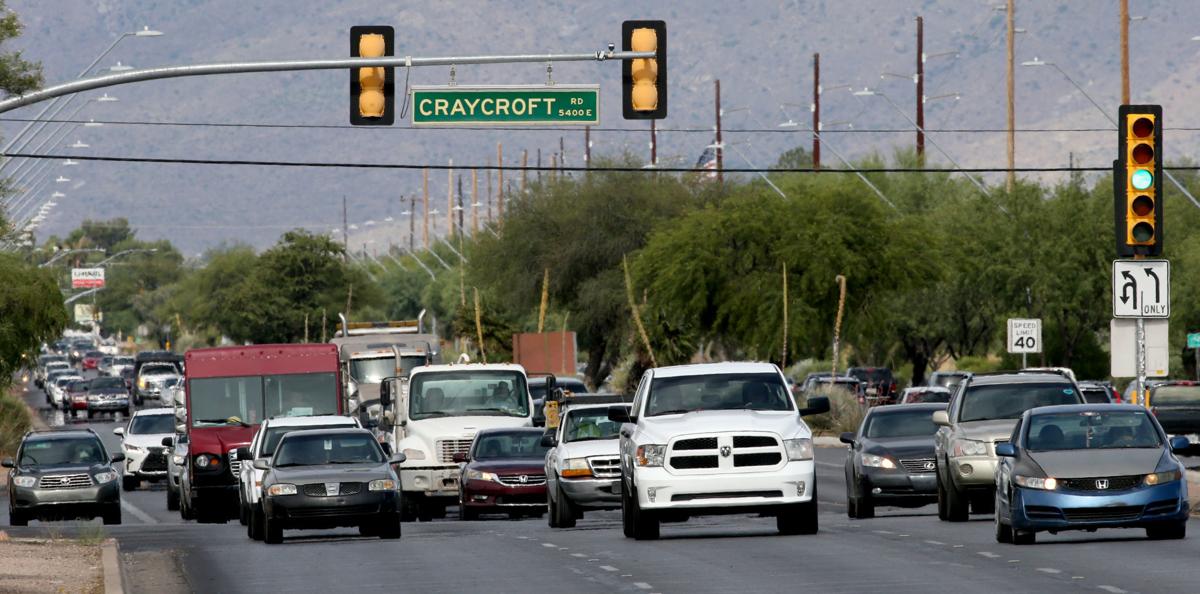 Tucson's air quality suffered a relapse from its coronavirus-fueled cleanup last week, and there's a good chance Phoenix's typically bad air played a role.
Last Tuesday, the Tucson area's air climbed above the federal standard regulating ozone levels for the first time in 2020.
For that, the blame likely falls, among other factors, partly on hot weather and partly on pollution blowing down from the Phoenix area's smoggier skies, a National Weather Service forecaster here said.
Pima County's air topped the ozone standard from Saguaro National Park East up to the far northwest side on Tuesday. It happened despite continued, major cutbacks in the presence of cars, trucks and other motor vehicles on our roads due to the shutdowns of most businesses and many other human activities since early to mid-March.
Last week's heat clearly contributed to the ozone pollution here, with temperatures topping 100 degrees Tuesday, Wednesday and Thursday. That's well above normal high temperatures in the upper 80s in this period.
But some of the ozone likely blew in from Phoenix, said weather service meteorologist Kenneth Drozd.
"Hot temperatures and light winds led to a higher than usual ozone concentration in parts of Pima County" Tuesday, he said. "Additionally, favorable trajectories of ozone transport from the Phoenix metro area over the preceding two days likely contributed to pushing those ozone levels over the" standard, he said.
A state Department of Environmental Quality spokeswoman declined to comment directly on Drozd's statement. But under the right weather conditions, ozone and the chemicals that form it — nitrogen oxide and volatile organic compounds — can be transported to Tucson regionally, spokeswoman Caroline Oppleman said.
"When ADEQ forecasts ozone in Tucson, not only do we look for periods of calm winds, which allow ozone to build up in the region, but we look for breezy winds that could transport ozone from the LA Basin or Phoenix," Oppleman said.
"No matter where ozone originates, it is still very important that everyone do their part to limit their emissions no matter where they live."
So far this year, Maricopa County has had seven bad air days when ozone exceeded the federal standard. That includes the day Tucson's air exceeded the standard, the day before that and four days from the previous week.
"We don't have it come down from Phoenix often. It's more likely this time of the year, when it's fairly breezy in the afternoon," but calm at other times, Drozd said. "The addition of it being a hot day leads to more production of ozone."
Asked to explain why ozone levels were so high during the pandemic, Oppleman said, "Ozone is a very complex pollutant with a lot of chemistry involved. The elements that make up ozone are formed from not only human behavior but also through natural processes."
Ozone levels slightly exceeded the U.S. Environmental Protection Agency's standard of 70 parts per million at three Pima County air monitors Tuesday, as people sweltered in 101-degree heat. The monitors stretched from Saguaro National Park East on the east side to Tangerine Road and Camino de Oeste on the northwest side. The third monitor with high levels lies near West River and North Oracle roads.
Levels of ozone were still high on Wednesday and Thursday, when temperatures hit 104 and 102, respectively. But due to stronger winds those days, they didn't exceed the EPA standard.
In mid to late April, clearer and bluer-than-normal skies were common here, as ozone levels were generally well below those of 2019. The number of vehicle miles traveled in Pima County crashed at that time, compared with those of a month or two earlier, statistics gathered for the regional Pima Association of Governments show.
Since then, vehicle traffic has rebounded, though it's still well below normal levels, those statistics show.
As of mid-April, the number of miles traveled by cars, trucks and other motor vehicles had dropped as much as 65% to 69% since January, when coronavirus hadn't been detected in anyone in Pima County.
Last Monday and Tuesday, the most recent days for which figures were available, vehicle miles traveled were down 59% and 56%, respectively, from January levels, statistics gathered by the firm Streetlight Data show.
Ozone is a major irritant when in the air because it can provoke asthma attacks, chest pain, coughing, throat irritation and airway inflammation, the EPA says. It also can reduce lung function and harm lung tissue, the EPA says.
Ozone is formed when nitrogen oxide and volatile organic compounds emitted into the air combine with heat and sunlight, generally during warmer seasons of the year. The sources are most commonly cars, trucks and industrial plants, but some of the organic compounds also come from plants. That means a good rainy winter season like the one Tucson just had also can trigger higher ozone levels come spring and summer, experts said.