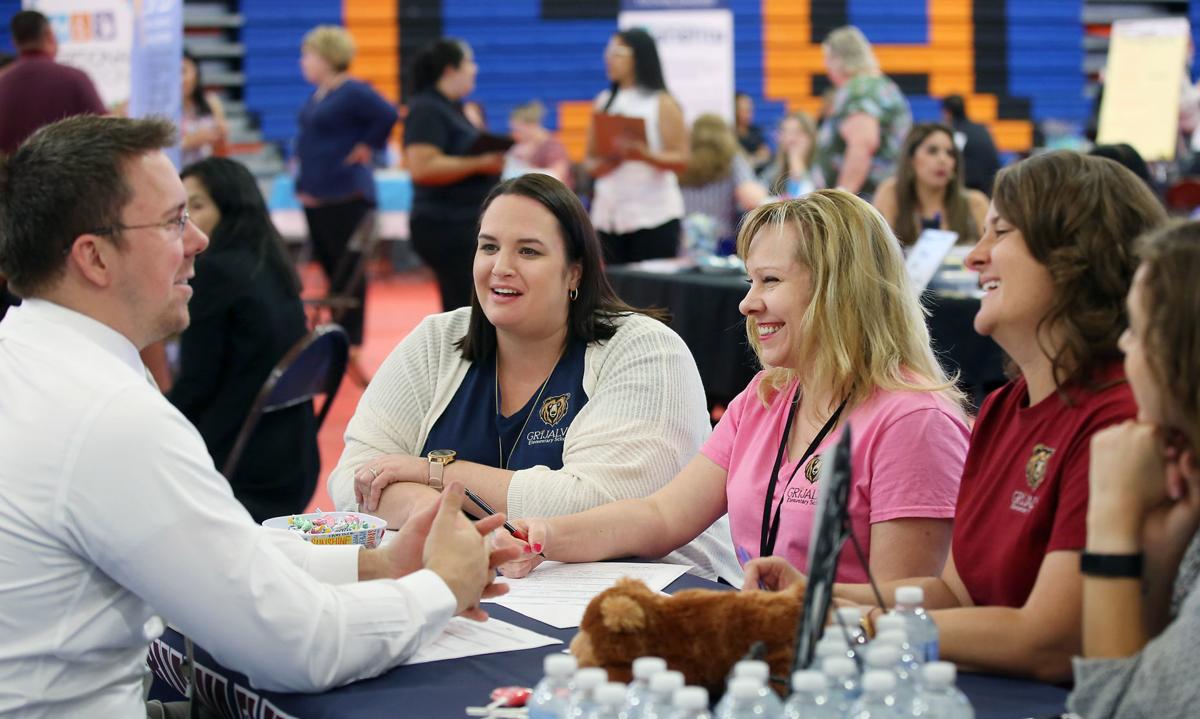 Teachers starting their careers in TUSD will make just over $40,000, starting next fiscal year — a roughly $1,500 increase, compared to last year's base salary.
That's because Tucson Unified School District's Governing Board approved a $552.5 million budget for the upcoming school year that accounts for nearly $9.6 million in new state funding dedicated to educator raises and capital projects like fixing broken AC systems and repairing aged roofs.
The district funneled about $5.9 million of that new funding into raises, giving teachers $1,500 raises across the board and occupational therapists, physical therapists and speech-language pathologists a 1% step increase, which means the raise amount will vary from person to person, depending on their experience level.
The district was able to dole out raises because the state boosted its base-level spending formula by about $112 per student. The boost supports Gov. Doug Ducey's 20x2020 plan, which promised to raise public school teachers' salaries by 20% in 2020.
This year, the state was supposed to give districts enough funding to give classroom teachers a 5% raise. But many Arizona districts — TUSD included — didn't receive enough funding to do that because the raise calculations were based on teacher salaries from 2017, not last year.
The state's 20x2020 formula also didn't take into account any employees who aren't traditional classroom teachers, so districts — again, TUSD included — that opted to give raises to other certified and classified staff workers had to spread the funding even thinner, or find other ways to pay for it.
That means TUSD teachers did not receive a "true 5% raise," according to Tucson Education Association President Margaret Chaney.
TUSD's classified staffers including nurses, secretaries, custodians and teaching assistants will not receive raises in 2020. Instead, the district will give them a one-time stipend of $350, said Renee Weatherless, TUSD's executive director of financial services. The district could afford the stipends because of $2 million in health-care cost savings, she said.
The raises and one-time stipends aren't a perfect fix to the state of teacher pay in TUSD, TEA's Chaney said, but they are "a step in the right direction."
"We were able to negotiate equitable pay raises for all of our members … as well as a stipend for our education support professionals," Chaney said. "We're having to spread that money among a larger group of people. … If Ducey would have said 20x20 for everyone, that would have been a lot easier."
In addition to the salary funding, TUSD also received $14.3 million in district additional assistance funding from the state — roughly $6.3 million more than it received last year.
The new funding is only a partial restoration of the roughly $155 million in capital cuts that TUSD has experienced since 2008.
The district plans to use the new capital funding and an additional $3.3 million in maintenance and operations funding to purchase new teaching software and workbooks, to complete long-overdue maintenance and repair projects and to adjust hourly workers' pay to reflect the new minimum wage requirements set by Proposition 206, among other projects, Weatherless said.
Cautious budget
TUSD is taking a more conservative approach to budgeting than usual, next year, Weatherless said.
Despite new funding infusions from the state, the district budgeted roughly $12.4 million less than it did last fiscal year.
Weatherless says this year's budget is smaller because there is less revenue due to declining student enrollment and declining teacher experience, which both factor into the state's per-pupil funding formula. The district's goal of being more financially responsible also played into the decrease, she added.
TUSD's spending capacity could increase, next year, if TUSD receives additional funding from cash contingencies like grants, Weatherless said, but she would rather not rely on revenue streams that aren't 100% dependable.
"When you put together a budget at the beginning of the year, you have to make assumptions," Weatherless said. "I don't want to make assumptions I'm not entirely certain we'll meet."
The district has also set aside $2 million to carry forward into fiscal year 2021 in next year's budget. The carry forward accounts for 0.6% of the entire budget package, Weatherless said.
Differing opinions
The majority of the Governing Board — including board President Adelita Grijalva, Kristel Foster and Leila Counts — voted in support of the budget, though each voiced concerns about the development and approval process moving forward.
"It's really hard to budget when we don't have a strategic plan," Foster said. "If we don't have that strategic plan, then it just comes down to what individual people on this board want to advocate for."
Grijalva said she was concerned that TUSD continues to hire more employees as student enrollment continues to dwindle.
She hopes to investigate "where (the district) is increasing staffing," in the next year, though Superintendent Gabriel Trujillo said TUSD's lower student-to-staff ratio is one of the things that attracts people to TUSD.
Board member Rachael Sedgwick said she was also concerned and confused about the district's move to increase staffing amid enrollment losses.
Counts said she would support the budget, even though it wasn't "perfect," in her opinion.
Board member Mark Stegeman said he didn't understand why the district would budget for less than it anticipates it will spend.
"I'm confused about the prediction that we basically might not be correct," Stegeman said. "What is the calculation that it's going to be 1 or 2 percent — or even higher — than we budgeted for?"