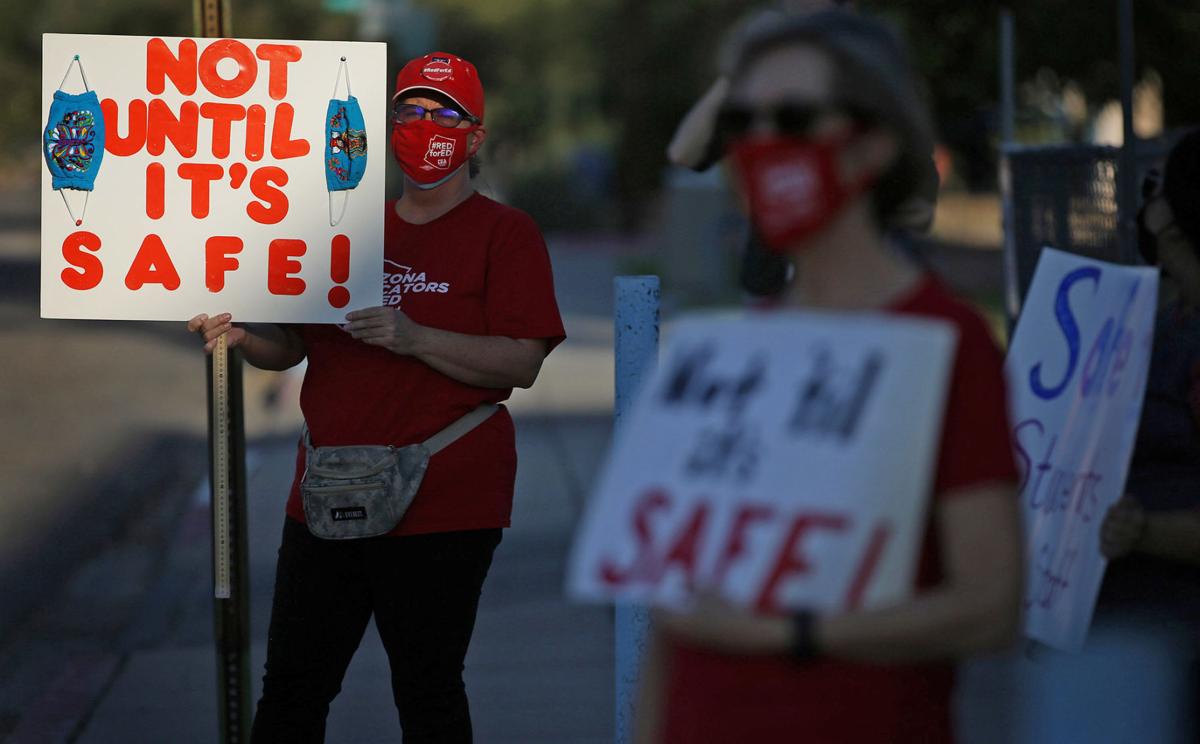 Tucson's largest school district is pushing back its reopening date, potentially to mid-November or even later because of the COVID-19 pandemic.
On Tuesday, TUSD Superintendent Gabriel Trujillo recommended delaying the start date for hybrid in-person learning until Nov. 12 to allow for more time to create a good instructional model, to assuage some of the concerns about the recent surge of coronavirus cases at the University of Arizona and to learn from the other school districts in the county, which have either already opened for hybrid learning or plan to in the next few weeks.
Although the Pima County Health Department has given schools the go-ahead to open for hybrid — a mix of in-person and online learning — one of the public-health metrics the county and state has been relying on to predict school safety is in the red because of a recent spike at the UA. That heightens the risk for TUSD, which has six campuses that are close to the university.
The governing board's decision to wait on selecting a start date came after a contentious debate where three board members voiced support for waiting to reopen schools, even for hybrid learning, until January. In recent weeks, the school district had been planning for an Oct. 19 start date.
Board members Rachael Sedgwick, Adelita Grijalva and Leila Counts, said making the decision to wait until the end of the semester would allow both teachers and families some surety on what the next quarter would look like rather than revisiting the topic every couple of weeks.
"I think that we owe our community a path that is clear and that we need to communicate it," Sedgwick said at the meeting. "I think that the best thing that we can do given the uncertainty today is to just agree that we should put off the opening of school until the end of the winter semester."
Sahuarita and Vail school districts have already opened schools for hybrid learning, and Tucson's second-largest school district Sunnyside plans to open on Oct. 19.
Although other local districts have either begun hybrid or plan to later this month, TUSD is in a different position because of the sheer number of people they serve, including about 42,000 students, their families, and thousands of educators and staff, Sedgwick said.
"If we open and people get sick then we are going to decimate the numbers for Pima County, and I think that we have to take that responsibility very seriously," she said. "We owe our educators some clarity and some certainty as well as our students and all of our community. I think the best thing that we can do is to say we will stay closed until the whole world comes back to normal and hopefully that will be in 2021."
A staff survey done by Tucson Unified School District found that more than 71% of responding teachers wanted to stick with 100% remote learning for the second quarter, while a parent survey found that 45% of about 20,000 respondents wanted to begin a hybrid model.
The disparity between how many teachers don't want to return to the classroom until it is safer and the percentage of parents who want to send their kids back to school with the current conditions of the pandemic is the crux of why the TUSD governing board is nearly split on when to reopen schools.
Board President Kristel Foster and Board Member Bruce Burke both emphasized the importance of following the Pima County Health Department guidance on deciding when to open. The local health department has said schools are OK to open for hybrid instruction despite the recent spike in cases at the UA.
WHAT HYBRID WOULD LOOK LIKE IN TUSD
Whenever TUSD does open its 80-plus schools, the district's hybrid model will look different than many of their neighboring districts.
TUSD approved a model on Oct. 6 that has in-person students working with teachers in classrooms in the mornings and remote students working with teachers over Zoom in the afternoons. This method keeps students with the teachers they already have.
This model would have in-person learners on campus four days a week, and on Wednesdays everyone would be learning remotely.
Besides teachers keeping their same students, some of the benefits of this model are that teachers will not have to manage two instructional environments simultaneously, on-campus students will have more socialization time, students who continue with remote learning will have five days a week of live teaching, and there will be blocked out time in the elementary levels for socio-emotional learning and special classes, Trujillo said.
But this plan also means that there is not much room, if any, for teachers who are at high risk of COVID-19 to continue working remotely.
"NOT UNTIL IT'S SAFE"
Alicia Lara was alarmed when she received a letter last week that said she should plan to return to her school site Oct. 19 — the date originally considered for hybrid learning to begin. The University High Spanish teacher is immunocompromised and had already been approved for an accommodation to continue working remotely through the American Disabilities Act, which TUSD processed and signed off on.
When the district approved accommodations for teachers requesting to work remotely due to COVID-19, the standard letter says TUSD intends to allow certified teachers covered under the ADA to continue to work remotely until the Pima County Health Department provides authorization to fully open schools and that the volume of students requires they return to the building.
The health department has authorized a return only in hybrid form, not a full return.
When asked why teachers with ADA accommodations are being told to get ready to return, TUSD spokeswoman Leslie Lenhart said the accommodation "must be reasonable and must allow the employee to continue to perform their job and complete all job functions."
"One possible accommodation could be to work from home, which works especially well when there are no students in the building," she said. "However, once students return to school, teachers should be on campus to supervise and instruct students, making remote work no longer reasonable."
TUSD has 53 certified staff members who qualify for ADA accommodations, many who work with students, and 31 of whom are certified teachers, said Lenhart. About 10 ADA approved employees received the letter saying they should be ready to return to school. The Oct. 19 date was pushed back for everyone, but when and if teachers with ADA accommodations are required to return is still not clear.
Lara's classroom is in the basement of University High. The windows don't open and the ventilation system is poor — in the summer it's hot, and in the winter it's cold, she says.
"So it's really scary for a lot of people, and it's really not just for people that are at risk," she said. "I think everybody's at risk if they're in a room with windows that don't open or no windows at all and poor ventilation. So those are our major concerns."
Lara wrote a letter to the TUSD board, signed by 38 University High teachers and staff, pointing out that the building is poorly ventilated and classes are overcrowded. Lara has 170 students on her roster, meaning if 45% show up, she'll be interacting with 77 students a day in a small, poorly ventilated classroom.
At least one other school, Sahuaro High School, sent the board a similar letter, asking the board hold off on reopening the school, with 40 employee signatures.
Lara joined about 40 educators and supporters on Oct. 5 in front of TUSD's administration building. They wore masks, stood 6 feet apart and held signs that said "Not until it's safe."
Of the 2,150 teachers surveyed, more than 71% said they wanted remote learning to continue; 18% want the hybrid model to begin, and 10% want schools to open without any modifications.
"Each student equals money, so it just seems to be really driven by the amount of money they can get for each student," Lara said.
FEAR OF ENROLLMENT LOSS A DRIVER
A big driving factor for TUSD to reopen campuses is the fear of an enrollment drop if parents take their students to neighboring districts or charter schools who are offering in-person learning options.
Schools are funded on a per-pupil basis, and although the district is eligible for coronavirus stimulus funds to make up for any enrollment loss this year, if students don't return next year, there is no funding earmarked to account for a budget shortfall.
Trujillo has said at numerous board meetings that he fears not opening could cost the district students.
Board president Foster said with 45% of families wanting to come in person, she's worried not opening could result in the district having to lay people off.
"We have to have the option to come to school, or we're going to lose jobs," she said.
Photos: TUSD food services department provides meals through COVID-19 crisis 
TUSD Food Services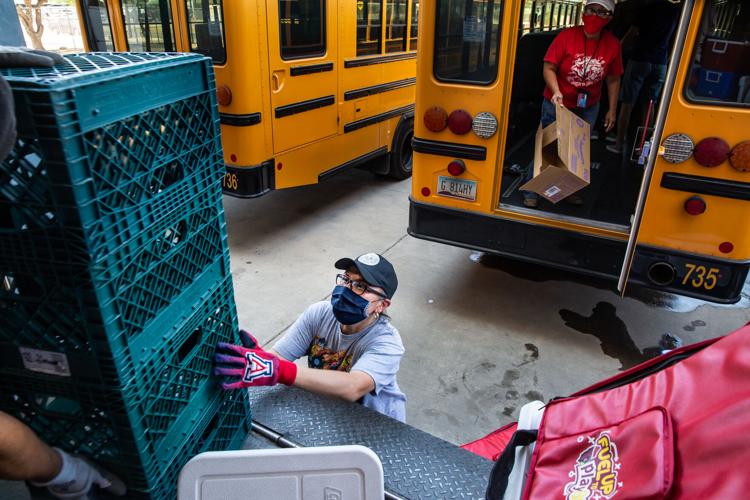 TUSD Food Services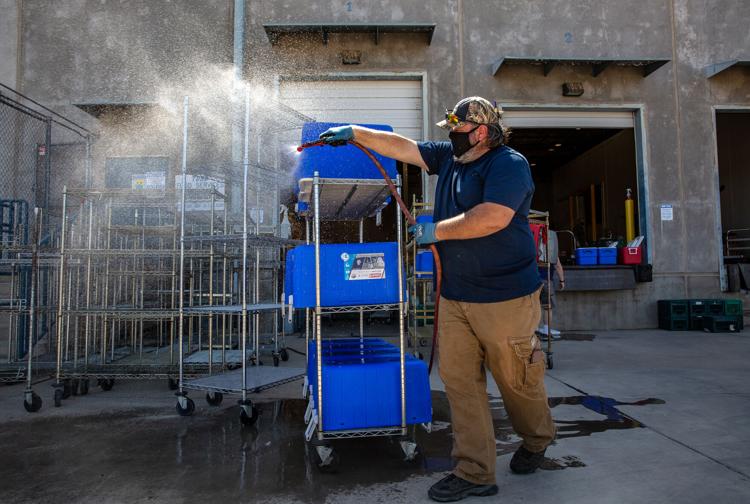 TUSD Food Services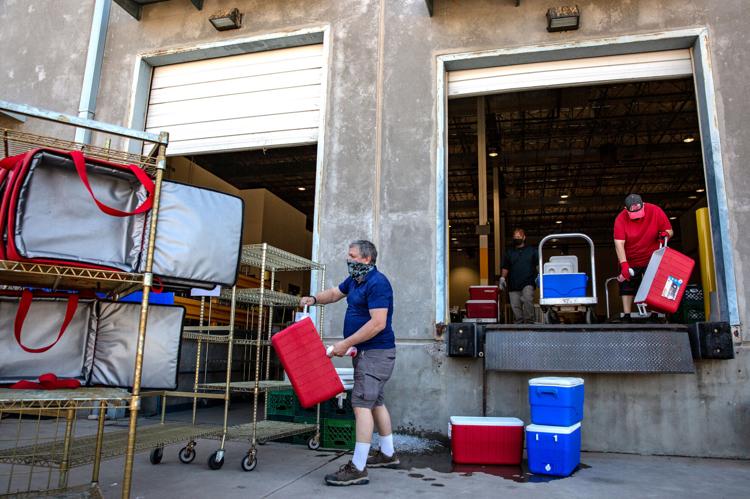 TUSD Food Services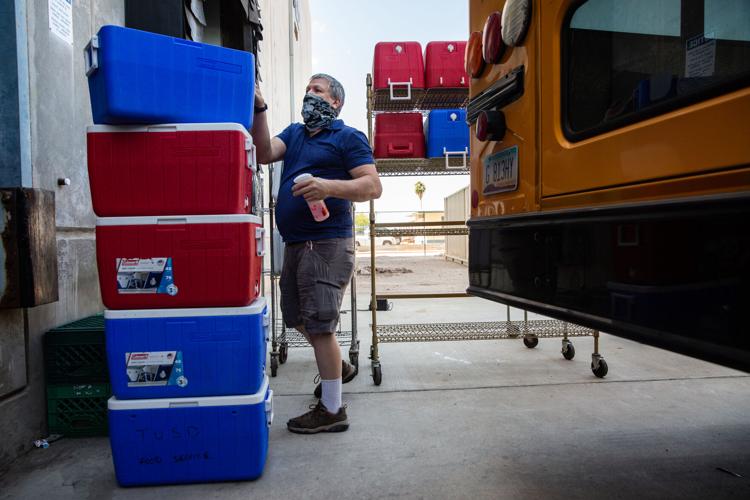 TUSD Food Services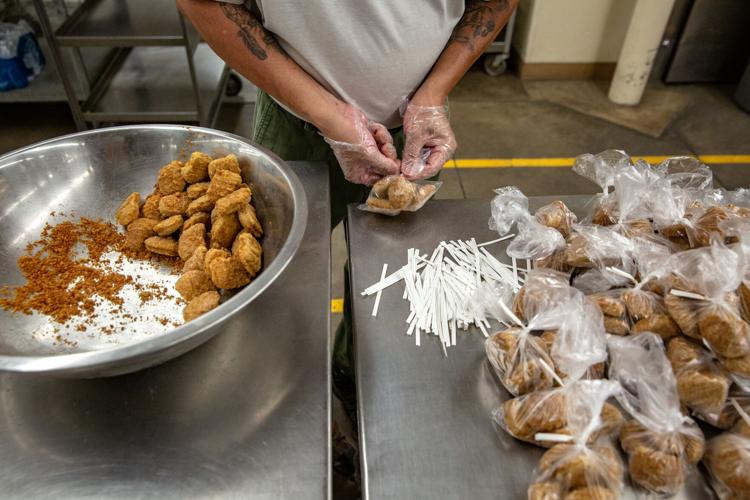 TUSD Food Services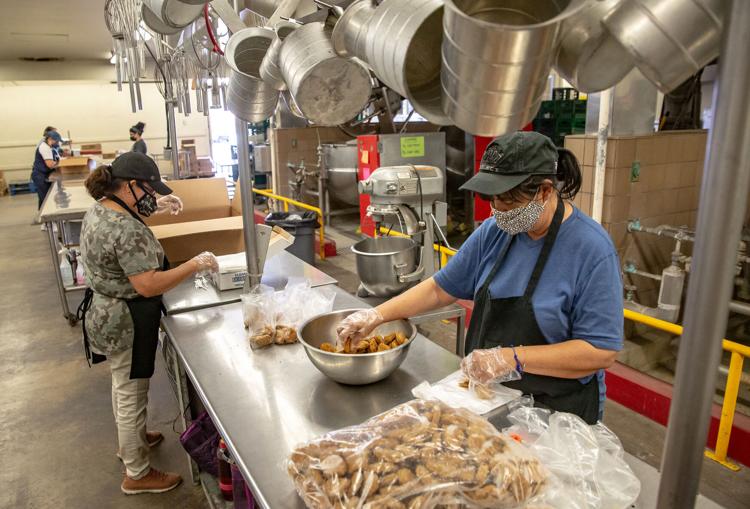 TUSD Food Services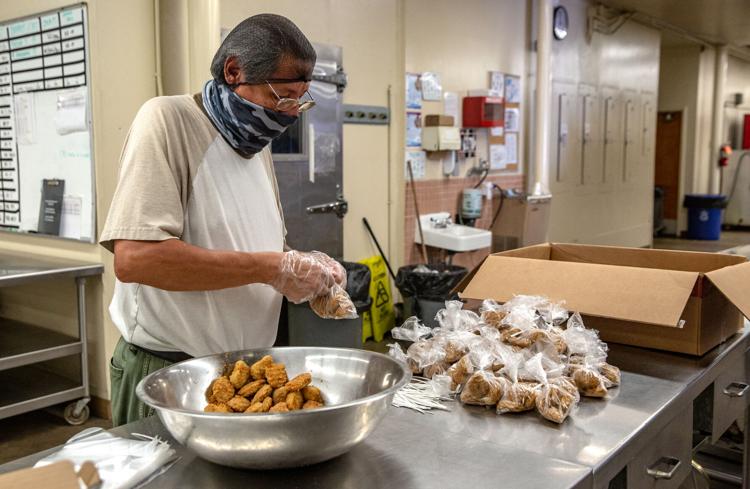 TUSD Food Services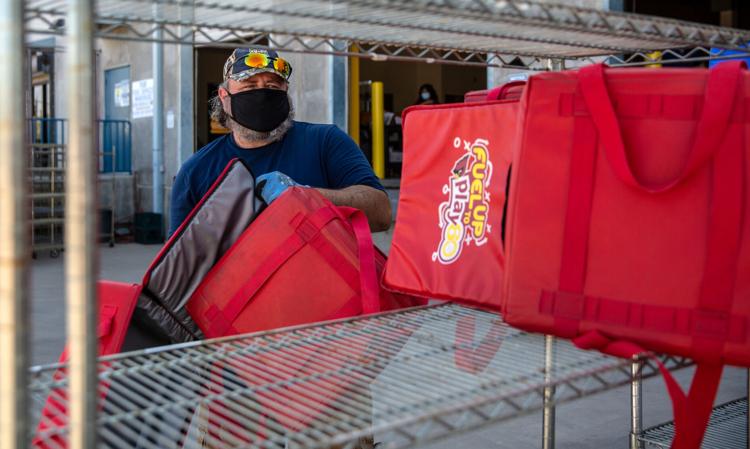 TUSD Food Services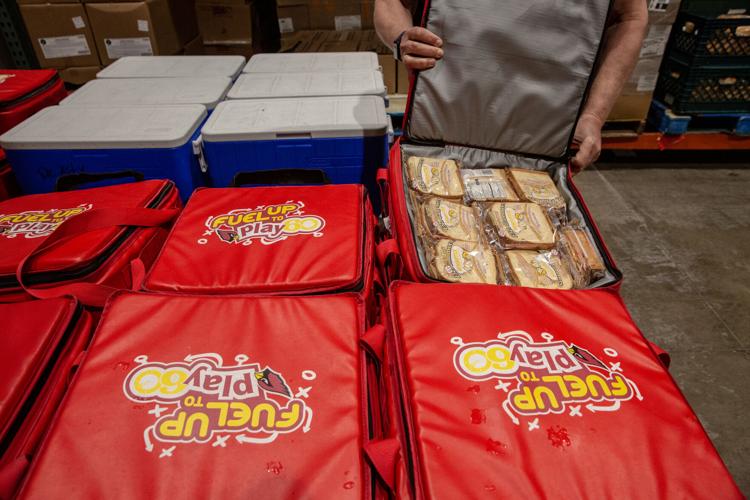 TUSD Food Services
TUSD Food Services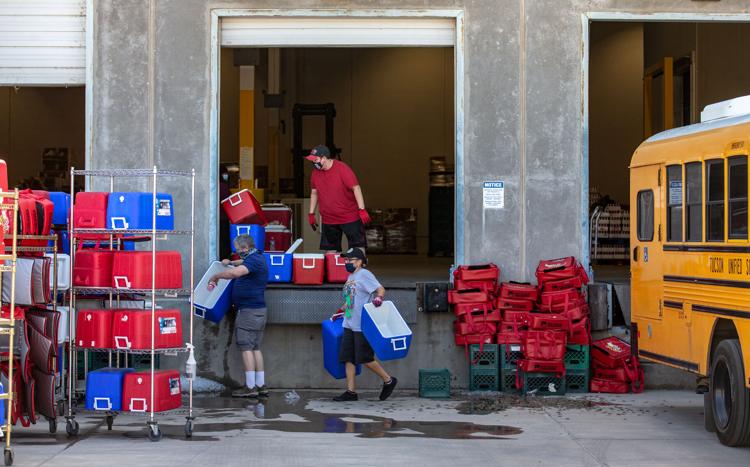 Luna Rose, Shaw and Grivois-Shah projected to win seats on the TUSD Governing Board
Natalie Luna Rose, Sadie Shaw and Ravi Grivois-Shah are leading the race to win seats to the TUSD Governing Board, beating out four other candidates.
As of Wednesday afternoon, Pima County still had thousands of votes to count.
The Governing Board for Southern Arizona's largest school district, Tucson Unified, makes decisions that control a $500 million budget and affects the lives of about 42,500 children and their families.
The three newcomers, to be seated in January for the volunteer positions on the five-person board, will be responsible for seeing the district through educating students during the COVID-19 pandemic, an enrollment loss upwards of 2,500 students, a possible $15 million budget shortfall, a continuing statewide teacher shortage and TUSD's ongoing desegregation order, already in place for more than 40 years.
Board President Kristel Foster and board members Rachael Sedgwick and Bruce Burke all declined to run for reelection, leaving three seats open. Luna Rose, Shaw and Grivois-Shah would join board members Adelita Grijalva and Leila Counts.
Luna Rose, who got more votes than any other candidate, is a TUSD parent and founding member of Tucson Unified Parent Advocacy Council.
She works as community and outreach manager at the Arizona Center for Disability Law. She has been doing grassroots organizing for almost 20 years, participating in the public process at all levels.
Luna Rose says her win signals a change for the community, "as we now have the most diverse group of school board members to ever truly represent the district."
"Come January, the Governing Board will face some intense challenges with the budget, declining enrollment and an infrastructure that needs massive repair, not to mention issues surrounding COVID-19," she said. "The work will begin on Day 1. We have a lot of work ahead of us but I am ready to fight hard for Tucson families and help shape TUSD's future."
In our most unique candidate session of the 2020 election season, candidates for one of three vacant seats on the Tucson Unified School Distri…
Shaw is an artist, art educator and community advocate. She volunteers in TUSD schools, currently as part of an art program at Catalina High School.
She serves on the Diversity Equity and Inclusion Committee for both the Arts Foundation for Tucson and Southern Arizona as well as the League of Women Voters of Greater Tucson, where she is the education program co-chair.
"This win is for Sugar Hill and all the neighborhood schools that got closed down," Shaw said in a post on Facebook. "This win is for the students who underperform and the parents who feel powerless. This win is for the employees that dedicate their lives to the district but aren't paid a living wage. This win is for my daughter and everyone at Manzo Elementary. We've got a lot of work ahead of us to improve the conditions in TUSD but I'm excited for the challenge and humbled by the opportunity."
Grivois-Shah is a TUSD parent and involved member of the Tucson Unified community. He is a parent member of the TUSD Audit Committee, and last year he served on the district's Family Life Curriculum Committee to revise the sex education curricula.
He has been a family physician for the last 15 years, and he recently became CEO of the Southern Arizona AIDS Foundation.
"I'm honored and grateful that the TUSD community voted to put their trust in a physician and parent who will put the needs of Tucson students and families first," Grivois-Shah said in a prepared statement.
"Voters responded to our positive message that focused on ensuring a sound response to the COVID pandemic in our schools, financial sustainability and accountability, and addressing disparities and inequities throughout TUSD. We have a clear mandate to meet these expectations."
The three winners are projected to beat candidates Adam Ragan, Cindy Winston, Nick Pierson and write in candidate Cristina Mennella.
OTHER TUCSON SCHOOL BOARD RACES
• Amphitheater School District Governing Board members Scott Baker, Deanna M. Day and Vicki Cox Golder were on track for reelection as of Wednesday, defeating newcomer Nathan Davis, an educator.
• Vail board members Callie Tippett and Allison Pratt and newcomer Chris King were on track for election as of Wednesday to the Vail Unified School District Governing Board, leading over newcomer Andre Mixon.
• Sunnyside School District Governing Board member Rebecca "Beki" Quintero won reelection alongside two new candidates, Matthew Taylor and Lisette Nuñez. While a fourth candidate, Joaquin Nuñez, came in third place, he had already withdrawn his candidacy.
The Tucson Unified School District Food Services Department has continued to provide services for students and families throughout the Coronav…
Educational Enrichment Foundation awards nearly $60K for student projects in TUSD
The Educational Enrichment Foundation is awarding 66 classroom grants to Tucson Unified educators totaling $56,973, to support student projects.
The grants will provide teachers with funding to purchase supplies, materials and equipment for virtual classroom projects. The 66 recipients will use their awards to buy new books, virtual reality glasses, yoga mats and mindfulness activities, sculpting clay, Edison Robots for Scratch Coding, 3D Printers, iPads and more.
"EEF is thrilled to be able to provide this funding for teachers to enhance and expand student learning in TUSD," said executive director Dawn Bell. "Even with the challenges of online learning during the pandemic, teachers continue to impress us with creative projects that can be accomplished with their students remotely."
Educational Enrichment Foundation awards classroom grants based on the review and recommendation of a committee of Tucson community members.
Tanque Verde psychologist joins prestigious board
The lead school psychologist in the Tanque Verde School District, Ivonne Olivas, was appointed to the executive board of the Arizona Association of School Psychologists.
Olivas will engage school psychologists with "high-quality professional development, promote visionary leadership and advocate for ethically, culturally competent and socially just practices to empower school psychologists in the vital role of supporting the well-being of Arizona's children and youth," a news release said.
Olivas is in her 13th year as a school psychologist and in her second year in Tanque Verde schools.
Pueblo receives $35,000 grant for computer science program
Pueblo High School is receiving a $35,000 STEM grant for creating a computer science program.
The grant will "help students from underrepresented backgrounds, interested, prepared and on their way to a possible career in computer science/cybersecurity," said Roberto Cruze, the school counselor who will oversee the grant.
Pueblo will work on creating a sustainable program over the next year for students to advance their understanding of computers and the computer science field, Cruze said.
The school will work to create a 10-day introductory computer science summer program in which incoming freshmen will be able to get a jump start on their high school career.
The Tucson Unified School District Food Services Department has continued to provide services for students and families throughout the Coronav…
Federal prison on Tucson's southeast side COVID-19 hot spot
The federal prison complex on Tucson's southeast side has become a COVID-19 hot spot, and widespread testing is urgently needed to prevent hundreds of employees from spreading the disease beyond the prison gates, a report to the Pima County Board of Supervisors said.
To date, about 500 of 1,300 inmates at the facility at 8901 S. Wilmot Road have been infected with coronavirus, and until last week, the prison was not offering on-site testing for its 600 or so employees, said the report from County Administrator Chuck Huckelberry.
Rather, employees who wanted to be tested were directed to see their doctor or seek out a free clinic. Relatively few did so — only about one-quarter of the workforce, the Nov. 17 report said.
"We believe the facility needs to provide comprehensive COVID-19 testing for all staff," it said.
In the meantime, the County Health Department, with the blessing of the federal Bureau of Prisons, is sending mobile testing units to the prison.
More than 90 employees were tested on site and the mobile unit will be back Tuesday for another session, said an email from the county's epidemiological team, which is helping prison officials address the situation.
Parents, students, teachers and other concerned citizens protest in support of in-person teaching outside the Pima County Administrator's Offi…
Huckelberry's report said such testing "is critical to protecting both the detainees and the larger community." The Health Department has asked for a list of all prison employees and will be cross-checking the names with the county's coronavirus contact-tracing database, it said.
The report also said some prison employees have been careless about wearing masks and other protective items when transporting prisoners or handling them in a hospital setting.
About two-dozen infected prisoners were sick enough to go a hospital for admission or evaluation, and during that time "significant lapses in basic mask and PPE use have been noted among correctional staff," the report said.
Bureau of Prisons spokesman Justin Long said the facility has adopted numerous precautions since the pandemic began, including temperature checks, limiting prisoner transfers and suspending in-person visitation.
"We cannot require that staff members be tested for COVID-19," although they are "highly encouraged," to do so, Long said in an email from agency headquarters in Virginia.
Prison officials are closely monitoring the situation, he said.
"We are deeply concerned for the health and welfare of those inmates who are entrusted to our care, and for our staff, their families and the communities we live and work in," Long said.
The Tucson Unified School District Food Services Department has continued to provide services for students and families throughout the Coronav…
Contact reporter Danyelle Khmara at dkhmara@tucson.com or 573-4223. On Twitter: @DanyelleKhmara.
Concerned about COVID-19?
Sign up now to get the most recent coronavirus headlines and other important local and national news sent to your email inbox daily.