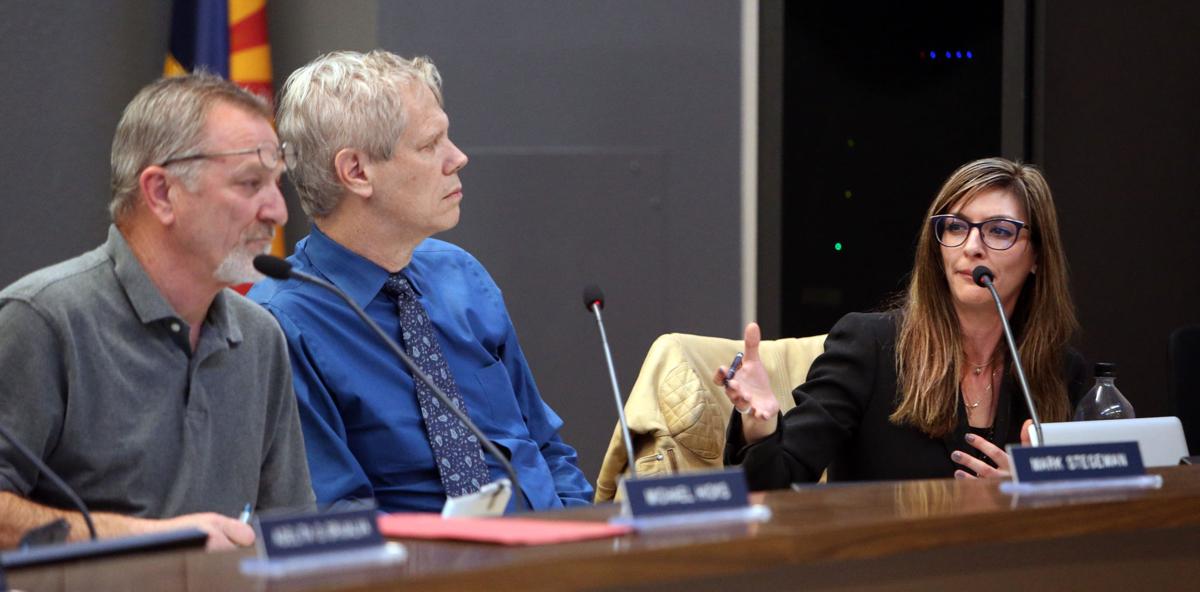 The Arizona Attorney General's Office is investigating a pair of complaints alleging TUSD Governing Board members conducted public business in secret as they prepared to fire former superintendent. H.T. Sanchez in February.
One of the complaints was filed by the district's former attorney, Julie Tolleson, who alleged that three board members — Mark Stegeman, Michael Hicks and Rachael Sedgwick — violated Arizona's open meeting law by having "serial communication" among themselves through Tucson attorney Bill Brammer about their plan to fire Sanchez.
"This three member majority is functioning as a shadow board in secret to make major policy and personnel decisions that are then rubber stamped in board meetings," Tolleson wrote in her complaint.
The other complaint, filed by one-time Pima County supervisor candidate Richard Hernandez, alleges that board members broke the state's open meeting law when board members Kristel Foster and Adelita Grijalva ambushed Stegeman in a parking lot in an attempt to create a quorum of the board and stop him from meeting with Brammer to talk about firing Sanchez.
The complaints come on the heels of the Attorney General's Office finding the Tucson Unified School District board violated the state's open meeting law in 2015. In that case, Stegeman and Hicks complained to the Attorney General's Office that the board had discussed in executive session a topic that should have been held in public, a violation for which board members were forced to undergo a 90-minute training in January.
The district could not say how much it had spent on lawyers fees to respond to and defend board members from six separate open meeting complaints since January 2015.
The law is designed to ensure that public business is done in public and bars a majority of any public body from discussing public business outside of a properly noticed meeting. That law also bans a majority of officials from any public body from having serial communication through a third party.
Although the board's contract attorney, Susan Segal of the Gust Rosenfeld law firm, said the district's responses to the complaints were public records, TUSD initially refused to provide them to the Arizona Daily Star, saying the documents are considered attorney work product and protected from release. Only after the Attorney General's Office disagreed, and sent the documents to the Star did the district change its mind and also provide the records. Superintendent Gabriel Trujillo said the district got "wires crossed" and erred in originally denying the request.
In her responses to the complaints sent to the Attorney General's Office in August, Segal said the complaint about the "parking lot incident" was without merit.
But Segal didn't offer a clear opinion on whether the board had violated the law regarding the meetings between three board members and Brammer, who drafted a statement of cause to fire Sanchez.
Tolleson, the district's former attorney who filed the complaint almost a year after she quit to go to work for the Colorado Attorney General's Office, said she didn't want to get involved. But the issue so bothered her that she felt contacting Attorney General Mark Brnovich was the only way to set things right.
"I was offended on several different levels. Because if there's any business that goes to the very heart of public transparency, creating a plan to pursue formal charges against your superintendent is something that needs to be done in accordance to the public meeting law. Or else it becomes political espionage, and that's what it sort of felt like," she said.
Sedgwick, who joined the TUSD Governing Board in January and almost immediately had to undergo open meeting law training because of the 2015 board violation, said in hindsight, she would have handled the meeting with Brammer differently or not gone at all.
She said she understands how, from the outside, it could look like an open meeting violation occurred, since all three board members were discussing Sanchez's future in the district outside of a public meeting. Still, Sedgwick said she was careful about discussing issues that might have been brought up in Brammer's meetings with other board members, though she said she doesn't remember the details of the conversation.
"We didn't have the same conversation. And the only person who could really verify that for you is Bill Brammer, who was the only person who was a member of (all) conversations. And as an attorney, he's not going to lie," she said.
Brammer wouldn't comment, other than to confirm that the meetings with three board members happened. Likewise, Stegeman wouldn't comment on the legal issue, other than to say he's well-versed on the open meeting law and is careful not to break it.
And Sedgwick noted that Brammer didn't have any hesitation about meeting with the three board members, which she said indicates he thought they were on solid legal footing.
But Foster and Grijalva saw something more sinister. They noted that Sanchez had decided to fire Brammer as the district's attorney on its desegregation case, and likened the meetings and legal advice to payback.
Hicks, who was the last of the three board members to meet with Brammer, said he asked for a meeting with Brammer after hearing that Stegeman was working with Brammer to oust Sanchez. But he stressed that he met with Brammer alone and couldn't see the paperwork Brammer showed him because he forgot his reading glasses.
"I went there to find out what they were doing and I found out they were going after, they had some things against (Sanchez). But I don't see how that can be coordinating," he said.
And Hicks blasted the whole board, saying if his meeting was a violation of the open meetings law, so was the parking lot ambush of Stegeman by Foster and Grijalva.
"This board is so dysfunctional that it amazes me that we get anything done. Everyone is trying to 'gotcha' everyone else," he said.