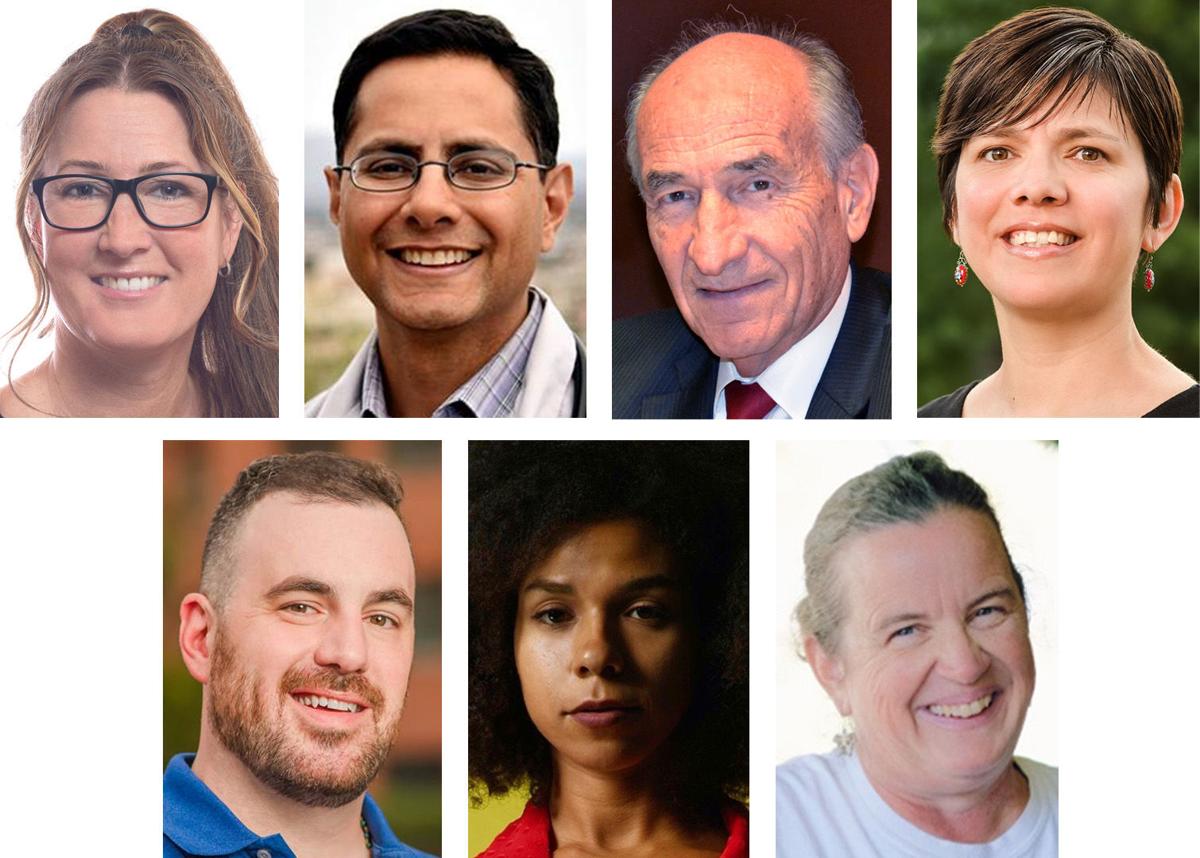 Seven candidates are vying for three seats on the TUSD governing board up for election in November.
Board president Kristel Foster and board members Rachael Sedgwick and Bruce Burke, who was appointed last year when Mark Stegeman made a sudden announcement to leave his seat midterm, have all decided not to run for reelection, leaving three seats open for newcomers, who will join board members Adelita Grijalva and Leila Counts.
The governing board for Southern Arizona's largest school district makes decisions that control a $500 million budget and affect the lives of nearly 45,000 children and their families. That responsibility is even more heightened during the COVID-19 pandemic and complicated decisions on when and how to open schools for in-person learning, as Gov. Doug Ducey has left it up to individual school districts to decide how to handle educating students while navigating a pandemic.
ADAM RAGAN
Adam Ragan attended public schools from preschool through college. He teaches high school English and dual-enrollment writing courses in the Sunnyside School District and is part of the college writing faculty at Pima Community College.
Ragan unsuccessfully ran for the TUSD board in 2018 when there were only two open seats.
He has served on TUSD's Family Life Curriculum Committee, where he worked to revise and review the district's sex education curricula, and on TUSD's Bond/Budget Advisory Committee, where he learned the details of the budget and capital needs.
One of Ragan's top issues facing Tucson Unified is the ongoing pandemic, including ensuring student and staff health and safety, providing enriching learning opportunities with rigorous curricula, and looking at how COVID-19 will affect the district into the foreseeable future.
"One of the first tasks the newly-elected board faces is looking at the budget and making a midyear reallocation if we lose funding as projected," he said. "That's going to take serious considerations to ensure that the impacts are not felt in the classroom."
An important part of the budget will be ensuring that any funding that comes from the Invest in Ed ballot measure, if passed by voters in November, is spent in accordance with the voters' wishes, Ragan said.
"The temptation for some might be to play a shell-and-ball game with other items in the budget," he said. "I'm looking to ensure that doesn't happen."
Ragan says it's important to expand programs such as TUSD's dual enrollment, JTED and Career and Technical Education, which allow high school students to graduate with college credit, helping them save in college tuition expenses. He said expanding these programs would increase enrollment.
Ragan also wants to work on a strategic plan focused on increased enrollment, greater employee satisfaction, more efficient uses of funds and higher rates of student success. He wants the plan to bring a fresh perspective to the district's desegregation order, which is more than 40 years old, to advance the goal of a more inclusive, integrated district.
Ragan is asking voters to choose him to serve on the board because of his perspective as a public school teacher and union member.
"I'm the candidate who's in the classroom, before and during this pandemic," he said. "And I'll still be there after the election. My heart is in this work."
"I'm asking Tucson to vote for me to ensure our kids and educators have a voice on the board."
NICK PIERSON
Nick Pierson lost a bid for the U.S. House Arizona District 3 in 2018 against Rep. Raúl Grijalva — a race that became contentious after Pierson said Grijalva is "not a good example of a Mexican," during a televised debate.
If Pierson wins a seat on the board, he would be governing next to the congressman's daughter Adelita Grijalva.
Pierson was born in Nogales, Arizona, to parents of Mexican descent and grew up on the Tohono O'Odham and the White Mountain Apache Indian Reservation, he says.
Pierson served in the U.S. Army and has worked in the financial services industry since graduating from the University of Arizona, including previously owning a pension administration company in Southern California.
Pierson's top issues facing the district are financial deficit and enrollment loss.
He says the district has an existing structural deficit — which TUSD denies — and that while funding from the CARES Act stimulus package will help the district make it through the school year, it's not known if the one-time funding source will make up for any enrollment loss the district suffers this year.
"It's widely rumored that the drop in student enrollment for this school year will be at 2,000-plus students," Pierson said. "This enrollment loss, if accurate, will result in an approximately $10 to $20 million-dollar budget hole that the new board will have to find a way to resolve … the district will be in a difficult position of deep budget cuts and will need experienced financial leadership."
Pierson says while enrollment decline would be partially attributable to COVID-19 it cannot be blamed for all the losses.
The district has not yet finalized this year's enrollment numbers or any projection due to challenges in identifying students that did not show up to school for the first 10 days of the school year, spokeswoman Leslie Lenhart said. TUSD expects that COVID-19 will impact the budget, but an estimate on any shortfall is still in development.
Pierson says he has the business experience and financial background needed to navigate current and future financial difficulties.
"I pledge to make every effort to promote the reforms that will provide the highest level of public education for our students and work to have the best working environment for our teachers and support staff," he said. "This includes providing needed dollars in the classroom and helping to create a healthy environment to help retain and attract teachers and students into the district."
NATALIE LUNA ROSE
Natalie Luna Rose attended TUSD schools from elementary school through high school, and her daughter is a seventh-grader in the district.
She's involved with the district as a founding member of Tucson Unified Parent Advocacy Council.
Luna Rose works as community and outreach manager at the Arizona Center for Disability Law.
Her first time running for office, she has been doing grassroots organizing for almost 20 years, participating in the public process at all levels, she said.
Luna Rose's top priorities for TUSD are dealing with COVID-19, better communication with the public and budget efficiency and transparency.
She says that while the district should work with the Pima County Health Department to determine when to reopen schools, teachers shouldn't be put at risk.
"If schools need to remain closed, then that must be an option," she said.
Luna Rose is also concerned about TUSD being underfunded saying the board needs an advocate to lobby elected officials for better policies, sustainable funding and strong public schools, she said.
"Every Arizonan who cares about education should be contacting our legislature and standing against the fiscal neglect that continues to keep Arizona ranked 49th in education and drive good teachers out of the profession," she said
She says transparency in the budget is also important.
"By instilling trust and financial transparency, the public can feel at ease that their student is receiving the best education and services possible."
Another priority is improving TUSD's image by providing information to the public about programs such as culturally relevant classes, dual language programs, JTED, GATE, OMA and gardening programs.
Luna Rose said voters should choose her because she is a strong parent voice and public education advocate.
"I believe all students deserve access to a quality and equitable education," she said. "I believe all teachers and staff deserve to have a salary that reflects the time and dedication they have invested in our students. And, I believe education should always be among the top priorities of a thriving community."
RAVI GRIVOIS-SHAH
Ravi Grivois-Shah is a TUSD parent and involved member of the Tucson Unified community.
He has been a family physician for the last 15 years, and he recently became CEO of the Southern Arizona AIDS Foundation.
He says he's proud to be a TUSD parent and that he's happy with the programs, academics and community. But he often hears about challenges that other TUSD parents have with the district. He also heard about these challenges from his husband Tim, who spent most of his career as an elementary school teacher and was a TUSD principal for four years.
"I want all Tucson families to be proud of their schools and trust that TUSD is doing the best it can to educate our community," Grivois-Shah said.
Grivois-Shah is a parent member of the TUSD Audit Committee and last year he served on TUSD's Family Life Curriculum Committee to revise the district's sex education curricula.
One of his top issues is improving trust in TUSD through financial accountability and transparency.
He says he would work to ensure the board has the financial information needed to make informed decisions and set priorities, and ensure the public had that information as well to hold the board accountable.
"Only then will we begin the process of improving the public's trust that TUSD is a strong steward of our tax dollars and resources," he said.
Another top issue is safely educating children in the age of COVID-19.
Grivois-Shah would advocate for ensuring that the district has an age-appropriate online curriculum, access to technology and keeping students, teachers and staff safe and healthy, he said.
Another priority is reducing inherent disparities within the district. Schools throughout TUSD have different resources and outcomes for students, he says. For example, his daughter's school in midtown Tucson is an OMA Gold school with a thriving arts and music program, while the school where his husband was principal, in Midvale Park, did not.
"As a TUSD governing board member, I will address disparities based on race, ZIP code and other factors so that all Tucson children have the opportunities they need to succeed."
Grivois-Shah says his years as a family physician have taught him to listen and problem solve.
"I listen to my patients and their families and help them find solutions," he said. "I have brought together my fellow physicians, nurses and staff, and the community so we can improve health access and outcomes for all. I bring this same proven track record of success to my work on the TUSD governing board so that we can all work together to ensure healthy schools for a brighter future for all Tucson families."
SADIE SHAW
Sadie Shaw is an artist, art educator and community advocate who grew up in Tucson.
Shaw serves on the Diversity Equity and Inclusion Committee for both the Arts Foundation for Tucson and Southern Arizona as well as the League of Women Voters of Greater Tucson, where she is the education program co-chair.
One of Shaw's top issues is raising the academic achievement of all students by making sure that school environments are conducive to learning, that every student has a permanent, certified teacher in the classroom and that the curriculum is engaging, accessible and culturally relevant.
She also wants to make sure students have mentors so that academic interventions can take place when students need help.
Another priority is to make sure that every TUSD school has a full-time art, music and physical education program, she said.
"These subjects are too often thought of as extracurricular, and because of that, many schools, especially at the elementary level, have cut these programs despite having the infrastructure built into the school," she said. "We know that participating in art and music can improve a student's performance in other subjects like math and science. We also know that PE teaches students coordination and healthy lifestyle habits that will stick with them for their lifetimes."
Shaw wants more transparency and accountability with the district's budget. As a board member, she would make budget decisions through independent research to benefit all of TUSD and not just "people looking to gain another expensive contract," she said.
"The community has lost trust in TUSD," she said. "I'm running to reinstate that confidence by bringing a common sense, unbiased and independent voice to the board. Many of the candidates running have friends in high places and are not looking to make the necessary changes to improve the district and hold people accountable."
Shaw says her time volunteering in TUSD schools, even now as part of an art program at Catalina High School, speaks to her priorities to make sure the individual problems that schools face get addressed and resolved.
"I won't let this virus distract me from fixing the historic problems of the district," she said. "When elected, I will be an ally for parents, students, educators and employees, championing their interests over keeping the status quo."
CINDY WINSTON
Cindy Winston, an educator, says having no prior political experience is an advantage because her motivation to be on the board isn't about pursuing another public office but to focus her time and talents on improving the district.
Most recently, Winston spent five years teaching in TUSD's Catalina Online Learning Experience, better known as COLE, a position she left to run for the board. She has taught in four states at six schools serving K-12 students, in both district and charter schools, she says.
For three years at COLE, Winston served as site council facilitator. The site council decides how tax-credit money gets spent and makes recommendations for school improvements.
She's also been a part of the TUSD community as a parent with two children who graduated from Sabino High School.
One of Winston's top issues in the district is financial accountability through finishing the work of the audit committee and making sure stakeholders have access to accurate and user-friendly data when it comes to making and understanding budget decisions in the district.
She wants to work on teacher recruitment and retention and to "continue to fight for a living wage for teachers so they do not have to work two or three jobs to make a living," she said.
One thing she'd like to do to achieve that is to use 301 performance pay to boost the salary of teachers near retirement. And by providing relevant and inspiring professional development, she said.
She would also like to create a learning environment that is unique and supportive for students in middle schools, which have historically been where TUSD sees a drop in enrollment.
Winston says voters should choose her because she has the most experience as an educator.
"Not only have I taught science for 28 years, I have done so in a variety of settings with a variety of talented people," she said. "Experience is more than just years in one place, but the ability to be successful in multiple places. In science we call that reliability."
CRISTINA MENNELLA
The sole write-in candidate Cristina Mennella is a speech-language pathologist and a mental health and disabilities advocate.
She has experience working with students who have disabilities in rural communities and disadvantaged school districts, providing speech-language services online, in brick-and-mortar classrooms, in public schools, charter schools, home schooling environments, virtual academies, hospitals, home health care and outpatient private therapy, she says.
She's worked with people with disabilities for over 30 years. And she has no prior political experience.
Her top three goals for the district are behavioral interventions that promote learning, teaching tolerance for all individuals and ensuring that every TUSD student can read at grade level or has access to intensive reading interventions.
"To successfully implement solutions in public education we need smart teams of nonpartisan experts on our local school boards," she said. "We need interprofessional collaboration at all levels of local, state and federal government where it affects public education policies. We also need reformists on these governing school boards, ones who understand the true needs of our students and ones who understand the barriers that exist in fixing our biggest problems in public education."