As TUSD moves toward transforming Roskruge Bilingual K-8 into an open-enrollment only school, the district has identified six campuses to which students living within its boundaries could be reassigned.
Roskruge, on Sixth Street near Euclid Avenue, currently has two neighborhood boundaries. One directly surrounds the school and the other encompasses the former Richey Elementary boundary on the Pascua Yaqui reservation.
If the TUSD Governing Board approves the administration's plan to drop Roskruge's magnet and neighborhood boundaries, elementary-aged students living in those areas could be reassigned to one or more of the following schools:
Cragin Elementary, Howell Elementary, Sam Hughes Elementary, Manzo Elementary, Safford K-8 or Tully Magnet Elementary.
Of the options identified, Cragin, Howell, Manzo and Tully received the same C letter-grade rating as Roskruge, according to the Arizona Department of Education.
Only one, Sam Hughes, is performing better, earning the top grade of A from the state. Safford is performing at a lower level than Roskruge, earning a D-rating last school year.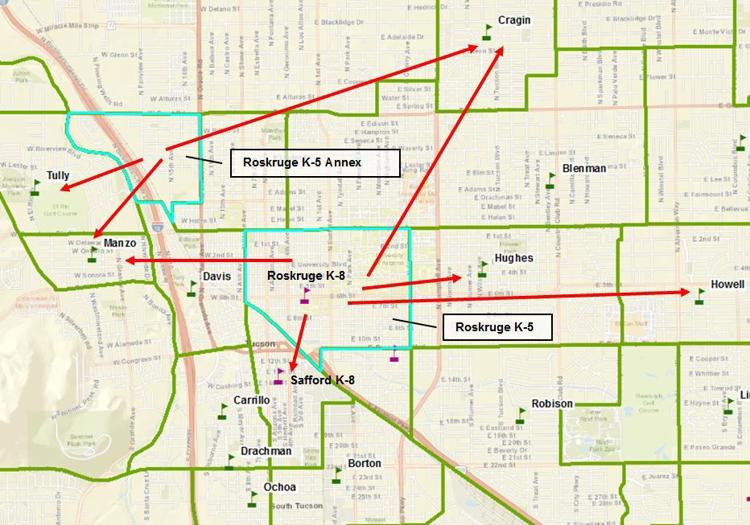 Safford and Sam Hughes are the closest in proximity to Roskruge itself, according to Google Maps.
Safford is a 1-mile drive from the school, and Sam Hughes is a 2-mile drive. If students living in the immediate Roskruge boundary — not the old Richey boundary — ended up attending Safford or Sam Hughes, they would have to walk to school because both are under 1.5 miles away from their neighborhood — the district cutoff for transportation.
Sam Hughes would be a 15- to 25-minute bus ride for students living in the old Richey neighborhood. The district did not say how long the bus ride to Safford would be.
Manzo is also a 2-mile drive from Roskruge, or a 15- to 25-minute bus ride. Tully is a 3-mile drive, or a 15- to 25-minute bus ride. Cragin and Howell are both 4-mile drives from Roskruge, or 20- to 30-minute-long bus rides.
THE ROLE OF OPEN ENROLLMENT
Currently, 89 percent of Roskruge's 614 students are open-enrolled through the school's magnet program, according to TUSD spokeswoman Leslie Lenhart. That means roughly 67 students attending Roskruge live in one of the school's neighborhood boundaries.
Additionally, the boundaries only apply to Roskruge's elementary school, TUSD spokeswoman Karla Escamilla said. The middle school, serving grades six through eight, has been open-enrollment only since Roskruge expanded from an elementary to a K-8 school in 1987, Escamilla said.
A handful of parents and district employees attended a community meeting in the Roskruge auditorium on Monday evening.
Gloria Copeland, the representative for the African-American plaintiffs in the desegregation case, asked the roughly 20-person crowd if anyone was a neighborhood parent. Nobody raised their hand.
But it doesn't matter if a only small percentage of students come from the neighborhood boundary, according to Ricardo Gomez, the membership coordinator on Roskruge's Parent Teacher Association.
There's a history at Roskruge, Gomez said, that dropping the neighborhood boundary and magnet status would undermine.
"They're saying this (open enrollment-only) program will work. Yeah, it will work — at the cost of losing our immediate community, generations of parents and families that brought their children here because they knew it was a good place to get an education," Gomez said.
The district owes trying to maintain the magnet program and all it entails to those families, Gomez said, because they have invested in Roskruge since its humble beginnings and through every rough patch since.
"Now we're going to tell them, 'Well, we don't need you guys, we're going to bring in the dual-language kids from Hollinger,'" Gomez said.
"So this place is going to be for them now? What have they done to deserve it?"