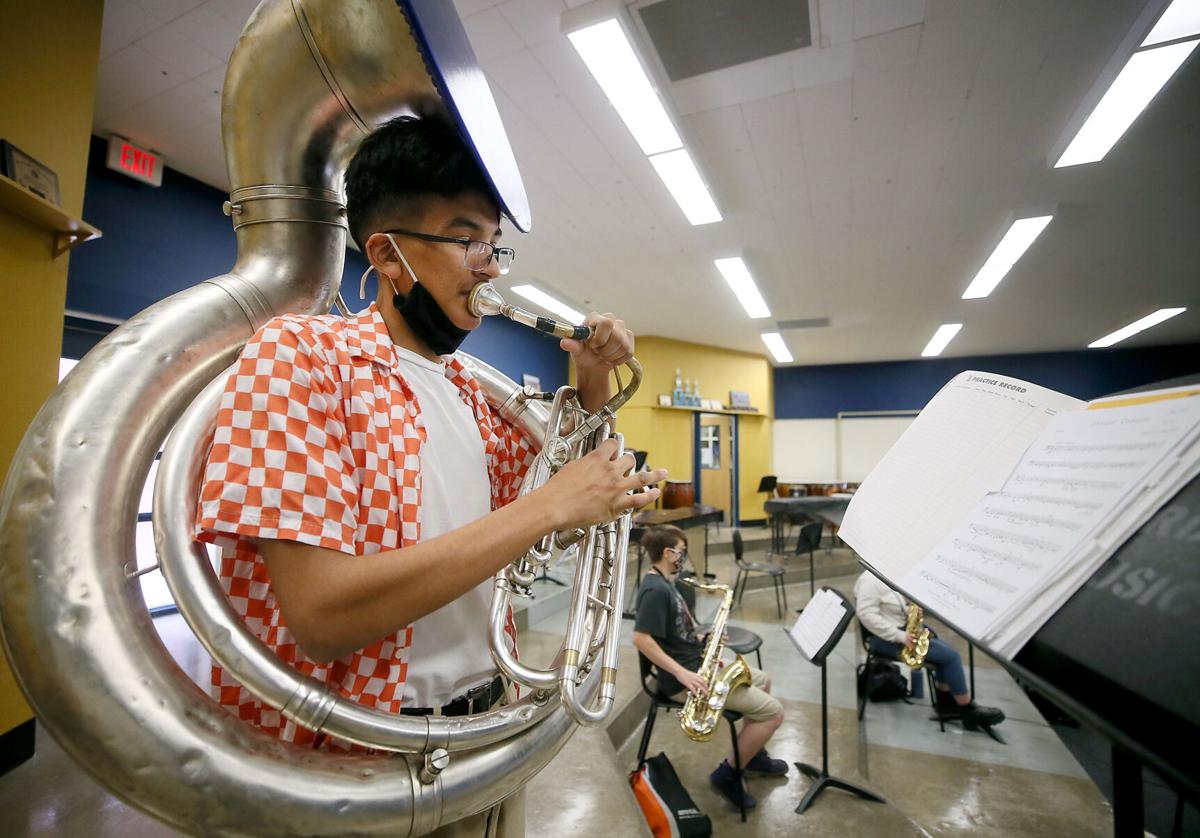 Nearly $7 million is being invested to revamp music and arts programs, interscholastics and pre-K playgrounds in Tucson's largest school district.
TUSD's governing board unanimously approved the funding measures on Tuesday, April 13, including nearly $4.5 million for a fine arts upgrade and expansion, $1.9 million for sports and $480,300 for preschool and elementary playground equipment.
Tucson Unified School District Superintendent Gabriel Trujillo called the investment his white whale.
"Something I've personally chased since standing on the stage of Catalina High School as a candidate for the superintendency here in this district," he said during the board meeting. "My big dream and my big goal for our incoming administration was to put the music back into the schools and to finally position the arts and interscholastics and early childhood education as premier programs here in TUSD."
The music and art investments include more than $3 million to replace instruments, $251,000 for visual arts supplies and technology, $166,000 for the choral program, $45,000 for dance equipment and facility upgrades, $90,000 for theatre arts and about $837,000 for 14 new full-time music or visual arts teachers.
The district is paying for all of the investments, with the exception of the new teachers, with capital funding, which it was able to free up after receiving nearly $95 million from the first two rounds of the federal COVID-19 stimulus packages.
The district will get millions of dollars more in the third round of stimulus funding, for which the Arizona Department of Education will calculate final allocations in the coming weeks.
The addition of the 14 arts teachers comes from TUSD's classroom site fund, funded from Proposition 301, which received an increase due to excess sales tax revenue, Trujillo said. This is a volatile funding source that fluctuates yearly, but Trujillo said that was intentional.
"Putting it in this particular funding source is going to memorialize our commitment to the arts," he said during an April 15 press conference. "It's going to challenge future governing boards and superintendents if they find themselves in a time of recession or in a time of financial hardship. It's going to challenge them to cut around the arts because of this public's demand to have the arts back in schools."
TUSD has long struggled to adequately fund the arts . After a 10-year period of the Arizona Legislature slashing the education budget, the current influx of federal dollars has allowed the district to pay for operational expenses in areas that typically chew up capital dollars, such as transportation, HVAC maintenance and upgrades, instructional technology and infrastructure, Trujillo said. This shifting of funds resulted in an available surplus of nearly $13 million.
"This is an investment in the future," he said. "This is an investment in our students' opportunities to chase the activities and the programs that connect them so vibrantly to school."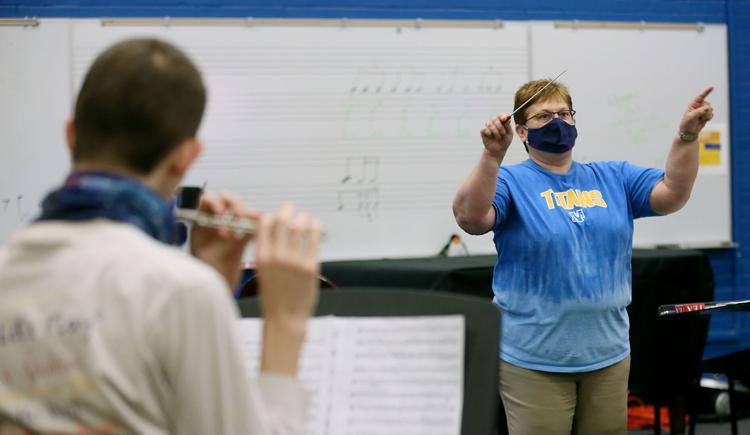 Music as a gateway
Music teacher Vanessa Eastman has been with TUSD for 29 years and at Palo Verde High for 26. She remembers a time when many high school students had their own instrument, after playing throughout elementary and middle school. But now that's more rare, she says. The price of instruments has gone up and she sees fewer families who can afford one.
"Being able to provide an instrument for them is a big deal," she says. "That instrument is a big investment, so a lot of families aren't able to do that. And I think we're gonna see more of that, unfortunately, with COVID."
The recommended lifespan for the majority of instruments in TUSD's band and orchestra programs is 20 years, but some of the instruments have not been replaced since 1966, Trujillo said during the board meeting. And before COVID, many of the instruments were played by six to eight children in one school year.
Despite numerous repairs, some of the instruments are warped or coming apart.
TUSD's latest investment includes more than $2.1 million for elementary instrument replacement and mariachi uniforms, more than $398,000 for middle schools and $562,000 for high schools.
There are many benefits of learning to play an instrument. Typically kids who are in the arts experience camaraderie and build self esteem from performing with their peers in front of an audience, Eastman says.
"It's great for their confidence," she says. "And it's great for them just being able to follow through and get out there and take those risks."
TUSD parent Christina Berry started her oldest child in mariachi in 2013 at Davis Elementary. He continues to take part in mariachi today as a student at Roskruge Bilingula K-8. And Berry is happy her younger two children are following in his footsteps.
"It's just so enriching, and it's not just about the music," Berry says. "It's the culture, the language — it encompasses so much."
Like Eastman said, getting used to performing on stage has given Berry's children confidence. It has helped them be outgoing and engaging with both children and adults.
"Music is the gateway to being able to learn so much more," Berry says.
Throughout the years, she has seen how badly the programs needed more funding. She's seen teachers at Davis take home instruments to fix them, and she even launched a GoFundMe in February 2020 to raise $12,000 for the sixth through eighth-grade students in the Mariachi Los Pumas de Roskruge so they would have matching trajes de charro — traditional mariachi garb — to perform in competitions.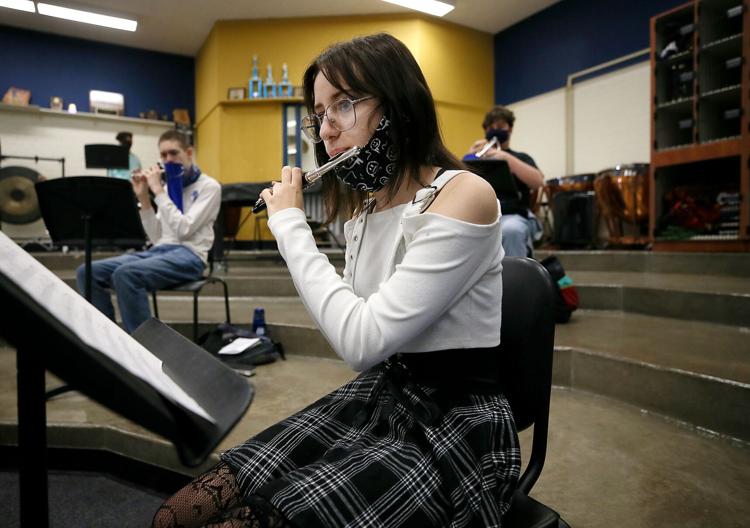 "Some parents don't have the money to pay for violin lessons or piano lessons or any instrument," Berry says. "The fact that TUSD is investing this money so it can be through the school that they can learn those things without cost to the parents is wonderful."
Sending a message
Some of the highlights for the $1.9 million investment in interscholastics includes $650,000 for a new track at Rincon High School, $300,000 for K-12 facility repairs and replacements throughout the district, $600,000 for K-12 equipment, $200,000 for elementary and middle school sunshades and $150,000 for elementary and middle school uniforms.
The $480,300 investment in playground equipment includes structures for 12 schools that don't have age-appropriate playground structures for pre-k students and for Cragin Elementary, which doesn't have one for K-5 students.
"When you invest in instruments and you invest in facilities and you invest in these programs, you send a message to kids that what they do is important," Palo Verde's Eastman says. "It's not just about being able to support them with the resources but support them emotionally with what they're doing by saying 'this is important to you and so it's important to us.'"