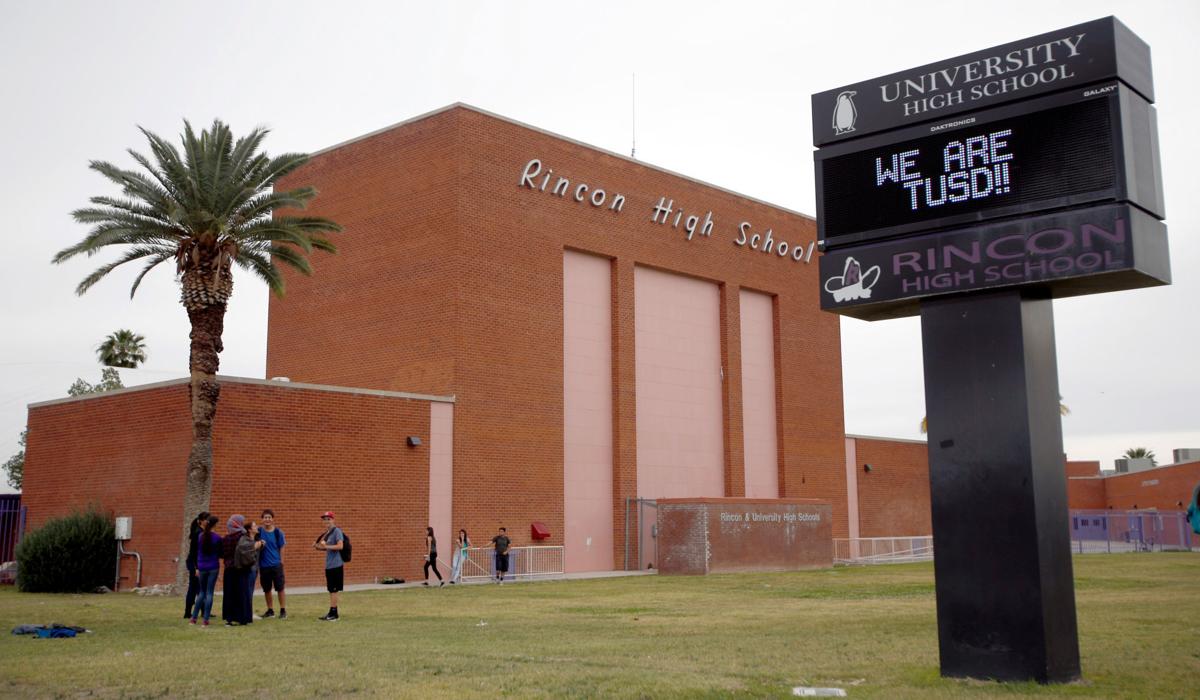 Acknowledging the process they put in place was flawed and pitted schools against each other, the Tucson Unified School District Governing Board Tuesday nixed a plan to move Catalina High School students from their campus, and give the Catalina campus to University High School students.
Instead, the Governing Board in a unanimous vote decided to study all 10 of TUSD's high schools for possible reconfiguration and restructuring, which may or may not include finding UHS a new home.
UHS currently shares a campus with Rincon High School, at 421 N. Arcadia Ave., but it is a separate and independent school exclusively for gifted students who can pass its rigorous admission requirements. Under the nixed plan, Catalina students would have been absorbed into Rincon.
The proposal struck a nerve in all three communities and drew a crowd of more than 200 people. When the meeting room hit capacity, dozens of people huddled outside in the cold for hours, waiting for their chance to address the board on the issue.
The Governing Board majority had initially offered glowing support of the plan when UHS staff presented it at the Board's Oct. 3 meeting. Board members Michael Hicks, Rachael Sedgwick and Mark Stegeman, who has advocated for getting UHS its own campus for years, voted in October to further study the issue, and heaped praise on UHS.
But neither Rincon nor Catalina were consulted on the consolidation plan presented in October, which brewed bad blood between the two communities and left the two schools feeling like they had been neglected.
Rincon officials said the way the plan which was "hatched in secret" amounted to an "attempted hostile takeover of one school by another" and if the plan didn't move forward, relations between Rincon and UHS have been so strained by the proposal that they'll need "marriage counseling."
The board majority changed course Tuesday after heavy lobbying efforts from the Catalina community and after hearing from Catalina's and Rincon's site councils, made up of teachers, administrators and students, who were thoroughly against the proposal.
Importantly, Gloria Copeland, representative for the African American plaintiffs in the district's longstanding desegregation lawsuit, told the Governing Board she wanted to make clear that her plaintiffs were against the plan. And the special master who oversees the district's desegregation efforts also wrote the board a litany of concerns about the proposed merger.
UHS supporters showed up in force and argued that after decades of co-locating with Rincon, and before that Tucson High, UHS students have earned the right to their own campus, their own sports teams and their own identity.
"Right now, UHS is the people not the place. But imagine what it could be if it were both," UHS student Tessa DeConcini said.
And school administrators noted that the school, which is one of the few growing schools in TUSD, is actually helping the district attract students and the related state funding that comes with them, which the district sorely needs.
About half of UHS' students come from outside the district, or didn't attend a middle school within the district, school officials noted.
Catalina supporters said that the harm to students at Catalina, 3645 E. Pima St., is far greater than the benefits that UHS students would receive from the merger.
Catalina, for instance, is home to a large population of disabled students and is outfitted with necessary special services for those students, including ramps, elevators and extra wide doors. Its parking lot is large enough to accommodate HandiCars and parents' wheelchair accessible vans. Rincon would have to be retrofitted to serve those students.
It is also home to a large population of refugee students, who would be displaced once again due to the move.
"In summary, I would say there are more than 20 good reasons not to move Catalina people and programs to the Rincon campus. Of particular concern is the finely tuned balancing act Catalina has evolved to deal with their diverse and fragile population," Donald Ijams, a Catalina high alumni, told the Governing Board, urging the board to drop the idea of closing Catalina.
Others, including a handful of UHS current and former students, noted that UHS' partnership with Rincon offers benefits to both schools and makes each stronger.
James Chabin, a 2016 UHS graduate, said as a basketball player for the Rincon Rangers, he got to interact with both Rincon and UHS students, and his high school experience was richer for it.
"UHS is absolutely a great place and it deserves all of your support. But one of the reasons it's such a great place is because it shares a campus with Rincon," he said.
In the end, the Governing Board decided to order staff to come up with a reconfiguration and restructuring plan for all of TUSD's 10 high schools, though it's unclear whether that plan will involve finding UHS its own campus — or if whatever plan the district comes up with will pass muster with the stakeholders in the desegregation lawsuit.
FIGHT FOR SURVIVAL
TUSD Board Member Adelita Grijalva said the flawed rollout from the Governing Board needlessly pitted schools against each other in a fight for survival.
"As a board, we created the environment we see here where we have negative comments about other schools and separating populations. That's not something anybody wanted, and that's why I originally asked the board not to speak (specifically) about Catalina," she said.
Board Member Kristel Foster said the debacle showed a crisis of leadership from the governing board.
Sedgwick agreed that the process leading up to the board meeting was flawed, and said there are a number of issues the board and district need to address to ensure the same problems don't pop up again.
Stegeman said he wants the district to find a win-win solution, and never meant to propose something that would hurt any of the school communities. But he warned that the district has repeatedly talked about finding UHS a home, and kicked the discussion down the road.
The board argued at length about including a timeline on a proposal for restructuring and reconfiguring the district's 10 high schools, but ultimately decided against it, settling instead on having staff prepare a preliminary report by the board's February meeting.
"I don't see the urgency," Hicks said, noting any plan will need approval from the slow-moving federal courts before it can take effect anyway.
Get local news delivered to your inbox!
Subscribe to our Daily Headlines newsletter.