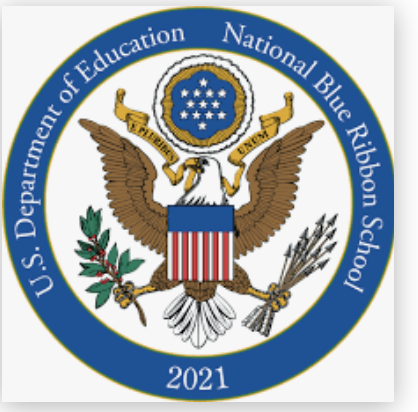 Two Tucson elementary schools say their students' exemplary performances on state standardized tests are a product of emphasizing enriching experiences like the arts as well as strategies that target extra help to struggling students.
Students at Fruchthendler and Mesquite elementary schools scored higher than state averages on standardized tests during the pandemic, putting them among five Arizona schools to win the 2021 National Blue Ribbon Award in the Exemplary High Performing Schools category from the U.S. Department of Education. This recognizes schools whose student cohorts perform in the state's top 15% in English and mathematics.
At Fruchthendler Elementary, in Tucson Unified School District, 60% of students passed the math section of the AzM2, and 68% passed the English language arts section, compared to about 30% of Arizona's students passing the math portion statewide and 38% passing the ELA section.
Scores were similarly high at Mesquite Elementary, in the Vail School District, with 69% passing the math section and 71% passing the ELA section.
Both schools have a history of exceeding state averages, for which they were recognized with an award from the Department of Education.
Fruchthendler is a school in TUSD's Opening Minds through the Arts program and seeks to integrate the arts into required curriculum objectives at every grade level.
Kindergartners and second graders have weekly dance lessons to relate body movements, shapes and patterns to science and math lessons. Opera artists guide first graders through designing their own end-of-year opera presentation, teaching them about word choice and story structure. Third graders making their first forays into fractions are taught how to read music notes to play recorders.
"Students like to come to school when there are fun things to do," said Fruchthendler Principal Mary Anderson.
Active involvement from parents and teachers in students' education is also key to creating engagement. The school's parent-teacher association has as many as two dozen committees, and members design and run weekly art workshops with the students that complement their lessons.
Teachers administer short weekly assessments to determine where students are and volunteer their time tutoring struggling students after school. Teachers start a dialogue by showing students their standardized test scores and assessments. From there, students and teachers work to formulate strategies for future improvement.
Mesquite Principal Diane Vargo attributes her school's success to its enriching curriculum, as well. This isn't the first time Mesquite has won the National Blue Ribbon award either, having also received it in 2014.
The elementary school offers a Chinese immersion program at every grade level, where half the day is taught in Chinese and the other half in English. The difficulty this poses helps students develop greater critical-thinking and problem-solving skills, Vargo said. In some grades, nearly 100% of the students in the program have met or exceeded state testing averages.
Part of why Mesquite was once again a recipient of the National Blue Ribbon Award was its modified instructional model in response to learning during COVID, which allowed educators to teach either an in-person or online cohort, ensuring teachers weren't overworked trying to keep up with both models, Vargo said.
Another contributor to Mesquite's high test scores is its innovative math "enrich and reteach" program, implemented throughout the Vail district. Students are tested on their understanding of the weekly math lesson. If they show proficiency, they next participate in activities that reinforce the math lessons and offer real-world applications. If they need extra support, students are retaught the lesson by a different teacher, ensuring new perspectives and strategies are shared.
Students are given very little opportunity to fail, Vargo said. If reteaching doesn't help, after-school tutoring is provided. The next step is attending intercession — four days of school during the first week of spring or fall break. It's a system of intervention, Vargo said, and it creates a web of support around students.
Both Mesquite and Fruchthendler take proactive approaches to raising test scores. Pre-pandemic and during remote learning, this translated into their student bodies passing the state tests with percentages in the high 70s and up.
In 2019, Mesquite saw 83% of its students pass the math section and 79% pass the ELA section. That same year, 77% of Fruchthendler students passed the math section and 82% passed the ELA portion.
Even when they dealt with a dip in scores in 2021 — echoing COVID education struggles across the country — their scores remained higher than state averages.
For Anderson, the Fruchthendler principal, this success required a community effort.
"The key is to work with people who share a vision and commitment to excellence, and working collaboratively with everyone, and I really mean everyone," Anderson said. "It takes our staff, our students and our parents."