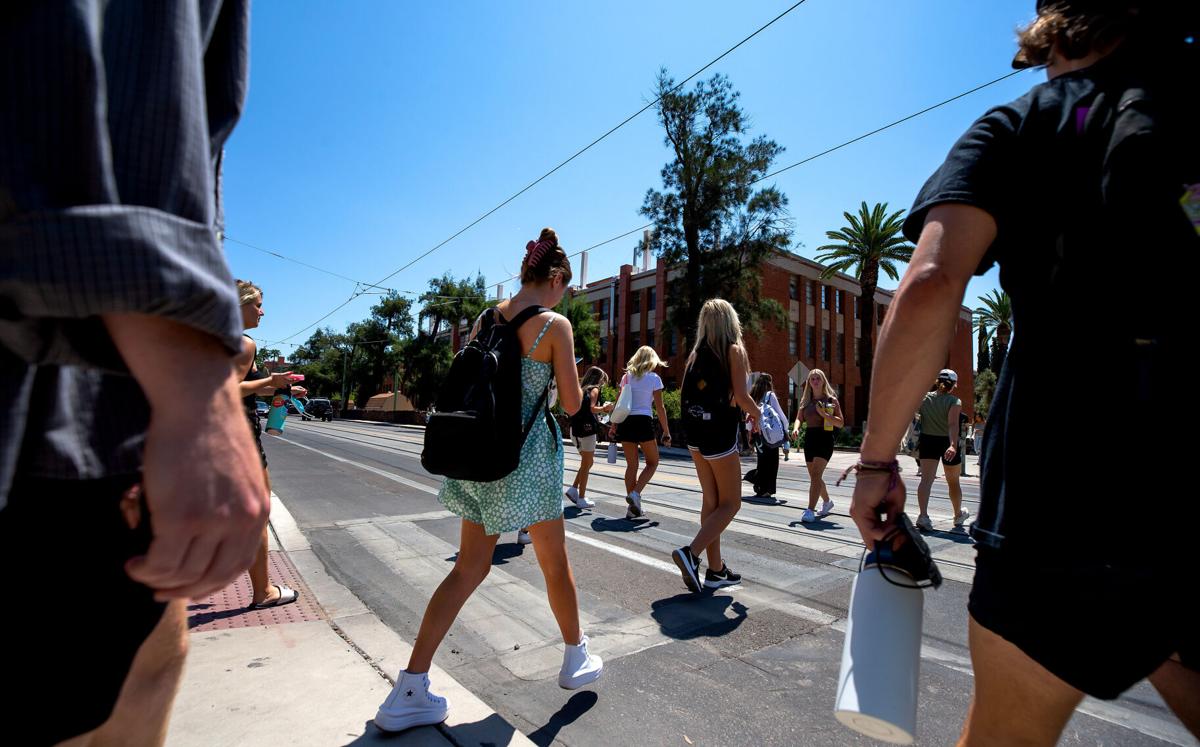 As the second year of the COVID-19 pandemic comes to a close, the University of Arizona is doubling down on its calls for everyone to get vaccinated and respect campus mask requirements.
"I know that we all want to put this pandemic behind us, but we're definitely not out of the woods yet," UA President Robert Robbins said at a virtual news conference Monday morning. "If we do not do the right things, the cost could be enormous."
This is the first semester the UA has been open at full capacity since the pandemic shut down the majority of in-person learning in March 2020.
"We're planning to start back in face-to-face mode in January, but we'll keep an eye on things," Robbins said. "If things don't go the right way early in the next semester, we'll always have the option to go back to a more virtual delivery. None of us wants that."
Over the past month, the number of new COVID-19 cases have continued to rise in Arizona at a faster rate than most states. In Pima County, where 59% of the population is fully vaccinated, there were 516 new COVID-19 cases recorded Monday.
"We're trending in the wrong direction," said Dr. Richard Carmona, the former U.S. Surgeon General who's advising both the UA's and the state of Arizona's pandemic response. "The vaccine remains the most important tool we have today to return our economy to normal, to return our university to normal, and to be able to move into what that new normal will be for us as a nation."
75% of employees are vaccinated
One month ago, the UA joined Arizona State University and Northern Arizona University in issuing a requirement that all employees get vaccinated by Dec. 8, unless they qualify for a religious or disability-related exemption. The mandate came in response to President Joe Biden's executive order that requires all employees of federal contractors — the UA has hundreds of millions of dollars tied up in federal contracts — to show proof of vaccination or risk losing money.
That deadline has since been extended to Jan. 18.
With two months to go, the mandate seems to have convinced a sizable percentage of the UA's 16,000 employees to get the shot.
As of Monday, roughly 75% of employees — which includes student-workers — have uploaded proof of vaccination to the university's secure web portal. That's up from the 51% of employees who had voluntarily shared their proof of vaccination before the mandate.
For the remaining 25% of UA employees who still haven't shared their proof of vaccination, Robbins said the UA will keep working with them to explain their options for either getting the shot or exploring the process for requesting an exemption.
"There are clearly employees that just don't agree with getting the vaccine. No matter how much education or how much discussion we have, they're just going to choose not to do it," Robbins said. While he emphasized his respect for a person's right to choose what does or doesn't go into their body, "We're not going to be able to allow those individuals to continue to work if they don't go through the process. I want to encourage everyone to at least have a discussion with us and let's work this out."
Harassment seen at sports events
Robbins said he's also open to having a one-on-one conversation with anyone attending on-campus athletics events who has a problem with the UA's requirement that masks be worn in all indoor spaces where social distancing is not possible.
He'd rather that than witness the behavior that's already happened at some of the games. Both Carmona and Robbins shared Monday that they've received multiple reports of fans harassing university employees attempting to enforce mask-wearing protocols.
"We will absolutely not tolerate people being abusive to the individuals who are there to serve you," Robbins said. "As an employer, we need to and we will come to the aid of our employees."
Robbins, who reminded fans that the only time masks should be removed at an indoor sporting event is when they are actively eating or drinking, said the UA "is going to have to step it up and try to encourage and educate people to be more compliant with this." That'll mean making sure people are wearing masks — and asking those who aren't to do so — upon entry and in common spaces in the arena.
He doesn't, however, "foresee that we're going to go row-by-row, seat-by-seat like at an airline and tell people if they don't comply, we're going to usher them out of the game."
Kathryn Palmer covers higher education for the Arizona Daily Star. Contact her via e-mail at kpalmer@tucson.com or her new phone number, (520) 496-9010.